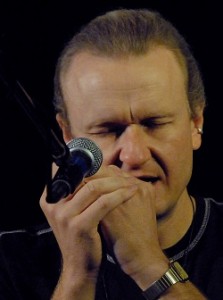 Harpin' By The Sea presents…
Once again, ahead of his tenure at this year's Blues Week in Northampton, Joe Filisko will be making a one-night-only appearance on the UK's South Coast.
JOE FILISKO,  plus Goofer Dust
Thursday 26th July 2012
The Brunswick, 1 Holland Road, Hove, BN3
Doors 7.30 – music 8.00 til 11.00
£8 / £7 concessions

Return of the Jedi
From Chicago, Joe Filisko will be returning to Brighton by special invitation. He is without question one of the best blues harmonica players in the world.
His previous performances at The Brunswick have been to full houses and the audiences were amazed by his magical playing and the sheer range of sounds he can produce from a harmonica.
Seeing Joe perform is an unforgettable and joyful experience. His craftsmanship, musicianship and knowledge of the instrument – and all aspects of its history – are acknowledged and praised by the best harmonica players in the world today.
They like cold beverages..
From Brighton, and playing support to Joe Felisko this year, are Goofer Dust, featuring the harmonica payload of Darren Causton. Renown for his depth of tone and bunker-busting delivery, Darren mixes a healthy blend of street and rap into his set. You don't hear this unique take on blues very often; always a crowd winner.