Monthly Harmonica Workshops 2020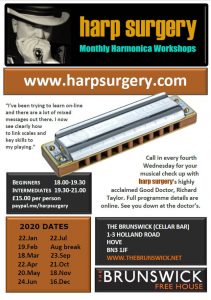 Live Monthly Group Workshops are currently on hold
With the Corona Virus threat ongoing, we have had to pause our live monthly workshops in Hove. We continue to monitor the situation and will let you know when normal service can resume.
When our monthly workshops return..
Each workshop is an hour and a half long and there'll be plenty for you to practise between sessions. Please note we've moved to Wednesday evenings, and we're upstairs now. Beginners meet from 6.00pm-6.30pm, and Intermediates meet from 6.30pm-9.00pm, in a user-friendly atmosphere, with drinks and food available for purchase from the Brunswick's excellent bar. Perfect!