Harmonicas, Harps And Heavy Breathers (ISBN 0-8154-1020-4)
The evolution of the people's instrument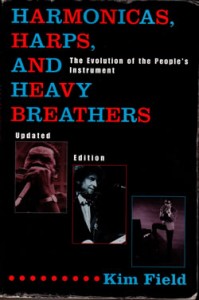 I first picked up a copy of this excellent book by Kim Field shortly after the updated edition was published by Cooper Square Press in 2000. At that time I was only interested in the blues, which meant half the content went unread. But this is a goldmine I keep coming back to. As my appreciation of all things harmonica matures, so Kim Field's work garners greater relevance.
It should be stressed that the emphasis of Kim Field's research is on the North American harmonica heritage, although the UK's Tommy Reilly is awarded five pages in the Classical Music chapter and there is brief mention of the burgeoining British bands of the 1960s in the Rock and Roll chapter. Nonetheless, Field's work combines the best aspects of a good read and a very handy reference resource.
There are twelve chapters in all, plus an intriguing epilogue and afterword. In the opening chapter, Field charts an ancient journey from the South East Asian roots of the free reed instrument family to the harmonica's eventual landfall in the USA.
The first Hohner instruments to reach the United States may have been sent to some relatives of Matthias Hohner who had emigrated to Chicago. Hohner signed his first export agreements with buyers in the United States in 1862, and the firm began introducing harmonicas named after popular Americam musical heroes, including the Marine Band (a bow to John Philip Sousa's celebrated aggregation) and the Caruso.
Harmonica bands of the 1930s and 1940s such as Borrah Minevitch's Harmonica Rascals, and The Cappy Barra Harmonica Ensmble are the focus of the third chapter. The harmonica first went professional in America on the stages of the vaudeville theaters that were at the heart of the country's entertainment scene from the late 1880s until the end of World War II. Every chapter is loaded with trivia and anecdotes, and the book is punctuated with some excellent black and white stills of the reviewed artists.
In the fourth chapter we are introduced to some famous harmonica soloists, including Larry Adler, Pete Pedersen and Charles Newman. "As a boy, Adler briefly studied piano at Baltimore's Peabody Conservatory of Music; legend has it he was expelled at the age of ten for not being able to resist a perverse urge to play 'Yes We Have No Bananas' at a piano recital. Adler's own recollection is that 'I was rejected because of my total absence of aptitude and an incorrigibly bad ear."
The proceding chapters guide us through the Folk Music harmonica tradition by way of players such as Sonny Terry, Peg Leg Sam and Phil Wiggins, the Country Music harmonica tradition with DeFord Bailey, Charlie McCoy, Don Brooks and the like and on into the blues. Within the blues section, coverage starts with Jaybird Coleman and Jug Band players such as Will Shade and Noah Lewis. Focus is then shifted to the Chicago roll call, before a final nod at swamp blues in the guise of Slim Harpo.
From Jerry Portnoy, Kim Field quotes the following classic moment: I hung up the phone and I lost it. I went bananas. If you want to be a brain surgeon, well, there is a course of action you can take – go to medical school, study, and become a brain surgeon. But for blues harp players, there was only one job, and the planets had to align pretty good for it to happen. When I hung up the phone, I ran out of that house and didn't even close the door. I was filled with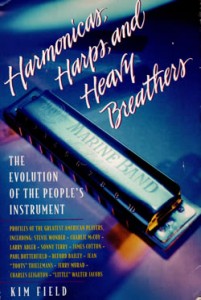 nervous energy and I just ran right up the street to a friend's record store and burst in the door and said, 'Muddy Waters just hired me.' Man, it was the greatest moment of my life, except for maybe when my children were born.
Our journey then explores the landscape of Rock And Roll harmonica, beginning with a brief tribute to the British bands of the 1960's. '[Brian Jones]..was a cat who could play any instrument,' Keith Richards told Rolling Stone. 'I went out one morning and came back in the evening and Brian was blowing harp, man….All these blues notes comin' out.' Centre stage are Bob Dylan, Paul Butterfield, Lee Oskar, Magic Dick and Kim Wilson. "Although friends remember him experimenting with the harmonica by the time he was in ninth grade, Dylan didn't get anywhere with the instrument until after his run-in with [Jesse] Fuller."
A tribute to Stevie Wonder is the only entry in the Soul chapter. Soul music is a territory where the harmonica seems to have found few inroads – but stay tuned for further research on this site. Jazz then heads the agenda with reference to Toots Thielemans, William Gallison and Howard Levy. Chicagoan Howard Levy came to the harmonica as a pianist, and from the beginning he refused to accept the inherent chromatic limitations of the instrument. Anyone who has ever tried overblows will be familiar with Levy's boundary breaking achievements.
The penultimate chapter covers some intriguing material entitled Hollywood. If you've ever wondered who tinsel town's session harmonica players for TV and film were, the answer probably lies within these pages. Tommy Morgan for instance not only recorded for Hang 'Em High, The Colour Purple, All That Jazz and Annie, he also played the theme tunes to Rockford Files, Dukes of Hazzard, Newhart, and Sanford And Son. Perhaps even more famously, he blew Bass harmonica on the Beach Boys' Pet Sounds album.
The closing chapter in Field's book takes us into the realms of Classical harmonica. The stiffest opposition to encroachment by the harmonica has been put up by orthodox devotees of classical music Fields writes. He then plots the contributions of John Sebastian, Cham-Ber Huang, Stan Harper, Tommy Reilly and Robert Bonfiglio, concluding that the humble harmonica cuts across boundaries and at the same time is evocative of everything American.
In his Epilogue Field touches on the eternal problem of the harmonica's accessibility. Something which makes it at once easy to play but hard to master. Indeed it can be a dangerous thing in the wrong hands. Ultimately, everyone who ever picked one up did so for the same reason. We just love it: If I don't blow my harp, I hurt. God put that on me to make me play. That happened every day. All my life. [DeFord Bailey]
I believe there has been a further revised edition of this wonderful tome, complete with a fresh cover design. No doubt there will be more. Whatever the cosmetic changes, the substance and flow of Kim Field's subject matter is sensitively handled and extremely rewarding. I know I will be thumbing its pages for many years to come. Published by Cooper Square Press, Harmonicas, Harps and Heavy Breathers is available on Amazon.
From the author..
I just now came across the review of my book, Harmonicas, Harps, and Heavy Breathers, on your Web site. Sorry it took so long for it to come to my attention. I not only wanted to thank you for one of the best reviews that my book has ever gotten, but for your excellent Web site. It's really well done and is a great resource for anyone interested in the world's finest instrument. Unlike too many sites, it's very well written, too. Cool stuff. I go back to the days when there were very few resources for harp players. It's just phenomenal what is out there today, and your site is one of the best.
Thanks again and keep up the great work!
Kim Field