UK
Brighton – The Ranelagh Arms ♥♥♥♥♥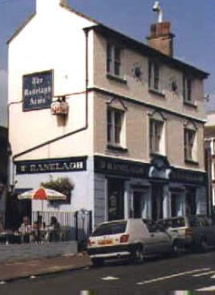 Shotgun blues bar of the first order. Hardly enough room to swing a cat, but you'd have to search a long way to find anywhere as genuinely friendly and blueslicious. Sunday night is blues night. Acts are drawn from regular local talent, national and international dignitaries. Thursdays is 'world music' night, with country, latin, bar jazz and up-and-coming talent. Ad hoc gigs also take place featuring blues acts from overseas who are passing through, so check the listings regularly.
If you're in town, don't pass up a visit to the Ranelagh. All gigs are free, but be prepared to chip in a few quid in tips for the band's jug. In the summertime, when the weather is high, you can enjoy the beer terrace. In the wintertime, Barry always has a nice log fire blazing and a drop of the good stuff behind the bar. Snug as a. Oh and check the giglist regularly as Barry has a nice habit of springing some exciting musical suprises.
Hove – The Neptune Inn ♥♥♥♥♥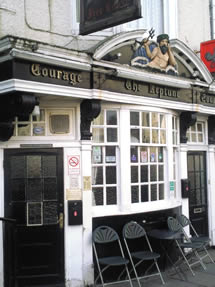 Grab your 6 shooter, poncho and cheroots and break for the border. The Neptune is Hove's answer to the Ranelagh. And just as the Ranelagh is 'bijou', so the Neptune is 'not wide'. This is another British 'shotgun bar' of the highest calibre. You'll never be disappointed with the welcome or the entertainment. Cliff and the gang will ensure you are made to feel very welcome.
Friday night is blues night. Sunday night is 'world music' night. All gigs are free and the clientelle, as with the Ranelagh, are extremely friendly. You'll enjoy the gallery of rock and music photos that adorn the wood panelled walls and maybe dream of smugglers, shipwrecks and shanties as you sink into your favourite tipple.
Keep an eye on the giglist as Cliff has well tuned ear for what's good and a wealth of experience in the business as former manager of the Desperate Dan Band. You can sign up for regular emails. Do it!
______________________________________________________________________________________
USA
Boston – The Cantab Lounge (Est 1938) ♥♥♥♥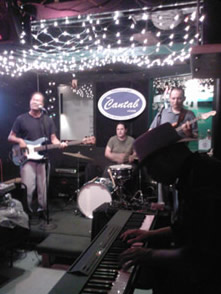 According to the logo, The Cantab Lounge was established in 1938. Don't ask me who by or what for, but do take it as read that this is Boston's answer to Chicago's Rosa's Lounge. A 15 minute taxi ride from downtown Boston (budget $12.00) will take you across the Charles River and on into Cambridge, with MIT and Harvard keeping a watchful eye on your progress. As you cruise along Mass Ave towards Central Square, look out for number 738 across the street (to your left). You'll soon see the lights and the billboard that advertises music 7 nights a week.
Tuesday's at The Cantab is Bluegrass nite. Judging by the literature, one sniff of harpoonery and you'll be invited to fall on your tin sandwich by the hillbilly praetorian guard. Other nights boast blues, jazz and rock (plus poetry in the bar downstairs), HOWEVER… every Wednesday and Sunday night at 9pm is Candy's Blues, Jazz and Rock Jam. And it's free. Now that's more like it.
The Cantab is another glorious example of a US 'Shotgun' bar. Fewer frills than a Pilgrim Father's shirt collar, yet such a welcome and atmosphere, it felt like everyone had been expecting you to turn up for weeks. The Jams roll on till midnight.
Chicago – Rosa's Lounge ♥♥♥♥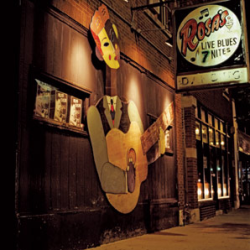 The story goes that, having met Junior Wells in Milan, Tony Mangiullo emigrated to Chicago in 1978. Six years later opened his own blues lounge and named it Rosa's in honour of his mother who had joined him from Italy. Situated a 20 minute taxi ride ($15.00-$20.00 approx) north west of the city centre at 3420 West Armitage Avenue, Rosa's has music Tuesday-Saturday, and occasional Sundays. Cover charges range from £5-£15 depending on which night and who's playing. I arrived on a Thursday, harp case (Chicago Toolkit) in hand and just in time for the weekly 'James Wheeler' Blues Jam. If you've never tried it, go! Don't expect anything grand like Buddy Guy's Legends, this is more like going down to your local. Perfect in my opinion.
The cover was $7.00 for non-musicians. If you are a musician, take your instrument and sign up at the door. You'll get in for free and Tony will call you up once the house band has finished its intro set (around 40 minutes). And don't be nervous – this is a really cosy, comsopolitan, genuinely friendly establishment. Everyone will speak to you and Tony will make you feel very welcome. If you're from outa town, somebody is bound to introduce to Rosa ('Mama') too, as she quietly serves cold beers from behind the bar. The Jam carries on till 2am officially.
This is a blues haven that feels like home to both the novice and the seasoned blues fan, "Chicago's Friendliest Blues Lounge", and Rosa's was named "Chicago's best blues club" by the New York Times and " …a blues mecca for true believers" by Rolling Stone.
Chicago – B.L.U.E.S ♥♥♥♥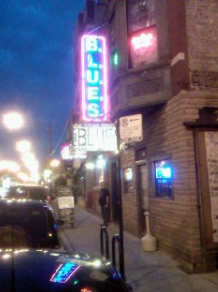 As far as gunshot blues bars go, this one's a dandy. It's just like going down your local. A really snug, pub feel to it (like Brighton's Ranelagh or Neptune bars!). From the City centre you should budget around $15 for a taxi ride each way to Chicago's north side. Entrance is up to $10, depending on who's playing. And here's the special deal – get a stamp on your hand at B.L.U.E.S. and you have your free pass to Kingston Mines, which is just fifty yards up the street (opposite side of the road). You can wander back and forth all night long. Both venues run live music seven nights a week, 365 days a year.
And here's the next deal – if you are a musician with ID (MU Card or similar), you can get into either club for free. Wednesday nights at B.L.U.E.S. is jam night. Grab a copy of the Chicago Reader from news stands and stores for a free listing of who's on.
Chicago – Kingston Mines ♥♥♥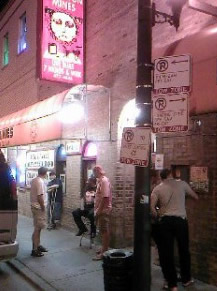 It's Chicago's oldest and biggest, but frankly I'm just not keen. Whereas B.L.U.E.S. or Rosa's have an intimate aspect to them, Kingston Mines is an expansive, touristy beer hall. And the evening I was there (Monday), I have to say the music was poor. I'm not suggesting this is always the case, but I was walking back up the street within ten minutes. Having said this, on a good night you have the luxury of two stages. So when the main stage pauses between sets, you can drift through to the smaller hall where the evening's second band strikes up.
The deals outlined under the B.L.U.E.S. entry above also apply at the Mines. The music is guaranteed till 4am and you can have a bite to eat while you're here. You'll find a menu on the website. Grab a copy of the Chicago Reader from news stands and stores for a free listing of who's on.
Las Vegas – Railhead at the Boulder Station Hotel ♥♥♥♥♥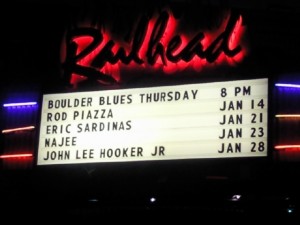 If you're ever in Vegas on a Thursday night, this is where the Blues is at. The Boulder Station is a 20 minute, $25 cab ride north east of the strip, but it's worth every cent of the ride and there's no cover charge to get in. The entrance to the Railhead venue is at the far end of the Boulder Station's Casino and shows run from 8pm-11pm. Which gives you time to head off to the Sand Dollar afterwards! Being Vegas, cigarette smoking is permitted inside the Railhead, but no cigars or pipes! If you are a non-smoker, fear not. This is a large, fully air-conditioned venue with plenty of seating, a big stage, big bar, good looking waitresses and a buzzing atmosphere. The regular clientèle are here for the live music and an opportunity to dance to their favourite artists. You may well be invited to join in – in which case don't be shy, it's quite innocent and everyone is there to have a good time. You'll be glad you got out of your seat.
Las Vegas – The Sand Dollar Blues Lounge ♥♥♥♥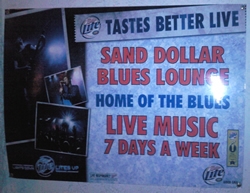 When you're busy chasing mirages, what you're actually looking for is often right at your feet. This was the case with the Sand Dollar Blues Lounge. It was there all the time. Despite visiting Vegas on countless occasions, the Good Doctor's blues radar just hadn't picked it up.

Mondays at the Sand Dollar is open mic blues jam night. It doesn't start till 10pm (that's 6am back home), which is a hard gig even for the locals. But remember Las Vegas never sleeps, so there are no excuses. A $20 taxi ride will deliver you from the central Strip (eg Paris Hotel) in about fifteen minute. There is now a cover charge of $10. As a new visitor you will need to brace yourself before going in. Few blues venues come darker and dingier on first encounter. So no need to dress smart, althought some folks do. Stay with it and trust the Good Doctor when he tells you you'll leave with the biggest smile on your face, the warmest feeling in your heart and a great new bunch of friends. The house band is Al Ek And His Shuffle Aires, covering guitars, keyboard, harmonica, drums, vocals and plenty more besides. Musicians don't need to sign a list, just introduced yourself to any of the band members or other jammers and you'll get a slot no problem.
Las Vegas – The Bunkhouse Saloon ♥♥♥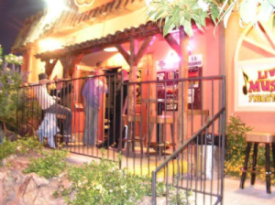 Tuesdays at 10pm, the BH Blues Jam commences with a warm up set from The Bunkhouse Blues Band lead by vocalist/harmonica player Lipz. Entrance is F.R.E.E. which we like. There is plenty of bar and lounge seating and unlike so many blues venus, this place is open plan with a generous stage area. It's ideal for live music and runs events 7 nights a week. Located in old Vegas on S.11th Street between Fremont and Carson, the Bunkhouse is about a $15 taxi ride from the northern end of the strip.
Be advised. This is not really somewhere you want to wander to alone. The surrounding residential area keeps even the locals on their guard, but the folks in the club are extremely welcoming and make you feel safe and right at home. Visually, Lipz reminded me of an older harmonica playing version of the character Cat from TV's Red Dwarf sci-fi series. He was enigmatic (unavailable to talk to), but highly supportive of all the visiting musicians. As a performer he uses heavy reverb on the harp mic which is unusual, yet ambient. His vocals are raw and delightfully bluesy. The house band comprises, drums, bass, guitar, percussion and keyboard, all of which are played to a very good standard. Get down there if you can. You'll have a good time.
New York – Terra Blues ♥♥♥♥♥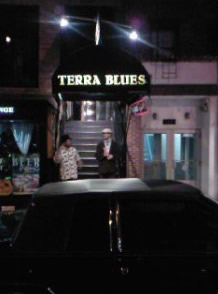 Welcome to the heart of Greenwich Village! This is, without doubt, one of the best blues venues in the world. Easy to find and free to get in if you arrive early enough, the bar is spacious, candlelit and sophisticated. Yet it remains the right side of highbrow. Terra Blues is somewhere you would take your friends for a comfortable and chilled night out. Anyone who has still to experience a blues club should make a bee line. Aficionados and novices alike are in for a total treat.
Terra Blues is one of the last remaining live blues venues in New York City and has hosted many of the greats. Situated a short flight of stairs above street level at 149 Bleecker Street, the bar runs two live sets each evening: 7-10pm for the acoustic set and 10pm-late for the electric set. Tables are waitress served and the atmosphere is classy, with moodlighting and an impressive vaulted ceiling. Beneath the cosmetics, Terra Blues retains an essentially roots character – with the flick of a switch it might even pass as a beerkeller. You won't feel intimidated by it's sophisticated makeover. The stage is large enough to carry a whole band, but not so large that intimacy is lost. And the walls are tastefully adorned with the obligatory framed photos of blues stars ancient and modern. You can catch live blues here 7 nights a week. Don't pass it up.
San Francisco – Biscuits and Blues ♥♥♥♥♥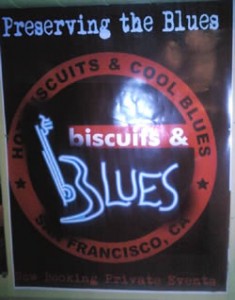 Located on Mason Street in downtown San Fran, Biscuits and Blues is open six nights a week (closed Mondays). This is a fine, sit-down, cabaret style blues club. But one with a real blues atmosphere. It's where you'll find the headline acts playing. The cover charge is usually around $12.50. Having paid, you descend a curving staircase (adorned with pictures of the club's blues alumni) into the heart of the club itself. Simple tables with candles and waiter service, a house menu, cosy bar (stools reserved for solo visitors) and a wide music stage all await. The atmosphere is just as you would expect – intimate, friendly and bluesy. The sound is always excellent, comfortable and not overpowering. On separate visits I have seen John Lee Hooker Junior, Jason Ricci and The Marbletones.
San Francisco – The Saloon ♥♥♥
This place is great. It survived both the SF earthquake and the fire – possibly because the fire brigade wanted to save of the cat house upstairs – but officially because of the stout timbers which support the building. The Saloon is at 1232 Grant Street in North Beach and has music every night of the week. It looks as its name suggests and is very down to earth. Historic even, by SF standards. According to the scary doorman – bowler hat, leather biker jacket, big cigar and insults galore – all the greats have played here including Hendrix and Joplin (Janis rather than Scott). There is a cover charge to pay…think it was about $10 and the music starts at 9.30pm. We were there on a Friday night and saw Johnny Nitro and the Doorslammers in action. Great up-beat R&B with a madcat lady on the sax. Highly entertaining. I even got up on stage for a harmonica 'but in'. If you do the same, ensure you don't make the same mistake I did. Leave the vocal mic in the stand (seriously – don't touch it) and play off mic. Try holding it and Johnny – who has 'played with all the greats including Kim Wilson' – will ball you out big time right in front of the audience. Oweeee! I was lucky to get away with my limbs intact and harmonica still between my lips…
San Francisco – Lou's Pier 47 ♥♥♥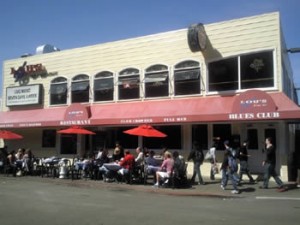 The great thing about Lou's is the location and the schedule. It's right on the waterfront – a short hop from the Pier 39 board walk, the sea lions and Alcatraz ferry. Beware the Mad Bushman of San Fran on the way – he'll be lying in wait. It has music every day. You can pay about a $3 cover and watch a band from 4-7pm. Or pay a bit more and come in the evening. On Saturdays they have a third session from mid-day to 3pm for free. Fill your boots. We saw the Pat Wilder trio in action. OK for a Friday afternoon, but not a headline act on the day – possibly owing to the shortage of clientèle and atmosphere on a balmy summer afternoon. The Bassman was cool though! I reckon on a good evening with the right band, this would be a great night out. Still, it was lovely to rest our legs, have a cold beer and take in some live music of the berloooz variety.
Washington DC – Madam's Organ ♥♥♥♥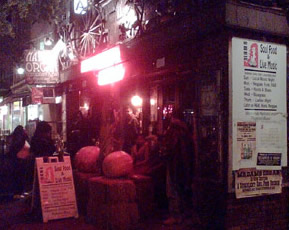 Been here a couple of times and, though the bands may not have been of the absolute highest order, they were more than acceptable; this is a superb hangout for lovers of blues, floorboards, friendly faces and 'shotgun bar' atmosphere. Every imaginable stuffed animal on the walls – including a goat either side of the stage. The front of the club looks like something from the wild west, complete with porch and balcony. Music is 7 nights a week and there is a small cover charge – around $10.00 later in the week down to $3.00 on a Monday night. And guy on the door comes from Fulham! Each time I've been, I've arrived feeling jet-lagged and a little down in the mouth, but come away feeling at peace with the world. Try it, I know you'll like it. I'll be there next time I'm in DC. As the logo says, it's 'where the beautiful people go to get ugly'. Strangely now voted amongst Playboy's top 25 favourite live music hangouts. There is good eating here too.
RATINGS
♥♥♥♥♥ Feels like home – go there!
♥♥♥♥ A good night out
♥♥♥ Drop in if you're passing
♥♥ Depends who's playing
♥ Rain check