Get in the soup and slide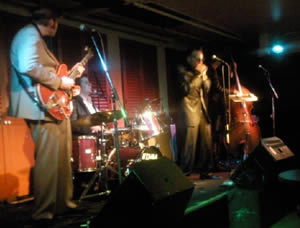 This was one of the most entertaining nights I have ever experienced at Biscuits & Blues. In fact anywhere. The Nightcats took the stage with the sole aim of knocking the audience clean off their feet. And that's exactly what they did. I defy anyone to sample this band live and walk away not feeling utterly satisfied.
It was a joy to see Rick Estrin in full flight and appreciate first hand why he has made such a name for himself not only as a harmonica ace, but also as an engaging raconteur and convincing song writer. Jerry Portnoy rightly describes him as a modern day Lieber & Stoller.
Sadly I never got to see the original line up with Little Charlie Baty on strings, although I am certainly aware of his strong reputation as a performer and studio artist. "All that meat, and them potatoes too!"Indeed his recordings with the Nightcats are quite sensational. Charlie is still around, but he's taking five. Something they call 'soft retirement' in the trade. We can expect to see him again for band reunion gigs and special festivals, but in the meantime his slot is anchored by guitarist elect, Kid Andersen, whose playing is simply astonishing. (more…)