'And what if all of animated nature
Be but organic Harps diversly fram'd,
That tremble into thought, as o'er them sweeps
Plastic and vast, one intellectual breeze,
At once the Soul of each, and God of all ?'
The Æolian Harp by Samuel Taylor Coleridge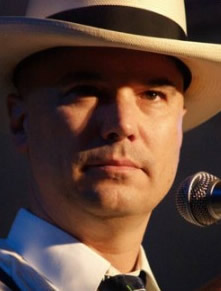 I first met music as a child of the 1960s baby boom. My parents had an eclectic record collection which made Saturday nights and Pass The Parcel at birthday parties a happening time. There was all the Stax and Atlantic stuff – Sam & Dave, Wilson Pickett, Otis Redding, Eddie Floyd and Carla Thomas. Then there was Nancy Sinatra and Lee Hazelwood. Some good Hippy stuff with Creedence Clearwater, The Beatles, Sam the Sham and Rolf Harris. Dad liked his military marches too. Then we had Deep Purple, Scott Joplin, Jethro Tull, Pinetop Perkins, Desmond Decker, Johnny and the Hurricanes. There was also Calypso and Steel Pan music courtesy of Brenda and David who would visit from Trinidad. Countless slivers of 45 vinyl came to life on our radiogram turntable, stacked so high on the spindle they would start to slip on each other. If it had a beat and a good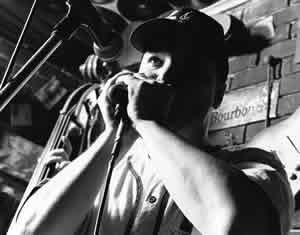 hook, it was spinning, while we were grooving, sweating, singing and letting our hair down like a family possessed. I will always thank my folks for that gift.
I can't remember exactly how or when, but as a young teenager I began to spot a common thread in music. Wilson Pickett songs re-emerged on my new Inmates album. Blues, Soul and Americana were given the Canvey Island treatment by Dr Feelgood. Whitesnake and Status Quo were purveying familiar songs and styles. Then came the Blues Brothers movie. Between choir practice, recitals at school, a turn on congas with Humphrey Lyttelton, gang shows and piano lessons, I embarked on a alternative voyage of musical discovery. Rhythm and Blues.
Piano had been my first instrument. But it was the theme tune to The Old Grey Whistle Test that grabbed me by the 'orchestras', inspiring me to pick up the blues harp and make it my own. And without any thought of tutelage, I bought my first Hohner Special 20 and got stuck in. In time I cut through to single note playing and the draw bends necessary to reproduce Stone Fox Chase. It was many years later I found out about the harp player behind Area Code 615… Charlie McCoy.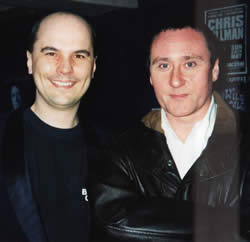 At about the same time, older boys at school were rocking the guts out of a piano that stood in an old lecture room. I watched from the doorway totally beguiled. With walking bass riffs, boogie woogie licks and Jerry Lee flourishes bouncing round my head, my love and awareness for 12 bar blues was growing fast.
The late 1970's found me investigating Dr. Feelgood, The Cheaters, Grinderswitch, The Fabulous Thunderbirds, Nine Below Zero, Jimmy Yancey, Pinetop Perkins, Dave Edmunds, Jerry Lee Lewis, Bo Diddley, my personal hero Big Walter Horton, and many more. One particular band on the UK circuit, Fast Eddie, were a huge influence. Travelling at my own pace, harmonica in hand, I made some headway. I found blow bends. I also made mistakes and junked many harps. But that's the blues. Encountering Rory McLeod on Petticoat Lane Market in 1981 was a milestone. His street performance of the 'Jiggery Pokery' song (Farewell Welfare) rooted me to the spot as my friends drifted into the distance. That moment will live with me for ever.
Even during the heady days of Punk, national street riots, Stiff Records, Two Tone, New Wave and Rock Against Racism, blues was my secret sanctuary. I love other styles – reggae and Latin beats do it for me in a big way. I recall seeing Clint Eastwood and General Saint, UB40 and listening to Bob Marley, Eek A Mouse, Yellow Man, Aswad and Steel Pulse.
The song remained the same. If there was a groove, a hook, a catchy lyric and something that made my musical ear itch, I had to scratch.
In a world of manufactured boy bands, rap, techno, X Factor, Pop Idol, Desperate Housewives, Ugly Betty, OK magazine, WAGS and new 'R&B' (how dare they!), the blues stands unblemished by fads, money and media manipulation. Flashes of new blues occasionally light the skies; Little Axe, Alabama 3, RL Burnside, Jason Ricci, Moby, White Stripes and Blues Traveler to mention a handful. There will be more.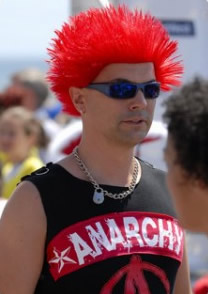 Inevitably I started to perform. I joined a nascent Punk outfit at school called the Innocent Vicars. We played a couple of good gigs. Support to Art Nouveau (later Kajagoogoo) on one occasion. The Q Tips featuring a young Paul Young on another occasion. The soul music was amazing, as was his subsequent solo work, however I shall despise Paul Young as a person to my grave. Inspiration for my own stage craft was drawn from Gang Show experience, a grounding in the British Music Hall (Vaudeville) tradition – courtesy of my dear East End mum – and many opportunities to see live bands in action through the late 1970's and 1980's. Stiff Records Tours, the St Albans Civic Centre, Hemel Pavilion and hotspots such as Dingwalls, The Electric Ballroom, The Lyceum, Dublin Castle and Caernarvon Castle. And of course my school mate Aaron Russell as we busked on Camden Market. He showed me how to just do it. That Punk sensibility stuck.
College in North London allowed me to explore the Camden scene even further and we struck a band called Where's The Beef? We shared the stage with many good college circuit acts at the time. At one particular do, we had to take the stage after Bad Manners. None of the mics worked and the stage was awash. Cheers Buster!
Fast forward. Relocation to Brighton brought with it residencies in local pubs and a chance to work with several local bands. The Ant Hill Mob was my first. The Quarterpounders followed. Then The Rayguns and finally The Blackjacks. Through these bands came support slots with Sherman Robertson, Geno Washington, Nine Below Zero, Otis Grand and many more. It was with this band that I worked on 'the circuit', with sessions at London's Ain't Nothin' But, Colne Blues Festival and countless other slots. Regular home gigs were provided courtesy of The Ranelagh Arms in Brighton and the Neptune Inn in Hove.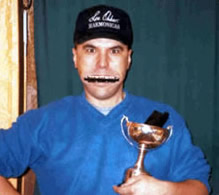 On a balmy Saturday morning in 1998, I took the stage alone in Ely. I played solo to a panel of judges and an audience of fellow harmonica enthusiasts. They duly elected me British National Harmonica Champion for that year.
Since then I have been privileged to perform at a catalogue of festivals and venues in the UK, mainland Europe and the USA. My harps have entertained in a Nubian village on the Nile, accompanied steel pans in Antigua and entertained air crews mid-Atlantic on the hailing frequency from a Boeing 747 cockpit. I am still on my voyage of discovery. I also still refuse to play Mustang Sally (much as I love Atlantic Soul and Wilson Pickett in particular).
With hindsight I am proud of being a self-taught harp specialist. Progress would have been more rapid had I found a mentor of course. It is with this in mind I have set up the Harp Surgery, aided and abetted by my dear friend, fellow harpoonist and music blogger Keith Shackleton (aka The Riverboat Captain). I enjoy passing on hard earned knowledge to others and watching them grin as they start to master new skills.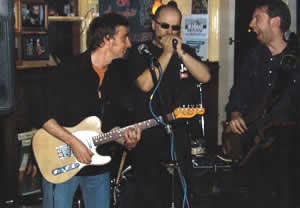 I hope you enjoy exploring and learning from the information and advice on offer. I am personally available to answer your queries and feedback; I may not have all the answers but I'll probably know a nice man or woman who does.
Bend it like Beckham? Bollocks to that. Let's show 'em how it's really done!