It's all happening at..
The Brunswick Free House
1-3 Holland Rd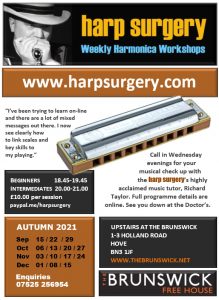 Hove
East Sussex
BN3 1JF
Workshop Times and Prices
• 6.45-7.45pm Beginners £10.00
• 8.00-9.00pm Intermediates £10.00
Schedule
Sep 15, 22, 29 / Oct 06, 13, 20, /Nov 10, 17, 24
Bookings
Richard Taylor  – 07525 256954
Payment paypal.me/harpsurgery
Workshop Dates and Programme
Beginners – bring your 10 hole diatonic harmonica in C
•  First breaths & rhythm playing / Harp anatomy
•  Busking for beginners and double stops
•  Single notes, scales & first tunes
•  Hand skills, trills, glissando & playing in rounds
•  Couplets, Triplets and harder tunes
•  Tone building and first blues
•  Playing tunes in different positions
•  First steps in note bending
•  Blues, folk and rock harmonica
•  At the pictures. Lion King, Jurassic Park and Titanic themes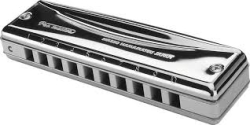 •  Review and Christmas Playback
Intermediates- bring your 10 hole diatonic harmonica in A, Bb, C, D, F and G
•  Draw bend clinic and 2nd position – Don't Get Around Much, Pack Fair & Square
•  Draw bend clinic and 3rd position – Double Crossed and Blue, Blowing The Family Jewels
•  Blow bend clinic and 1st position – Home Run Hitter, Seven Nights to Rock
•  Octaving, intervals, tongue blocking, slaps, pulls – Look at That, Walkin' The Eights
•  Tone building, amplified harp and electric blues – Whammer Jammer, Automatic
•  Acoustic blues, fox chases, trains, hand skills & trills – Mama Blues, Bailey's Bounce
•  Cajun, Zydeco and Swamp Blues harp – Jambalaya, Mr Dollar Bill
•  Couplets, triplets, folk and Celtic harp – Galway Girl, Red Haired Boy, Garryowen
•  Harmonica boogies and overbends – Big Walter's Boogie, Automatic, Family Jewels
•  What key's it in? 4th, 5th and 12th positions – Price Tag, St James Infirmary, Clair De la Lune
•  Review and Christmas Playback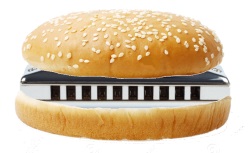 Food & Drink
Why not enjoy a bite to eat and a drink at The Brunswick before or after your workshop? They have a fantastic menu and the food comes highly recommended.