Simple Gifts
If you need a special gift for your aspiring harmonica player, look no further. Whether it's a particular occasion or just for fun, everyone enjoys a special surprise. Pay for the lesson in advance and we will email you a gift voucher.
Need a harmonica too?
No problem. We can supply you with a harmonica to help get things underway. Visit our harmonica store page and select the best harp for your budget. If you're unsure which one to go for, email us and we'll lend you some advice.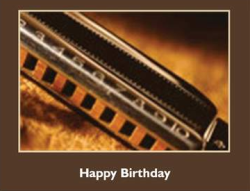 Harmonica Gift Cards
If you need a card to go with the voucher, let us know and we'll mail one out.
Price list
Lesson prices are on our lessons page (Services Menu). You can opt for private 1:1 lessons here at the Harp Surgery, or a virtual lesson by Skype or Zoom. Lessons are 1 hour. If you'd like a course of lessons, a discounted rate is available and we can customise your voucher accordingly.
Terms and conditions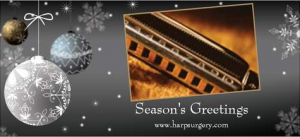 For practical reasons, your first lesson must be taken within 6 weeks of the date of purchase. Remaining lessons must be used at a rate of one (or more) per consecutive month thereafter. For faster development we recommend booking lessons at weekly or fortnightly intervals. We regret that vouchers cannot be refunded after six weeks from the purchase date.