Prelude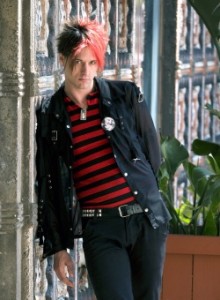 Deeply disturbed by my chance encounter with Barry Manilow outside Tiffany's this afternoon, I was in serious need of rehabilitation. Mercifully the Copacabana was closed for staff training, so Biscuits and Blues it was to be my place of convalescence and, to my good fortune, harmonica wizard Jason Ricci would be there, weaving his harp hoodoo  and performance mayhem.
To be brutally honest, I had actually never heard of Jason before, but he came highly recommended by Dave Barrett (Harmonica Master Class) and I intended to atone for my ignorance. Dave couldn't make the gig, but Aki Kumar, one of his protoges, was at the bar nursing a beer. We made our acquaintances and Aki initiated my path to harmonica nirvana. Jason, he informed me, was originally from Maine, but currently works out of Nashville. His influences include Pat Ramsey and Johnny Winter, while his style includes fast flowing third position patterns, overblows and licks drawn from jazz, rock, samba and swing.
Jason took the stage playing through what looked like a Shure SM57 or Unidyne mic, into a 4×10 tweed 59 Bassman. The sound he created was at times reminiscent of Johnny Mars in full flight. Avant garde in urban blues terms, it is not your classic Chicago crunch, but a synthesised variant. The tone is specific and unfamiliar at first, it's 'in your face', but you soon acclimatise to its punk compressions and focus on the artist.
Musically, Jason is as challenging as his adopted harp sound. He has planted his flag on the ramparts of Fort Radical. His persona is gloriously complex and countercultural. His energy is arresting. His playing is simply astonishing. If I had to credit specific harmonica players and bands for redefining the blues' boundaries, Blues Traveler, Alabama 3, Little Axe, Lee Sankey, Lee Oskar and Sugar Blue readily come to mind. Jason Ricci vaults them all.