Background to bending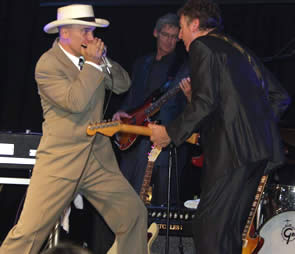 For any diatonic harmonica player, learning to bend marks the transition from beginner to intermediate. The first time you crack it, you feel like you've just won the lottery. I remember punching the air, yelling 'woohoo!' and then boring all my friends with it. Bending is what gives the diatonic harmonica it's unique signature. You can make the coolest sounds and play the most amazing stuff. You have found a whole new level of expression. This is probably why you chose to play the harmonica in the first place.
Without bends, you can play 19 different notes on the 10 hole diatonic harmonica. It would be 20 notes, but blow 3 and draw 2 are the same. (The reason behind this is explained in Why Are 2 Draw And 3 Blow The Same?). With the use of bends, overblows and overdraws, it is possible to cover a total of 37 notes, turning a diatonic instrument into a fully chromatic one. But you have to be a very experienced player to manage all this. Bends are the first step and they are within almost every player's scope. Once they have learned 1st, 2nd and 3rd positions, the majority of players find that regular bends are more than sufficient for their needs.
Caveat Emptor
Countless 'intermediate' students come to Harp Surgery lessons or Workshops believing they can bend. On closer scrutiny they have often missed the fundamentals. The Good Doctor's advice to anyone searching for their first bends is be disciplined and study it carefully. This is a very special skill. It's what makes your instrument unique. Understand how, why and where bends occur. Avoid approximating them, then going live in the belief you are an intermediate or master harp player. You will eventually be exposed. How many bends are there? Where are they? Can you play them all individually and accurately? Are you sure? Are there bends in holes 5 and 7? How many bends are in hole 10? Where are the draw bends and where are the blow bends? Not sure? If you take time to perfect every aspect of this technique, trust me, you'll be better than most of the rest. So set your barrow down right now, roll your sleeves up and enjoy the process of enlightenment.
Why bends happen
They result from the interaction between the blow and draw reed in each hole. A bend is produced by engaging the higher reed. So in holes one to six we find draw bends and in holes seven to ten we find blow bends. When you play the higher reed normally, it vibrates to produce the required tone. By adjusting the vocal tract – in effect the distance from your teeth to the back of you throat – you can facilitate the correct resonance frequency for the intended bent note (think of a Swanny Whistle). The airflow to the higher reed slows and the lower reed starts to vibrate in sympathy. A dip or bend in the tone results.
How bends happen
Unless you can play individual notes cleanly, you're on a hiding to nothing. Air seepage or deviation into adjacent holes will prevent you from achieving a bend. Efficient use of breath gives you the tool you need to work with. Air pressure. If you have yet to master single note playing, put your quest for bends on hold and learn this vital skill first.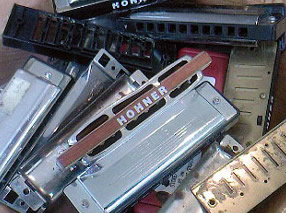 Ultimately, the bending process is controlled from the back of your tongue and top of your throat. The front of the tongue will manipulate the reed initially, but you then transfer the control to the engine room at the back of your vocal tract. Arching your neck slightly can help create the extra space for this – especially on the deep draw bends in holes one and two.Now let's get theoretical… OK, put the kettle on first, have a cuppa and take a five minute breather…
Welcome back! Now, picture a piano. You have white and black keys. Consider the scale of C major (doh-ray-me etc). It comprises eight full tones (the white keys) or a total of thirteen half tone steps (white and black keys). Moving from middle C to the next C across the eight white notes is diatonic, playing all thirteen half notes is chromatic. With normal blowing and drawing, we are only equipped with a selection of the thirteen note range, hence the diatonic rather than chromatic harmonica. Bending enables us to find many of the missing tones.
Where bends happen
To recap, whether blowing or drawing, it is the higher note that bends down. In holes one to six, the higher notes are the draw notes, so we encounter draw bends. In holes seven to ten, the higher notes are the blow notes, so we encounter blow bends.
Now let's consider something else. We know each hole houses two reeds; a blow reed on the top, a draw reed on the bottom. Whenever the interval between the reeds is a semitone or more you will find a bend. In plain English? An interval is the musical word for the distance between two notes (which can be counted in whole or half steps). The interval between Monday and Wednesday would be three days (or six half days). But instead of seven days of the week, musicians (that's you) use the first seven letters of the alphabet to identify their notes. So, Monday and Wednesday become A and C…with an interval of three notes. If we know which notes the two reeds in each hole normally produce, we can work out the half step interval between them and……. eureka!…..the number of bends available. Didn't quite follow? Read this paragraph again.
This diagram of a C diatonic harmonica shows you which notes are found in each hole (click it to see the large version).
By referring to a standard scale of chromatic notes, you should be able to work out how many bends are in each hole: A Bb B C C# D Eb E F F# G Ab A. (For the technocrats, I am avoiding enharmonic tags as this fogs the issue).
In holes one and four, where the blow note is a C and the draw note is a D, there is one semitone between (C#) and correspondingly one draw bend. In hole two, where the blow note is an E and the draw note a G, there are two semitones between (F# and F) and correspondingly two draw bends. In hole three, the blow note is a G and the draw note is a B, so there are three semitones between (Bb, A and Ab) and correspondingly three draw bends. In hole five, with blow E and draw F, there is no semitone interval and consequently no bend. Finally in hole six, with a blow G and a draw A, once again we have one semitone available (Ab) and correspondingly one draw bend. In short: 1 in 1, 2 in 2, 3 in 3, 1 in 4, 0 in 5 and 1 in 6. Understand and remember this, it will make you better informed than most of the rest. Honestly!
How to draw bend – your passport to heaven!
For any diatonic harmonica teacher, this is one of the hardest skills to impart. It can't be shown, it can only be demonstrated, heard and explained. On this basis, here's how the Good Doctor steers his students towards the Holy Grail.
Maintain your embouchure Your lips shouldn't spread wider or change shape as you bend. They are there to maintain a good seal around the target hole. The bending process takes place backstage by adapting the shape of your vocal tract and retreating your tongue.

Think the note This may sound strange at first, but it helps. You instinctively prepare your vocal tract when you whistle a note accurately without even thinking about it. The rest just follows.

Whistle backwards Whistling normally at first, blow a high note and gradually lower the pitch as far as you can. Now try this in reverse, whistling inwards. Notice how your tongue and vocal tract positions alter. This is the same as the bending process. Apply it to your harmonica.

The clutch analogy As you bend, you gain a pull or purchase on the target reed from the centre front of your mouth. It's like sipping frothy milk from the top of a hot coffee or hot chocolate. As you start to pull your tongue back, the reed will change tone and audibly twitch for a split second. This the 'bite' point. When you learn to drive, you try to synchronise the clutch and accelerator (gas) pedals in order to pull forward. Miss the critical 'bite' point and you stall or kangaroo. You're slipping the clutch. Recognise the 'bite' point on your harmonica as the bend engages. As soon as it cuts in, increase the pull from your throat and chest. Attack it! Eventually you will feel the reed drop into a whole new position and the tone will drop with it. If you miss the 'bite' point, don't hang on fruitlessly. Let it all go and start again.

Ee-you-yore and K Spot Nothing to do with melancholic donkeys or female anatomy. This method demonstrates how control is transferred from the central front end of your vocal tract to the back. Your tongue effectively works as a plunger drawing the reed into a bend and holding it there. Start by saying Ee-you-yore out loud. Running the words together, say it again and note what happens to your tongue as you do. It falls back in stages until you are effectively ready to yawn. Now purse your lips and articulate the same words, but drawing inward this time. Try this on, say, hole four. A similar approach is to say the letter K and note where your tongue touches the roof of your mouth. Moving the K spot back will help you to start the bending process.

Milk shake, snake venom and a bicycle pump Sounds like quite a partay! Sometimes it helps to imagine yourself pulling thick milkshake through a straw, or sucking snake venom from a bite. The sucking or plunger process created by the tongue is integral to draw bending on the harmonica. If shakes and snakes don't do it for you, picture a standard bicycle pump. As you pull the top end of the pump, the air pressure changes inside and it draws in air. You're doing the same on the harmonica with your tongue acting as the reverse plunger or cycle pump.
Different reeds have different characters
When you start out, you will notice how some bends seem easier than others. More often than not the two draw bend can be elusive. Don't lose heart. It will come with practice. The lower reeds take more effort because they are larger and let more air through. You have to adjust accordingly and your head may drop slightly to afford more space for your tongue and vocal tract. In time you will learn to economise, getting more bend for your pound per square inch.
Direct bending
Once you have found all your bends, practice moving from a clean draw to a full bend as slowly as possible. This will help you develop control and strengthen your bending technique. Now try a clean draw into a full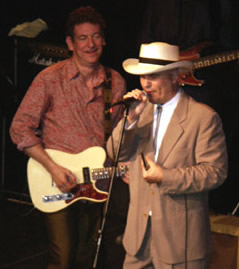 bend. Hold the full bend and then slowly release back to the clean draw. In the holes that have more than one bent note, 2 and 3, pause and hold each semitone bend momentarily en route.
Now you have to learn the same in reverse. Starting with the full bend, releasing to the clean draw and back to the full bend. Try the semitone pauses in holes 2 and 3 again.
You have found the parameters for each hole. Finally, you need to aim at hitting every bend in isolation. And yes this includes all three in holes three. Rise to the challenge! You may find it helps to trigger direct bends by placing your tongue behind your teeth and sounding a short reversed 'tuh' to get things started. Alternatively, try using the K spot further back and attack the direct bend with a reverse 'Kooo.' It is normal to scoop into direct bends at first, until you are certain of where to find them. But throw away the crutches as soon as you can and learn to hit them cleanly. Accurate direct bending marks the difference between those who say they can bend, and those who actually can.
How do I know I am getting an accurate bend?
A pitch pipe, piano or correctly tuned guitar will give you the notes you need. There are also many tutorial CD's that will give you the notes too. If you are worried whether or not the bend is absolutely accurate, don't go buying loads of gadgets. Save your money. , Play songs which require bent notes and use your ears to judge whether or not you're playing accurately. No bends, no tune. Simple! See How Do I Know I'm Bending In Tune? and play tunes that need accurate bends on the three draw – try Amazing Grace starting from draw two instead of blow 6.
Do's and dont's
Do persevere, Do be thorough. Do perfect your direct bends. Don't be satisfied with half measures. Drag those whole bends right down into the muck! Don't avoid three draw bends. They are tricky and their inherent inaccuracy is audibly a weak point on the diatonic harmonica. Embrace it.