Old-School Harmonica or New-School?
After chatting to Joe Filisko, Elwood the Apprentice wonders if blues harmonica really needs a war of the clones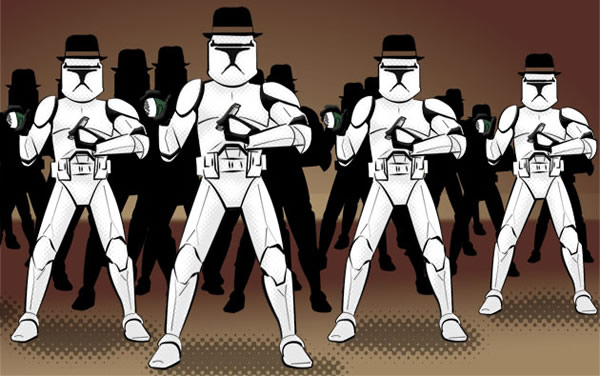 Those of you who've been paying attention will see that I recently posted a (rather overdue) Q&A with Chicago harmonica master Joe Filisko. In a very short conversation in a very noisy pub, which I'll admit was not conducive to nuanced debate, he contended that harmonica should stay rooted in tradition: "One might argue," he said, "that the harmonica sounds best played as it was played in the Fifties. And if it sounds best, then why not do it?"
Now, it ain't easy arguing about harmonica with Joe Filisko. He's nice about it, but one can hardly forget that a single horn-like blast from his Marine Band could reduce poor Elwood into nothing more than a pair of smoking Hush Puppies.
But I gotta say that Filisko's traditionalism is just something I can't quite swallow.
It's true that learning at the feet of the masters is something every player needs to do. And for the foreseeable future I am mostly content to do that. But if all of us followed Filisko's path, the future of blues music would be no future at all. There's a difference between recognising tradition and doting on the past. [And let's not forget that if blues harmonica is like a language – as Joe says – that language is in constant flux, evolving every moment of every day.]
But I have two things to say about Filisko that I hope will let both parties (master and apprentice) retire from the debate with face saved. The first is that he's a ridiculously nice guy. Adam Gussow called him "the saint" of blues harmonica, and in the course of my journalistic endeavours, I found three separate pieces of evidence to support this hypothesis:
a) Without being asked, he gave out a freebie Filisko & Noden CD to a guy who'd clearly spent all his money on beer (…okay, it was me);
b) After the show, he happily doled out some incisive technical advice to an amateur harp player (still me);
c) During our conversation, some ungainly moron knocked over Filisko's beer and he shrugged it off like it was nothing. (The moron, who asked not to be named, may or may not have been me).
The second is that, whether or not we agree with Filisko, we need him. From John Lee Williamson and Sonny Terry, to DeFord Bailey fox chases and the chord-heavy Cajun waltzes of Isom Fontenot, he breathes life into every lick and inflection. I have to admit – with each whoop and warble, Filisko isn't merely copying those geezers; he's channelling them. A world without Joe Filisko could be a world where blues harmonica had forgotten its heritage – like an acorn that had forgotten it was part of an oak tree.
In blues music, the term 'keeper of the flame' is as hackneyed as most of the guys who get labeled with it. Many are imitators, impersonators, impressionists – takers of the flame. But journey back to the ancient origins of that phrase, when our ancestors' sacred fires were kept alive by the stewardship of a chosen few, and then you'll understand Joe Filisko. Keeper of the flame.
Elwood is the guest blogger for The Harp Surgery's Apprenticeship Series. Thanks to Jon Vaughan of Customharps.co.uk for recording the latter half of the interview. And thanks to Joe for being a sport about the spilt beer. As a fellow apprentice told me, if you'd been Sonny Boy you woulda cut me.