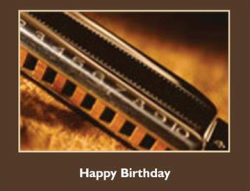 Birthday Vouchers
Everyone enjoys a special birthday surprise! Have you secretly bought your loved one a harmonica for their birthday? Now you're considering the complete package – not just the harmonica, but a lesson to go with it. Well you've come to the right place.
Call or email us in a quiet moment and we will send you a birthday voucher for your introductory lesson at our celebration rate. Our birthday voucher card is shown to the left. Inside are the words Gift Voucher and Introductory Harmonica Lesson with space for your own message.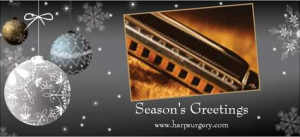 Christmas Vouchers
So you've secretly bought your harmonica wannabe a brand new 'harp' for Christmas. Now perhaps you're thinking they need something else. Well why not buy them their first lesson too?
Call or email us in a quiet moment and we will send you a Christmas voucher for your introductory lesson at our seasonal rate. Our Christmas voucher is shown here. Inside are the words Best wishes for a wonderful Christmas and a Musical New Year! with space for your own message.
Can I buy more than one lesson?
Yes you can. We offer a 10% discount if you commit to a series of ten lessons. Buy 9 lessons and you'll get one extra on the house. Our voucher will include a record sheet to help monitor the number of sessions used. Just ask our tutor to sign the sheet after each lesson.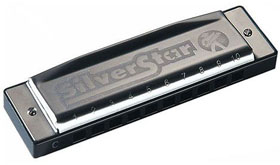 Need the harmonica too?
No problem. For the modest price of £6.99, we will be happy to supply you with an entry level harmonica to get things started. Just let us know. Alternatively, you might like to visit our Partners (to the right) and select a middle range instrument. Either way we are more than happy to lend you some expert advice when making your choice.
Payment
Once we have agreed the amount you wish to spend, you will receive an email with a link to PayPal to complete your purchase. Simply follow the instructions and we will dispatch your order once payment is confirmed.
Introductory lessons - £25.00 for 1 hour (adults) or £15.00 for a ½ hour session (juniors).
Postage and packing - £3.99 to cover the voucher, envelope and postage
Entry Level Harmonica - £6.99
Course of lessons – £270.00 for 10 x 1 hours (adults) or £180.00 for 10 x ½ hours (juniors)
Terms and conditions
Simple really. All our vouchers are valid for 6 months from the date of purchase. In the case of 10 lesson courses, the first lesson must be taken within 6 months of purchase and the last lesson within 15 months of purchase – effectively that's one lesson per month. For faster development we are of course happy to timetable your lessons within shorter time frame.