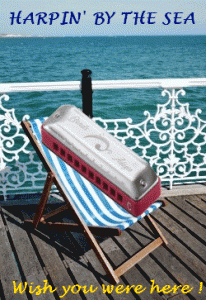 HARPIN' BY THE SEA 2013 – WE'RE BACK FOR OUR THIRD ANNUAL HARMONICA FESTIVAL!
Sat 2. Feb 2012
11.00am-11.00pm 
The Brunswick, Holland Road, Hove, BN3 1JF
Harpin' By The Sea, with support from the National Harmonica League, is hosting it's third annual Harmonica Day to brighten up your mid-winter.
Special Guest - Steve Baker (Hohner)
This is our third successive annual event. The last two years have seen a BIG crowd, from harmonica novices and enthusiasts, to intermediate and expert players, all seeking ways to improve technique and engage with each other. If you've always wanted to make music with a harmonica, or improve what you do, this is your chance.
The Beginners' workshops will be led our own Richard Taylor, while Steve Baker, Darren Causton and Will Greener will be leading sessions for Intermediate and Advanced players.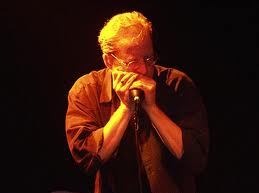 Our very special guest, Steve Baker, is a consultant to Hohner Harmonicas and is world renowned as a harmonica innovator and teacher. This is a rare visit to the UK from Steve, who is based in Hamburg and will be visiting especially for this event. Steve wil be leading specialist workshops and performing a set in the evening, alongside our other with harp-friendly bands.
Here's the programme and entrance prices:
11.00 Registration
11.30-13.00 Workshops
14.15-15.45 Workshops
15.45 Prize Draw (sponsored by Hohner UK)
16.00-17.00 Workshops
17.30-18.30 Open harp jam on stage
18.30-20.00 Chill out / Time for dinner (not included)
20.00-23.00 Live show with featured artists
Booking information
Workshops only £17.50 / £14.00 conc.
Evening Concert only £8.00 / £6.00  conc.    
Tickets available from www.brunswickpub.co.uk
Info: Stuart McKay 07773 270336
What to bring / What harmonica?
Paying participants are eligible to take part in as many workshops as they can handle. Beginners will need a Richter tuned diatonic harp in the key of C Major. That's a regular 10 hole 'blues' harp Рalthough we'll be playing a range of styles. Intermediates should bring a C Major harp too and any others they have. Please be aware that parking in the area is metered. Bus and taxi transport is plentiful. The Brunswick has a good food menu and there are other food outlets within walking distance.
The Venue 
The event will take place at the Brunswick Pub and Music Venue, set just back from Hove seafront. Beginners workshops will take place in the main Music Room on the ground floor, while intermediate and advanced workshops will be upstairs in their teaching rooms. The jam and evening concert will also take place in the excellent Live Music Venue.