A Postcard From Scandinavia
..or when is a harmonica not a harmonica?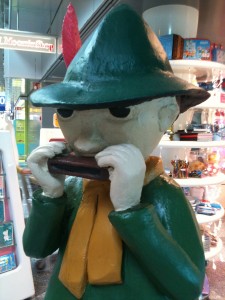 Sometimes it is important to take a complete break from the everyday, including the harmonica. A holiday should promote a renewed sense of perspective and a fresh appetite. Which is possibly the true meaning of recreation. And so it is, that not playing the harmonica can actually improve musical creativity.
This summer the Good Doctor vacated the Harp Surgery and repaired to the fresh air of Scandinavia in a bid to recharge the old electrochemical cells. If less is more, then the expansiveness, raw nature and piercing silence of Northern Europe is a source of great spiritual enrichment.
But just when he thought it was safe to run naked from the sauna, our unlikely musical instrument leapt out uninvited. Ain't it always the way? Take Helsinki Airport for example…
A poor second to Belgium, when go-ing abroad [Finland by Monty Python]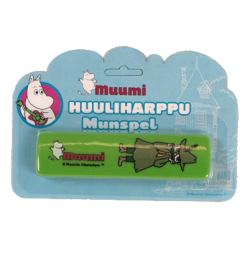 The Good Doctor and his family were making their way through Departures to catch the air shuttle to Stockholm when they passed the Moomin store. And there to greet them was a lifesize mannekin of Snufkin (above) playing the harmonica. Or at least it would be a harmonica if that was what the Finns called it. And we're assuming it's a harmonica rather than a supersized Bourbon Biscuit.
In Finland a harmonnika is actually a type of accordion. That is to say the Finnish word for what we call a harmonica is huuliharppu. Something of which our friends in Sväng are no doubt well aware. 
Anyway, for those who are unfamiliar with the Moomins, they are one of Finland's most celebrated exports. In fact they're the nearest the Finns have to Disney. And before you ask, yes there is a Mumin World theme park complete with Moominmamma's famous jam cellar. Er, the jam you can eat, that is. And you can buy your own Nuuskamuikkunen Huuliharppu (Snufkin Harmonica) from the souvenir store.
She had a dream about the King of Sweden [Mini The Moocher – Cab Calloway]
Cutting against Sweden's reputation for social equality, technical reliability, economy of design and world domination, the Vasa Museum is a celebration of abject failure on all fronts. The Vasa was a royal galleon named after Sweden's equivalent to Henry VIII which, in 1628, sailed no more than a metric mile from the dockyards of Stockholm and promptly turned turtle in a gust of wind. Poor design was the basis of the catastrophe and the conquering of Poland was shelved.
In true Swedish style of course, no blame was apportioned. Modern investigative journalists would call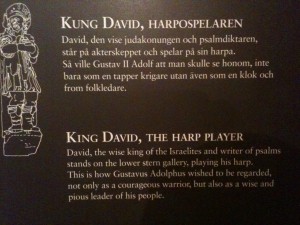 this the Vasagate Cover Up. But as the engineer responsible for the ship's production had already joined the great dockyard in the sky, at the time it was convenient to posthumously shove the blame his way and get back on message.
Indeed, pointing an accusatory finger at the King for pushing the plans through prematurely without due diligence to health and safety simply wasn't worth being keel hauled for. Leda genom teknik as they say in Sweden.
Joking aside, if you get the chance, go and visit the museum. It is superbly well presented, highly educational and excellent value for families. Which is what the Good Doctor and company got up to having transferred their vacationing from Finland to Sweden. All very well, we hear you say, but what on earth does this have to do with the harmonica?
Nothing much, until you view one particuar information board with an ironic eye. The text explains part of the metaphor behind the galleon's splendidly carved superstructure. It's entitled King David, The Harp Player. So there's just no getting away from the old gob iron. Even in Sweden. I'm sure the Catholic troops under Alexander of Poland would have been quaking in their boots had they caught sight of David and his giant harp.
Kom igen Sverige!
As a Swedish TV commercial blasted the classic Hoochie Coochie harmonica riff through the solitude of the Good Doctor's Swedish summer house, he had to accept that no amount of vacationing could ever divorce him from the voice of the ubiquitous Mississippi Saxophone.
So, in parting acknowledgment to Sweden's contribution to the blues harp, here's a link to Sven Zetterberg who we once had the honour of hearing live with Eric Bibb, and also a little something by Knockout Greg (below). Well, if you can't beat 'em, pick up your harp and join 'em. Even if you're on your summer vacation.