How to Become a Blues Harp Player
So what kind of animal is the blues harp player? In the first chapter of the Apprenticeship Series, guest blogger Elwood takes us through part 1 of his blues ethnography, Figuring Out The Harp Player.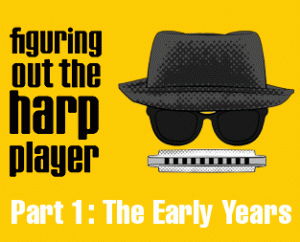 For some, the journey to becoming a master takes them from the depths of frustration to the giddy heights of triumph via a thousand smoky jam sessions and hundreds of hours in the woodshed. Many of us, however, find the journey to becoming a master shorter and much easier: it goes all the way to the local music store and back – more often than not via the ugly hat shop.
There's an old joke – or historical anecdote? – about a father who sends his son to harmonica lessons. The son comes home after the first lesson and his old man asks what he learned. The boy says, "I learned the two-hole draw, dad." Mighty impressed is his old dad. The next week the boy comes back from his lesson and his dad asks the same thing. "Three-hole draw and a three-hole bend," he says, and his dear old dad's heart floods with joy. A week later, father and son bump into each other in the kitchen; he asks his boy how the lesson went. "Oh, I didn't go this week," says the boy. "Why not?" says the dad. "Well," says the boy, "I got a gig."
True story.
Now, you may think I'm accusing people of approaching the instrument with cocksure glibness. Fortunately, even if you never practise or take lessons, there is a quick and easy way of becoming a master player: buying more expensive equipment! Yes, friends, a growing number aspiring blues musicians with more money than patience are taking this route: frustrated accountants and regional sales managers who spend their weekends amassing the finest custom harps, bullet mics and retro amps that money can buy.
Good for them, I say. Never mind that it will still sound like an asthmatic duck being throttled to death. The point is that they tried, they really did.
Elwood is the guest blogger for The Harp Surgery's Apprenticeship Series. In his spare time he's a grad student in London. Find him on Twitter, if you like.