Our First-Ever Blues Harp Albums (Part 2)
As we review the albums that first got us hooked on blues harp, The Good Doctor tries to pick out his all-time favourite harmonica album from his days as a beginner.
The Good Doctor's choice:
When she was a pre-schooler, I used to joke that my eldest daughter was the epitome of indecision. Presented with two options, she would innocently substitute 'either or' with 'and'. Bargaining was fruitless. Consequently I developed my own circus act, flipping pancakes and toasting waffles simultaneously.
I have since learned that, given the opportunity of two best options, 'either or' is quite simply an unfair question. So I am taking a leaf from my daughter's book and, free of compunction, I have to name two favourite albums. In the frying pan we have Girls Go Wild by The Fabulous Thunderbirds, while under the grill we have Live at The Marquee by 9 Below Zero. No amount of balloon debating will change my mind.
As a teenager, both these albums had me air-harping in front of the bedroom mirror. Nothing else mattered. Kim Wilson and Mark Feltham were my surrogate blues harp mentors. Real-life harp tutors did not exist in 1980 suburban England. There was Tony 'Little Sun' Glover's now famous reference manual, but we had no Youtube or DVD. We had to engage our ears and our imagination, take a deep breath and figure it all out by ourselves. Which is another reason why these two albums rarely left the turntable. While they were a joy to listen to, I was also trying to copy and learn from them.
So what exactly is it that makes these albums so significant? The wizardry of all that full-throated blues harping and the sheer energy of the bands. Plus their choice of songs. They're never, ever dull. Now my ear naturally gravitates to the rhythm end of the blues spectrum. I love and appreciate a slow blues, but more than anything I enjoy a good dance beat – something up-tempo or Latin with a good hook. Both records are so laden with the stuff that sparks fizz off their tailpipes.
The T-Birds' album is a swinging blues collection that drips with that big-time Texas feel. Well it would, wouldn't it? Stevie Ray Vaughan's brother is on gee-tar and Mike Buck is in his element behind the drum kit. As a teenager I had no idea who the Vaughan brothers were, or that Kim Wilson had been a disciple of George 'Harmonica' Smith. As far as the harp was concerned, it was all about the tone, the timing and the style I was hearing. 'Pocket Rocket' is a prime example of all three.
And it was all about cool. 'Wait On Time', 'Marked Deck' and 'Let Me In' are real finger-clickers. 'Scratch My Back' hits the swamp blues tickle spot. 'Rich Woman' and 'Walkin' To My Baby' provide the Latin interest, and 'Rock With Me' and 'She's Tuff' are straight-shooting, 12-bar delicacies. There are even a couple of slow blues tunes, Full Time Lover and C-Boy's Blues, but even these ooze with class.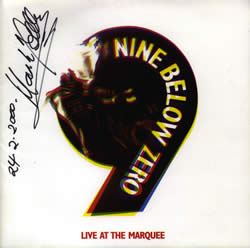 In contrast, 9 Below Zero were begotten of the UK's pub rock tradition. Their album is a gritty, no-nonsense R&B feast with blues harp in every song. Yes, every song. But as already mentioned, it's never dull or repetitive. Indeed, as a journeyman harp player you feel compelled to join in. In doing so you experiment with harp technique and by surmounting each hurdle, you can readily chart your progress on the instrument. No Youtube or DVD, remember.
Back in 1980 I had no idea how heavily Mark Feltham was influenced by Charlie McCoy's playing. I didn't know who Charlie McCoy was! Even though it was 'Stone Fox Chase' that had got me started on the harp. I also had no idea that 9 Below were so heavily influenced by the J. Geils Band. 'Homework' and 'Pack Fair & Square' were just great tunes and the rest of the band's selection of blues, Motown and pub rock resonated where it mattered. Right to my teenage toes.
Check the Good Doctor's tab and lesson of Pack Fair & Square
9 Below played their own London smash'n'grab songs on the record – 'Stop Your Naggin'' and 'Straighten Her Out'. 'Three Times Enough' and 'Doghouse' followed on their next album. Their affinity with Motown brought covers of Marvin Gaye's 'Can I Get A Witness' and The Four Tops' 'I Can't Help Myself'. Sam The Sham's 'Woolly Bully' was thrown in to good effect, as was Hank Ballard's 'Hoochie Coochie Coo'.
Then there was the blues material. Freddie King's 'Tore Down', Otis Rush and Willie Dixon's 'I Can't Quit You Babe' (with its obvious Led Zep connections) and, of course, 'Got My Mojo Working'.
Each track is a lesson in how to use the harp as a horn section, lead instrument or vamper. Then there were those other two tracks. The special ones: 'Riding On The L&N' and 'Swing Job'. Both remain essential listening and essential learning. The former has been featured in a previous Harp Surgery post. Crack these two, add 'Pack Fair & Square' and you'll instantly join the ranks of the power harp brigade with audiences applauding you across the nation.
To experience my first real taste of R&B with just one of these albums would have been acceptable I suppose. At that time I would have been none the wiser. But it would have been a one-legged existence. For any harp player and blues enthusiast from the UK, the two albums are somehow complimentary, of the moment and provide a comprehensive musical education. Call them apple pie and custard. Good enough on their own, but perfect together. I was fortunate enough to see both bands live by the way, and they were every bit as exciting on stage.
Personally, these two albums were the headlights of a brand new car that was about to leave its parking slot. They're still on full-beam. I think any sceptics out there should avoid jay-walking.
Find Nine Below Zero albums at Amazon UK and Amazon US
Find Fabulous Thunderbirds albums at Amazon UK and Amazon US