In Memorium – Mark Hughes of Split Rivvit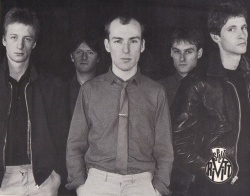 Dear Harp Surgery, I'm Mark Hughes' sister Isobel. It's been over 20 years since he died, and there is still rarely a day that passes without me thinking of him. Today would have been his 65th birthday. It's heartwarming to read about Mark and the rest of the the band, bringing back the happier memories.
My siblings and I have only a couple of photos of Split Rivitt, so I was excited to read that Charlie has lots (hi Charlie!) – it would be wonderful to have some copies. I hope all is well with you, Dave W, Chris and Dave L. It would be lovely to hear from you. Isobel x
Thanks for your message Isobel – here's some footage from the BBC's Nationwide programme back in the day, featuring Mark in the studio with Johnny Mars, Mark Feltham and Skid Stuart. Sending you love and best wishes from everyone at the Harp Surgery.
If anyone has any memorabilia we can add to our Split Rivitt archive, please message us through our contact page. Harp Surgery visitors can enjoy the Split Rivitt archive here.