Mountain of Love (Alabama 3), Concorde II, Brighton, 2 Dec.2008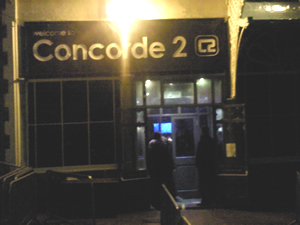 You know how it is when people evangelise. You smile, nod your head and then shove an invisible finger in each ear. The first time I heard Exile On Coldharbour Lane, I was unreceptive. My friend, on the other hand, was entering a transcended state even before he hit the play button. 'You'll love it!' he beamed. What I heard was good, but it didn't burn bushes for me or part the clouds. In fact all I could focus on was the crudeness of the harmonica.
A few days later I cranked up my own copy on the car stereo. This was when it hit me. It actually sounded fantastic. Immediately the world was a better place and before the month was out I had subscribed, unconditionally, to a new subculture. Then I too found myself evangelising. Alabama 3 made me chuckle inside. It made me groove. It was clever, it was sleazy, it was irreverent. It had a punky edge and musical depths. It had a lyrical wizardry and it was relevant. It was an adventure. It threw high fives at roots Americana. It flashed a V at decorum. It gave prejudice the bird. Most importantly it had a layer of raw harmonica that sat perfectly…
If you have yet to encounter Alabama 3, do so without further delay. "Sweet, goddamn, pretty, motherfucking, country, acid house music all night long". Their world-weary protagonists, Larry Love and The Very Reverend Dr D Wayne Love, are the bible belt's answer to Jake and Elwood. Their house menu is a southern fried combo of country music and acid dance rhythms, with a side order of blues and gospel. Their language is liberally laced with religious irony, self-deprecation, jazz references, substance abuse and addiction. Their neighbourhood is daubed with socio-political graffiti, rejuvenating lessons from Communism, the Cold War, Thatcherite Britain and Civil Rights.
And the harmonica? It is the new link in a chain forged by R.L. Burnside and extended by Little Axe in the 1980's and 90's. They too fostered and released sound sampling and dance beats into a blues habitat. They too featured the voice of the Mississippi Saxophone, courtesy of Alan Glen and Lester Butler, and thereby charted a new Heimat for the blues. But who is responsible for Alabama 3's harpwork? Is its naivety real, apparent, sampled or all three? Time to get myself back to church and investigate the Army of Love's man on the lickin' stick, The Mountain Of Love.
Out there running, just to be on the run..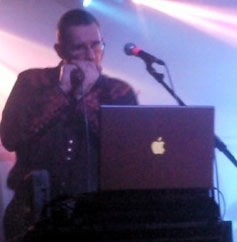 Piers Marsh, The Mountain Of Love, is mid 40's, educated and from Shropshire. He was endearingly embarrassed to be an interviewee. Pointing a finger at the front men as they ghosted by, 'they usually get all the attention', he quipped. He is engaging, open and instantly likable. I could have been chatting to an old school mate I hadn't seen for years. One who had attracted the media spotlight, reveled in the creative experience, but remained unerringly normal. The word 'grounded' springs to mind.
So how did all this get started?
I met Rob (Rob Spragg/Larry Love) at Aberystwyth University in 1983. I was studying computing and Rob was studying law. I started a band called Whores Of Babylon. The name came from a line by Robert Mitchum in the 1955 movie Night Of The Hunter. I don't know if you've seen it? He is a charlatan preacher who has LOVE and HATE tattooed on his knuckles. It's a dark movie based in the Deep South. I used a blues sample from Sonny Boy Williamson II on one of our tracks. Unfortunately I fell out with my music partner after only two gigs! Rob was working on his own music project with an outfit called Shed, but was suffering a similar fate. I called him and the rest is history.
Do you play any other instruments?
I played guitar first – before Uni. "I noodled about on the harp and recorded everything. I ended up with long tapes of absolute rubbish!"I'm not really proficient on any instrument, just good at certain aspects. It's the same with the harp. For those first album riffs, I noodled about on the harp and recorded everything. I ended up with long tapes of absolute rubbish! But I listened back and picked out the bits where I thought 'that's nice'. I chopped them together and came up with the riffs. Then I had to set about learning them!
Have you ever sampled yourself for live performance purposes?
Yes, some of my harp is sampled. A few of the stabs. I've looped some chords with a bit of throat vibrato too.
U Don't Dance 2 Tekno Anymore is a classic track on every level, yet this was one harp riff that struck me as crude on first hearing. Have you ever tried moving the blow 2 to a draw bend instead?

It wasn't difficult to pick out the tune, but 2 blow versus 2 draw bend? I'm out of practice!
Why did Harpo Strangelove join the clan?

Harpo Strangelove is our other harp player, Nick Reynolds (son of Bruce Reynolds, mastermind behind the Great Train Robbery). He plays at Alabama 3 acoustic gigs. I'm not so interested in off-shoots. Every band seems to do it. He was Devlin's boyfriend. He is a good traditional harp player, great at jamming. But I hate jamming – I'm a programmer!
Who are your favourite harp players?
I love Big Walter. I never quite got into Little Walter. Big Walter's tone is just so FAT. I like Sonny Terry's country blues. Sonny Boy 2. Some of his tunes are just fantastic. Let's Go Back To Church [Converted] started life with a 15 minute version of Sonny Boy's Tell Me over the top. I quite like the Fabulous Thunderbirds.
Alabama 3 have been acclaimed as the most exciting live band in the UK. Who do you go and see?
Most recently Martha Reeves & The Vandellas. Sly & Robbie. Rob provides most of our theatrical stuff on stage. I'm also a set builder by trade. I still do it occasionally for Shakespeare's Globe company on the South Bank. I can do a summer season and they'll release me for Alabama 3 tours and festivals. During the winter time I start writing for Alabama 3.
How do you start writing a new song?
I use guitar loops, for example JJ Cale. "I use guitar loops, for example JJ Cale. He's fantastic, such a groover."He's fantastic, such a groover. Then I build off it. Eventually I remove the original. My kit gets smaller and smaller. Now I just have a laptop, a keyboard and pair of speakers. I use software synths, whereas it was all hardware before.
What happened during the lean years from 1989 to 1997?
Rob released a single with Alabama 3 prior to myself and Jake joining. I joined in 1993. Rob took studio cassettes of Woke Up This Morning and Hypo Full Of Love to raves and started DJ'ing them.
Woke Up This Morning must have gone through some lengthy development!
It did. In 1994 it changed completely, except for the bass line. At one point it almost changed into a reggae version. In 1995 we did a tour of CSOA's in Italy – a network of squats run as social centres by commies and anarchists. They put on shows and events. So we had to get a set together. We only had three or four songs! Woke Up This Morning, Hypo Full Of Love, Speed Of The Sound Of Loneliness and Let's Go Back To Church [Connected]. They were all stupidly long. Seventeen minutes each!
For our first ever gig we took a support band made up of ex members of the Band of Holy Joy…they had a van! We had a car and some of us used trains. None of Rob's finances were gonna work, so after our first gig I took the money and stayed somewhere else. The rest of the band stayed in the bar where we'd gigged – which they broke into and drank dry. Next morning the bar owner found me and took back all the money. Rob had promised him the world! After that I budgeted £5 per person per day for the rest of the trip. We could just about afford to get home. Now we have a tour manager.
What's on the cards this winter?
Nothing specific yet. As long as I find stuff that makes me nod my head in the studio, the rest is secondary.
What rig do you use?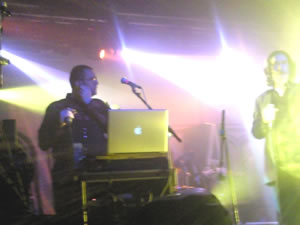 I lost my favourite mic! The band did a gig recently and my 1940 Ev604 went walkies. It was chrome and had a beautiful tone. It was quite similar to the early Green Bullet. I've got a JT30 now – don't like it as much as my first Green Bullet. I sounded awful at first. I didn't have any idea about cupping and airtightness. On the first album I had no idea of tone. I played through a Fender Pro Junior. I don't use it any more. Now I have a 58 Bassman replica with a digital reverb unit and delay pedal. When I use my JT30, I stick a preamp on to get more tone.
My Green Bullet goes through an on/off pedal into a Line 6 Echo Park, into an Electro Harmonix Holy Grail Reverb, into a Line 6 Amp Modeller AM4 (mainly unused), into my 58 re-issue Fender Bassman – which has had the preamp valve swapped for a 12AU7 tube.
How did you choose your pseudonym?
It was chosen for me. It's an old gospel tune. [Harold Dorman – Mountain of Love]
When did you take up the harp?
I was given an old Chinese harp in about 1987 as a present. I'd just split up from my girlfriend and was feeling a bit blue. But because it was a Chinese harp, you could only produce folk tunes. So it cheered you up. I later sought out a blues harp. I thought to myself, 'they play blues guitar in E', so I bought an E harp! The rest I've mainly learned by myself.
What about your harp playing now?
Our songs dictate its development. I'm a bit lazy. I don't really practice or study originals blow by blow. I like rhythms. We had some strange rhythms spliced together! The one that mainly comes to mind is Shoot Me Up [Hypo Full Of Love]. First it was spliced then I had to learn it. (I can't physically do what was spliced so there are elements recorded on a backing track). It was a lengthy and frustrating process, but fun. How did I do that? I didn't get help to learn it. I didn't see it that way. It's like playing around with a toy piano. It's another sound I could use in the tune.
What about the latest album, MOR?
Yes it means Middle Of The Road! It's Rob's homage to The Eagles. "I got into music through punk. So I still have a punk sensibility from the 70's."I fucking hate The Eagles. They were on a juke box in France once. I hit another friend with a chair 'cos he kept putting on Hotel California. I got into music through punk. So I still have a punk sensibility from the 70's. That MOR stuff's rubbish. I still don't have a Pink Floyd record either… well, Piper at The Gates Of Dawn… but apart from that.
What was the Punk/RUTS connection with Alabama 3?

John 'Segs' Jennings made a guest appearance on bass at the Shepherds Bush Empire. He had to leave a year or so ago.
Some people say you're at the cutting edge of new blues..
I don't believe them! I don't know what it means. If it makes my head nod I'm happy. I don't think of it in the wider context of the world. If it pleases me it's ok. Maybe others do. I don't know if it's still blues? Is it? It has influences and I like blues.
Conclusion
No pretense. No bull. Straight from the hip. The harp was unrefined. Sampling is used. But The Mountain Of Love is giving it large. No hiding behind the bedroom door getting all proficient. That's punk for you. DIY. Make mistakes, but get out there.
This is the 'utilitarian' ministry of harmonica playing. Two weeks earlier at Brighton's Komedia, before Charlie Musselwhite took the stage, his silver harp case stood silently in the spotlight, a monument to all things blues harmonica. Tonight, as the crowd assembled to enjoy Alabama 3 at Brighton's Concorde II, The Mountain of Love's silver Apple Mac stood alone in the spotlight, plugged in, charged up and ready for action. Lay it on me brother.