Mud Ball Musings CD Review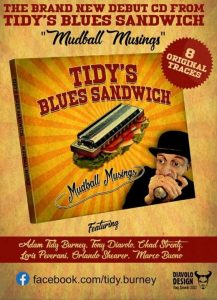 Good afternoon gentlemen, let's go for a blues on this mudball!
Regulars at the Harp Surgery will know how much we admire the harmonica style of Adam 'Tidy' Burney and The Brothers of Mothershovel. Newcomers fear not, you can catch up by reading our review from 2017 of their wonderful album Umcha, Umcha. In the meantime, hang onto your hats, he's back!
Last month, amidst a nerve-wracking summer of Euro soccer, Otis the postman delivered an eagerly anticipated copy of Tidy's new solo album, Mudball Musings. We duly closed the Surgery early, put the kettle on and gathered round the radiogram. The result? A feast for the ears, with an array of guest artists and supporting musicians, and of course harp playing of the highest magnitude.
First off the blocks is The Mudball Mooch, a Little Walter style shuffle played with all the panache and killer tone you'd expect from a professional bluesman. The hook is worthy of any of the harmonica greats and Tidy confirms his command of the genre beautifully. Avoiding cliché he even ventures into the upper-mid section of the harp, which is really exciting, making the ultimate return to the hook and outro sequence even more meaningful. A masterclass.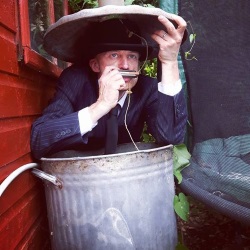 Old Man Blues is next up with a reinterpretation of the Mothershovel classic. Tidy fosters the edginess of the original incarnation, but on this occasion throws an urban blues mood over proceedings, replacing its inaugural punk undercurrent with a smoother groove that stops just short of soul or funk. The song loses none of it's bar-room preaching quality however, and in this new guise listener's of a certain age would be forgiven for thinking it was penned by Ian Dury, or perhaps Wolfie Witcher.
This World Will Keep On Rolling (Part One) follows, with a step into deep Americana and contributions by Tony Diavolo on guitar and Chad Strentz on vocals. From the harmonica department, we hear train whistles, Sonny Terry chugs, Cajun intonation and a steady rolling groove. It's all there including, we might add, frequent reminders of Gary Primich in his heyday.
Hip Bop is redolent of Mothershovel's Hovel Bop and demonstrates Tidy's unique commuter-belt punk harp style, a sound that resulted in the Brothers of Mothershovel being invited to headline at the Harpin' By The Sea harmonica festival in 2018. You just don't hear this way of playing harmonica anywhere else and it's invigorating.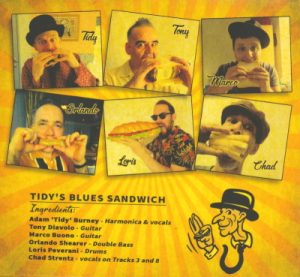 The feel of Hip Bop carries into the next track, Make The Tea/On The Run Again. The opening riff is deceptive; it could almost be the opening to Nine Below Zero's version of Sugar Pie Honey Bunch. As the rhythm section fades in however, Tidy steps up a gear. We're rewarded with a raunchy escapade into his lyrical and musical hinterland, and a tribute to the Memphis Jug Band's recording of On The Road Again. As they say at Selhurst Park, have it! 
A Nod To Noah draws on Tidy's affection for Noah Lewis and the pre-war harmonica style. You can hear it clearly in his harmonica phrasing. This song has wider appeal however. From the opening drum pattern, through octaved squeeze box licks, to its ending on a four chord, it's a Cajun cavalcade. This is the track that had us boogying round the Surgery like a bunch of old sillies. And we've been picking up on yet another of Tidy's Gary Primich/Jerome Godboo, Louisiana-style harping. Eleven out of ten for this one!
The penultimate track brings us back to Croydon and a reprise of one of Tidy's commuter punk offerings, Sunshine Song, from his Mothershovel canon. The frenzied, barbed-wire harp riffs are a further example of Tidy's unique place in the harmonica soundscape, punctuated with references to Sonny Terry and delivered through a gritty amplified rig. Pass the bowler hat.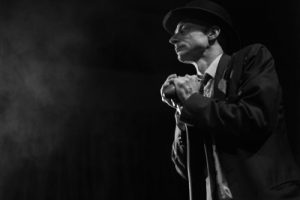 And finally the collection closes on what could be Chicago's Maxwell Street, with a menacing box blues revision of This World Will Keep On Rolling (Part Two). The snap of Loris Peverani's shuffle is pinpoint. The thud or Orlando Shearer's double bass drives things forward. Marco Buono's guitar is right in the pocket. Chad Strentz's vocals carry a blues patination right through to the call and response sequence with Tidy's harp. This could be The Kingsnakes in their prime; gutsy, full of intent and each musician carrying their individual blues hallmark.
One sign of a great recording is that you want to play it again and, as you do so, you discover more detail each time. Rest assured this album will be on the Surgery's radiogram for many months to come. For your copy, email Tidy Burney adamburney123@gmail.com, or message him on facebook.