Rod Piazza & The Mighty Flyers – The Railhead, Las Vegas, Thursday 14th January 2010
You just wait till he does his walkabout and gets up on the table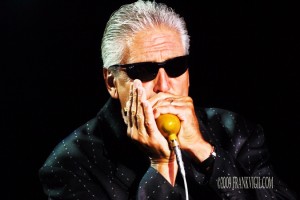 The Good Doctor found himself back in Vegas for the post-Christmas lull. It was strange seeing folks in coats and jackets complaining about the cold in a City that is normally a kiln. But the white tops on the nearby mountains, the absence of crowds and an ill wind blowing through the valley spelt winter in Sin City.
The Doc was in need of something to warm the soul and what better than a Vegas helping of Rod Piazza & The Mighty Flyers? He jumped a cab and rode out from the Strip to the Boulder Station Hotel and waded across the Casino floor to the The Railhead. Standing in line, he was engaged in conversation by Carol, a regular winter migrant from Michigan. Oh I've seen Rod Piazza many times. This your first? she quizzed. The Doc nodded and smiled, showing full British reserve. Oh you just wait till he does his walkabout, gets up on the table and Honey starts playing that piano with her toes. The Doc's grin broadened. Sounds more like the Cirque du Soleil he thought to himself.
Pre-flight briefing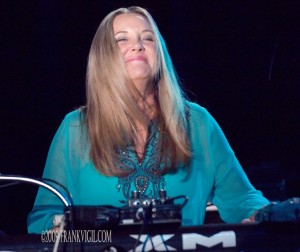 On tour, Rod Piazza & The Mighty Flyers are a blues quartet. Rod plays diatonic and chromatic harp, his wife Honey plays piano and provides backing vocals, Henry Carvajal plays guitar and sings, while Dave Kida anchors the drums.
The first talking point is the band's missing bass player. This position was held for over thirty years by Bob Stuve (check out his 1999 album Big Noise, featuring ex-Flyers Junior Watson and Alex Schultz on guitar, plus the mighty James 'Ice Pick' Harman on harp), however since his departure Honey has provided the bass line from her keyboard. Some of the time she uses regular piano tones, at other times she has a very good synthesised string bass channel. Once she locks into Dave Kida's kick drum, you forget the shortfall in personnel although visually a bass player would bring greater balance to the stage.
The next point of interest is Henry Carvajal. His musicianship is exceptional. It is utterly faithful to the retro musical genre,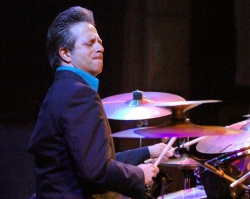 beautifully measured and tastefully executed. On occasion, from behind closed eyes, he could be mistaken for T-Bone Walker. Henry's artistic prowess becomes more evident when you hear him take the lead vocal. He could give Big Joe Turner a run for his money. And when you consider that he was rhythm guitarist for the late, great William Clarke, you'll understand why this man has impeccable credentials and a big reputation.
All four musicians drive a professional, energetic and rocking performance. None more so than their 'to die for' drummer Dave Kida. This guy lives every single song. He's animated, he swings like a troop of chimps and he chases other drummers up trees.
Chocks away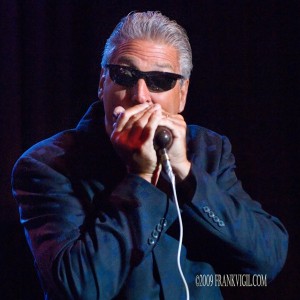 The Mighty Flyers played two forty-five minute sets commencing shortly after 8pm. First up was Move Outa Here, a Texas shuffle on chromatic harp delivered George Harmonica Smith style. Piazza was mentored by Harmonica Smith in his youth. It was the perfect, good-time intro to the evening, tightly followed up with Somebody Stole My Baby, a juicy Chicago shuffle with an excellent retro feel. Into a stroll next with Little Walter's Gotta Find My Baby in which Piazza demonstrated his command of the Little Walter style with a great lead break pumping through his gold bullet mic. Bring me a big, big glass of wine was the repeat line of the next number which was played in third position diatonic harp to a swaying Willy Dixon groove.
Exit Rod and Henry, cue Honey and Dave for the first Boogie-Woogie treat of the evening. This is not something you get to see very often, least of all with a female piano player. So credits all round. The delivery was made with a big dose of showbiz – piano stool kicked back, huge smiles and top end tinkling – and momentarily felt schmalzy, but what the heck. It was worth it simply to witness the dynamics of Dave's fabulous drumming and marvel at Honey's
stamina. No bass player in the band remember, so she's holding down that left hand for the entire evening. With Rod and Henry's return to the stage, the band eased into a gentle rocking blues Oh Sugar, complete with T-Bone Walker guitar licks , third position harping and a beautiful fade out.
If I Quit My Baby, was a slow blues played on a long chromatic. From the rich tone and the sharp look of the harp, the wise money was on a Hering 64. As the applause ebbed, Henry took the lead vocal and chopped his way into another T-Bone style number, Ain't No Jumping Baby Since You Been Gone. His vocals were once again reminiscent of Big Joe Turner and the number had that classic retro, jump-blues feel. The Railhead has plenty of dance floor and, as Henry sang his heart out, the audience were not shy in stepping up. A heavier, funkier groove followed with more chromatic. It was slightly too wide a departure from where the Flyers work best and to be brutally honest, they should drop this one from their set.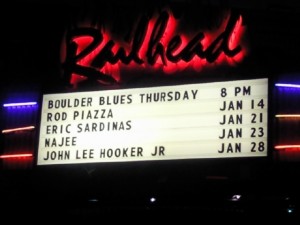 I Be Your Man One Day had touches of Junior Wells about it and was similar to a Magic Sam's I Just Want A Little Bit. The bass line and stop-start riff were the same at least, made even more interesting when the band briefly moved into a New Orleans rumba. The final number in the first set was a harmonica boogie show-stopper. Big second position intro and flat out until the drummer and guitarist peeled off into the wings leaving Rod and Honey to duet for a spell. Then Honey vacated the stage as Rod strolled into the audience, climbed on a table at the back of the room and gave the people exactly what they'd come for. The band returned for the big outro, by which time Honey was playing the keys with both hands and one foot, Rod was harping up a typhoon, Dave's arms were a blur and Henry looked just as cool as ever. Carol had been spot on with her prognosis.
Mid-flight banter
During the break the Doc snatched a chance to briefly chat with Rod (who always mixes it with his audience at half time, if only to close a few CD sales). The questions are basic, but bear in mind it was 5am at home and the Doc was feeling it. And talking to someone who's been staring at you from an album cover for the past twenty years is always a weird experience.
HS: Is that your amp – the big orange beast over there?
RP: Yes it is.
HS: What kind of amp is that?
RP: Harp King.
HS: How many speakers?
RP: Six 10's.
HS: It's a wicked sound. What kind of harmonicas due you tend to use?
RP: Hering predominantly.
HS: And your harp mic – is that an Astatic?
RP: Yeah. It's my own model of the Astatic. I kind of hot-rodded it years ago, way back, but they don't make 'em no more. I was the one who originally hot-rodded that mic. Then Hohner put out the Bluesblaster – they tried to copy it. They didn't want to pay me a royalty, so I told 'em backwards. So they made it backwards!
HS: What about your 64 chromatic, is that a Hering too?
RP: Hering yeah. That's the best chromatic.
HS: I recognised the tone.
RP: That stays in tune so long, you can mistreat it and it doesn't lose its tone.
HS: You're playing as a four piece. Where is the bass coming from – is that all from the keyboard?
RP: Yeah.
HS: So you regularly go out as a four piece?
RP: I've got two tenor players that play with me at home. And when I have a big festival they play with me. But it's always two tenors or a four piece.
HS: Could you give me a name check on your drummer and guitarist tonight?
RP: Yeah it's Dave Kida on drums and Henry Carvajal on guitar.
HS: And how long have those guys been playing with you now?
RP: Henry about eight years and Dave Kida about three or four.
HS: Thank you.
RP: Stick around I'm gonna get with it on the next set!
Top of descent and clear to land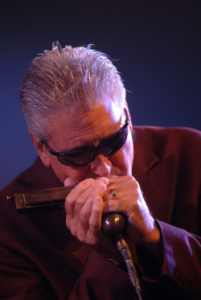 So had the show resembled the Cirque du Soleil? With Dave Kida's energetic drumming, Rod Piazza's tabletop promenade and Honey's footwork on the keys… possibly. But the Doc closed his eyes and shut out the animation just for a minute. What was that? His feet were tapping under his stool and his backside was rolling in his seat; this was Musique du Paradis! He had heard one or two asides from the floor that after a handful of gigs, the show becomes passé. He could understand that, but was focussing on the centrepiece. The music. Frankly it rocked. And as testament to the quality of the grooves, the dance floor was busier than Wally World on Black Friday.
The second set started with a cross between Little Walter's Evans Shuffle and Big Walter's Honeydripper before moving into another good time rocking blues with a strong back beat. Everything you learned you had to learn from me… Goodbye! sang Piazza. Then a number which ran, I've been down so long, I'm on my way back up again. A 12/8 rhythm and a groove very much like Ray Charles' Lonely Avenue. Next a leaf out of the Jimmy Reed blues manual with a number called Wake Me Up In The Morning, complete with top end first position licks. If the Doc was to be at all critical of Rod Piazza's playing, he'd say the top end blow bends are not his strongest part of the harp, but unless you play one yourself, you'd never notice. The audience certainly didn't.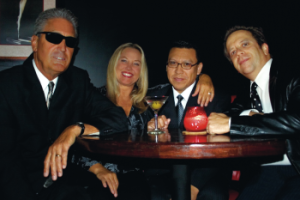 Time for some old-style doo-wop. It could have been Blueberry Hill, but this one was called You Can Make It If You Try. After which Henry tore up the auditorium with an instrumental which drew on licks from Lucille and Hip Hugger. Henry's top shelf guitar work notwithstanding, it was at this point the Doc felt the full weight of Dave Kida's drummer was most apparent. The guy is legend and he lives in every song. A New Orleans groove was next up with some second position harping, and then things slowed once more. Blue Midnight was one for blues lovers everywhere, in the style of Little Walter's Last Night. Piazza pulled out all the stops. The harp tone was pure Jacobs with the reverb accurate to within 12/16 of an inch. The Leslie effect was verdant and Honey underpinned the whole groove with a convincing keyboard string bass tone.
Exit Rod and Henry once more for another Boogie-Woogie slot. This time the Doc had to concur – they'd already seen this in the first set – hadn't they? Sadly no fast forward button at a live gig. He observed one or two crowd members retire to the bar and wash rooms. But by the time they were back, the Doc was at last witnessing Mr Piazza socking it to a busy dance floor with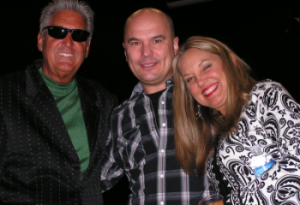 his fusion of Thurston Harris' Little Bitty Pretty One and Bobby Day's Rockin' Robin. Key of A major, second position on a D diatonic and for the Doc, a lifetime's wish fulfilled. At last he'd seen it done first hand complete with that killer wobble between the 3 draw bends and 2 draw. Bliss.
The penultimate song of the evening was Muddy Waters' Baby Please Don't Go. It was at this point that Rod made reference to the fateful moment he missed his ride on the big blues bus. Apparently in the mid 1970's he'd been contacted by Muddy with an invitation to play a gig, but he just couldn't make it. The bus left without him, never to return. No matter. Rod has carved out his own very successful career nonetheless. Time for one last old time shuffle. Rock that boogie Mr P. Rock that boogie!
Taxi to the terminal zone
Credits go to Carol and Loren Essig for their friendship and encouragement at the gig. Major thanks also go to Frank Vigil for his superb photography. Frank has many album covers to his credit including the Mighty Flyers. You can see his work on line at www.myspace.com/frankvigilphoto, www.frankvigil.com and at www.pbase.com/frankvigil. Finally, thanks to Rod Piazza for the short interview and for making a small dream come true.
See our follow up Rod Piazza article with background, tab and sound clips for you to play Little IttyPretty One (Rockin' Robin).