SaRon Crenshaw – Terra Blues, New York, 16th Oct 2008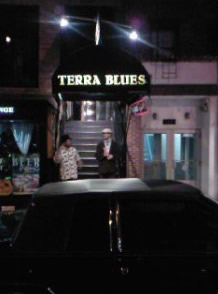 We arrived at Terra Blues for the nightly acoustic set at about 7.30pm, not really knowing what to expect. What we discovered were two rare treasures. The first was the venue itself. We were instantly bowled over by its style and warmth. This place is charming and sophisticated, with mood lighting, a vaulted ceiling and candlelit tables. And teasing us from the stage, like a spotlit still life, was an empty chair, a red Lucille Gibson guitar signed by BB King and a silver-faced Fender Twin Reverb amplifier.
A few minutes later our second great find of the evening took the stage. SaRon Crenshaw is incredible. He has presence and rapport to match the likes of Luther Allison and Eric Bibb. His voice is the equal of any Atlantic soul singer – its richness, depth and expression is astonishing. His guitar work is comprehensively top drawer.
I couldn't name all the songs SaRon performed – many were his own – but his covers included Mojo, Cold Shot, at least two Robert Cray tunes and Rainy Night In Georgia/New York.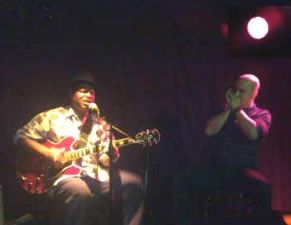 From the chair, as his chest swayed and his knees jumped to the beat, his guitar painted countless moods and his voice filled our souls to the very brim. His repertoire meandered through moody urban blues, soul, down home and upbeat delta styles. He could have comfortably moved into funk or jazz; but in every case, through altered rhythms and lyrics or simply his pure personality, SaRon injected a unique twist, taking full ownership of each song. This man is the perfect blues performer.
Having had an informal chat during the break, it was an unexpected thrill to be invited on stage during the second half to accompany SaRon on blues harps. We played two numbers together – I am still so gobsmacked I can't recall what they were – but the first had me on an A harp in first position, inflecting small touches on top end blow bends. SaRon clearly indicated his approval.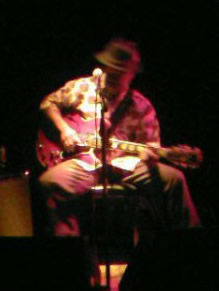 The second was a self-penned number of SaRon's, with a train theme and a country blues feel. After he took it once round the loop, the same A harp came in, this time in second position, vamping a railroad rhythm and adding the obligatory whistles. SaRon had flagged up the mantrap II chord early on to avoid any calamities and we rode nonchalantly on down the track together, fading to a close and a burst of applause. What a treat!
If you ever have the chance to visit Terra Blues or see SaRon Crenshaw, hopefully both, please don't pass it up. You'll be glad you went. My thanks go to SaRon for taking the risk of inviting an unknown harp player up on stage – he did make an aside that the gamble had payed off handsomely – and for a fabulous evening's entertainment.
Check out SaRon Crenshaw's web page here. Oh, and here's something on YouTube featuring SaRon plugged in at Terra Blues. Less intimate than his acoustic set, but you'll get the idea about his guitar work and vocals.