A rivitting read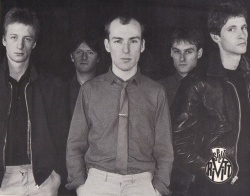 We recently featured a post about Split Rivitt, a largely unknown band from the UK's R&B boom of the early 1980s. Our story recalls England's 2009 Ashes Test victory over Australia, which reminded the Good Doctor of the BBC's Test Match Special theme, Soul Limbo by Booker T. & The MGs. Just that is was an alternative version of the piece by Split Rivitt, replacing the original Hammond Organ lead of the original with a searing new Mouth Organ line. You can visit the article here and try the tune for yourself using the tabs.
During our research we interviewed Peter Shertser of Red Lightnin' Records, the track's producer, as we could find out nothing about the band on line. Being the generous sort he is, Peter kindly promised the Harp Surgery team exclusive access to his Split Rivitt archive material. Well Otis dropped off the clippings this morning, so with our thanks to Peter, we are delighted to now bring you our 'Rivitting' scrap book.
Master tape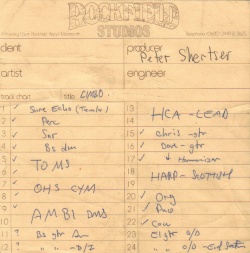 Here is the master tape box information with 24 track divisions from the band's recording of Soul Limbo, made at Rockfield Studios in Monmouth. It shows Peter Shertser of Red Lightnin' Records as the Producer and indicates the instrument on each track. Tracks 13 and 14 show Mark 'Harpdog' Hughes' lead harmonica (HCA LEAD), while tracks 18 and 19 show a mysterious Scottish harp. "we were aiming at our own wall of sound"This lends weight to Peter's comment 'we added more harp on top and bounced it all down. I seem to remember asking him to harmonise and layer it. We were aiming at our own wall of sound.' Peter continues, 'Scottish harp refers to my own nomenclature. It was so I could remember what it sounded like, in this case the Scottish bagpipe sounding harp. Listen to the layers on a BIG hi-fi and you may hear it in the mix.' We hear it Peter – this is why the word 'abrasive' appears in so many of the reviews from that time!
'The track never truly got the exposure it deserved because the distributor, Pinnacle, got into financial difficulty. But it was on BBC Radio 1's A list and got a lot of airplay. In fact it charted briefly in the top 20. I don't know how the track was chosen originally. I have always been a big Booker T. fan, so maybe I had something to do with it.'
'Anyway I love off-the-wall stuff. I once recorded the Dambusters Theme with a Punk Band and tried to sell it to the Germans. It didn't get very far. ' [The Propellers – Ed.]
Getting the Humph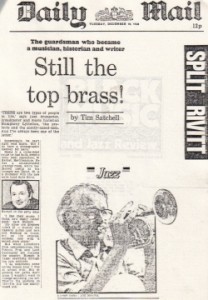 Here's the article about Humphrey Lyttelton which Peter mentioned last time (from the Daily Mail 18.Dec 1980) by Tim Satchell. 'There are two types of people in life' says jazz trumpeter, broadcaster and music historian Humphrey Lyttelton, 'the prefects and the snotty-nosed-kids. And I've always been one of the latter.' Surprisingly, he can't sight read music. 'But I do have a photographic memory for parts.'
Home is a three-sided house he had built, despite local opposition, in Barnet, Hertfordshire. He has a sound-proofed "There are two types of people in life. The prefects and the snotty-nosed kids"practise room, which has proved useful as his younger son David, 22, is a drummer with the new wave band Split Rivitt. 'I like their music. I think he's really rather good,' says Humph.
'My other son, Stephen – he's 25 – studied the classical guitar and he's still working in music, but in the sensible, business side with a record store chain. ' But while Lyttelton's Eton contemporaries like Francis Pym and Lord Carrington are running the country, Humph is happy searching through the jazz archives.'
'I do sometimes come across people I was at at school with. But in general our paths don't cross. I wouldn't want to change anything, you see. They're the prefects in life – I'm still the snotty-nosed kid.'
Read all about it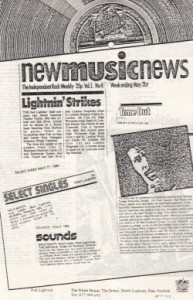 The cuttings in the image to the right are from the music press of the day. Peter Shertser remembers: 'I organised what was supposed to be a package tour with Billy Boy Arnold & The Groundhogs, and Tommy Tucker & Split Rivitt. Unfortunately they ended up in different parts of the country at the same time and Tony McPhee subsequently dropped out of The Groundhogs!'
New Music News, in the build up to the"contenders in the current dredge-it-up climate" tour, writes: 'The Red Lightnin' R&B tour starts next month, featuring Tommy Tucker, Billy Boy Arnold and Split Rivitt. Arnold will be backed by a British band, featuring Tony McPhee on guitar, fellow ex-Groundhog Alan Fish on bass and former Rory Gallagher drummer Wilgar Campbell.'
Time Out adds: 'The latest visit by American keyboard-playing bluesman Tommy Tucker.. augurs well and marks the continued expansion of the blues/r&b organisation Red Lightnin' , represented here as promoters, while they also make a foray into the singles market with Split Rivitt, who back Tucker on stage.'
Meanwhile Sounds review the single: 'None for me, thank you, but both [with Keep On Running by The Details] obviously serious chart contenders in the current dredge-it-up climate. Rivitt make the playlist in seconds flat with this abrasive rehash of Booker T.'
Live at London's The Venue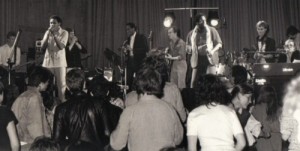 'One evening of the tour', recalls Peter Shertser, 'was recorded live at Virgin's Venue in Victoria, London. I licensed it to Catfish Records but never saw a penny in return. Alexis Korner and Billy Boy's brother, Romeo, joined the band on stage that night. It was fantastic.'
The photo to the left is was taken at the jam session immediately after the evening. 'On stage are Billy Boy Arnold (dark suited to the left) with Mark 'Harpdog' Hughes on harp to his left (also in a dark top). At the left hand mic is Billy Boy's brother Romeo who, by the way did a great rare 45 many years ago with a blues/reggae beat featuring harmonica! I cannot remember who the other black singer was – someone from a big band; Aswad or similar. Then next to him is the lamented Barney and in the far right corner Martin Stone. On keyboards is Steve Darrington.'
Split Rivitt live at The Polytechnic of North London (PNL)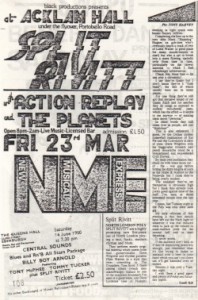 Ah yes, the Good Doctor's alma mater, the left-wing bastion of sausage, chips, beans and tea that was the Polytechnic of North London. From the New Musical Express (NME), the newspaper that captured the Zeitgeist of the late 70s / early 80s revolution in UK popular and underground music with its radical, and often controversial, squalls of muso-journalism: "..Check this, blues fans – he can play a chromatic!"'Completing the line-up is the very able Mark 'Harpdog' Hughes on gob-iron who's obviously heard a track or two of Little Walter (a good place for any mouth-harpist to start), but who is apt to break into a more flowing, melodic style from time to time, particularly on the slower material – which I find refreshingly adventurous. Check this, blues fans – he can play a chromatic!
I say they're funky but I don't mean they're a 'funk band', the like of which usually bore me to teeny pieces . For one thing they still have that abrasive sound of yer classic R&B and for another they do songs as opposed to endless two-chord jams, which has the effect – it seems to me anyway – of making them more 'personal.'
What's the word?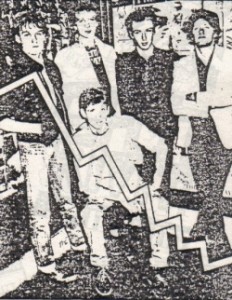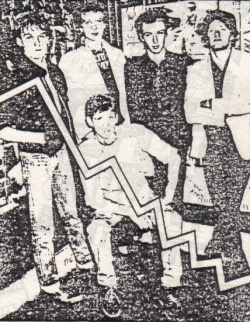 And finally, from Black Echoes music newspaper: '..that record [Soul Limbo] is only one facet of a band with much more to say about white men playing black licks, as Mark explained.'
'We got an R&B…well maybe a little more bluesy..tag over the last couple of months because we did that tour with Tommy Tucker and Billy Boy Arnold and the Red Lightnin' thing and we were doing a much bluesier set. So when people came and saw us there was a lot more blues for that reason. But now – although I don't know how many gigs we're gonna be doing for a while – the blues element of the set will be taking a back seat.'
'But with regards to your earlier comment about the Q Tips and The Step (two recently formed r&b/soul revival bands) without wanting to get involved in an inter-band conflict, and I think I can safely speak for everyone on this, I don't actually have a lot of respect for them, because as far as I'm concerned they are just re-doing old numbers.'
And after being reminded that their current single is a hit tune from 1968? …'just a way of showing that was part of our [musical] roots. we've messed about with reggae and soul and with rhythm and blues and we've developed more of a sound now and I think when we record the songs we've been writing it'll be more of our own sound.'
Acknowledgement
Thanks and full credit to Peter Shertser of Red Lightnin' Records for sharing his Split Rivitt scrap book with the Harp Surgery.
In memory of Barney Jeffrey.
Follow our Split Rivitt Soul Limbo series here.