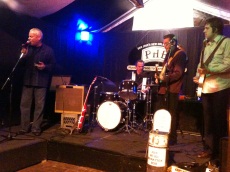 Slow down chariot, come down easy
Listen up people. The Good Doctor recently dropped into San Francisco for the winter sales, jumped the Caltrain to San Jose and bagged him a bargain. Three for the price of one, plus a surprise bonus.
What are we talking about? Only a one night stand with Andy Santana, Aki Kumar and the legendary Gary Smith, that's what. Oh, and a Sunday morning helping of Dave Earl.
Now we don't make this stuff up. As Andy Santana's band took the stage, the San Jose Sharks fans were busy fuelling up for their scrap with the Minnesota Wild. It was t-shirt weather (in January for crying out loud) and the local brew was tasting just right. Time for a winter feast of west coast blues harmonica. (more…)