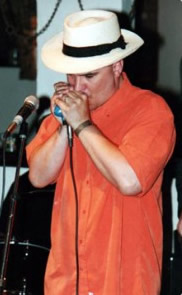 So you joined a band and it's your first rehearsal or maybe your first live show. At some point the rest of the guys look at you and nod: time for your first solo. What should you do? Don't panic, Mr Mainwaring, you have plenty of options.
Just pick a harp in the right key and go for it. Sometimes it's the best option! Trust in your natural musical abilities.
Follow the melody
Pick up the melody line during the song, repeat and build on it during your solo break.
Follow the rhythm
Pick up the rhythm during the song and vamp over your solo break.
Follow the chord changes
Perhaps the most satisfying for you and the audience. Avoid retreating into trills and effects. Get musical. Play off draw 2 over the 1 chord. Use some blow notes over the 4 chord (try blow 2 or 4 and work off them). Find the patterns around draw 1 or 4 when playing over the 5 chord and the turnaround at the end of each bar sequence. Use light and shade – start quietly and build tension – especially in a slow blues. Work melodies, blues notes, moods, patterns, stops, licks and effects; but pay attention to the chord changes. The result is an accomplished musical contribution. (more…)