Umcha, Umcha – Brothers of Mothershovel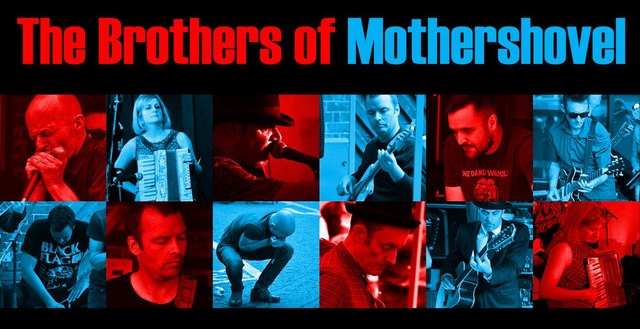 In a good country, virtues wouldn't be necessary. Everybody could be quite ordinary.
Mother Courage Bertold Brecht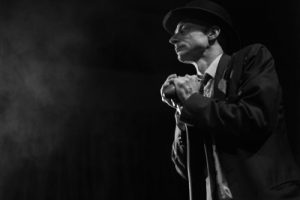 All you young people, now you listen to me
It was a chilly spring morning. Wood smoke whispered from the Harp Surgery chimney. Unshaven, the Doc stood admiring the laburnum, a steaming mug of Ringtons in one hand and a toasted tea cake in the other. He was listening to Rory McLeod's Farewell Welfare and contemplating the day ahead when there was a knock on the Surgery's back door.
Wiping warm butter from his chin, Doc turned down his Sonos and opened the top gable. 'Morning saviour! A package for you from the dark side.' It was Otis the mailman. 'Really? Where's that then?', the Doc murmured blearily. 'Croydon,' Otis answered, reaching in for one of Monica's warm buns.
Doc took the small packet. 'It's a CD Doc', Otis announced smugly. 'And how do you know that Otis old boy, have you already opened it?' the Doc bristled. 'I've felt your presents Luke Skyscraper', Otis replied. Doc grinned and picked up the bread knife with both hands. Sweeping it crosswise in a Jedi riposte, he sliced the end off the padded envelope. Out fell a shiny new CD and a letter from Adam Burney of The Brothers of Mothershovel. 'I've been looking forward to this', the Doc smiled. He took a bite from his tea cake and slipped the disc into the CD player.
You're all spoilt, you've had it easy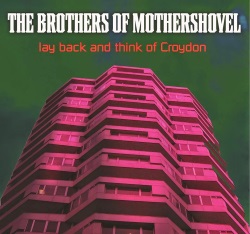 The Brothers of Mothershovel's music arcs like the third rail at Clapham Junction. It is radical, street smart and satirical. Its patinated core is ingrained with Roots and Americana, yet its message is in-your-face, neo-punk. It's seductively subversive and excitingly surreal.
And Adam's audacious harmonica playing is a compelling bonus for all gob-iron fans. He does stuff. And it's different. He combines rhythm and texture that makes you shut up and listen, with barbed-wire riffs sharp enough to snag your cardigan sleeve.
Umcha, Umcha is actually TBoM's second opus. We aren't privy to the dozen or so tracks on their debut album, Lay Back and Think of Croydon, however a judicious combing of YouTube has harvested a clear enough impression. The first album is bursting with fiddles, ho-down beats and bluesy harmonica. One particular track, Midnight Sunshine includes Cajun and Country harping straight from the gospels of Isom Fontenot and Deford Bailey.
Umcha, Umcha reveals the subculture and musical development that TBoM have been cultivating in the meantime. In some respects it's a cousin of Alabama 3's Exile on Coldharbour Lane, but TBoM have kept their vocals free of Southern drawl. Instead they've opted for the vernacular of Selhurst Park, which keeps things very English and very razor blade.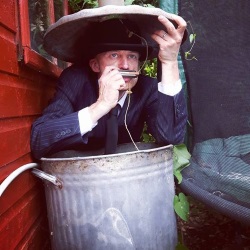 A-whingin' and a-whinin', all me me me
Umcha, Umcha may only be five tracks long, but it's twenty five minutes' worth of pure entertainment. Each song is a cameo in its own right and a couple have been translated onto the small screen.
The opening track, Old Man Blues, takes a heavy duty Bo Diddley beat (not dissimilar to U2's Desire) and adds a message from the grumpy old git propping up the bar in your local Wetherspoons. Mid-way through, the mood softens momentarily with a lovely addition of some jaws harp, before things crunch onward to the close. Adam's harp vamps and riffs crown the piece all the way to its Peaches conclusion. It's a fabulous, pulsating piece for carefree tribal dancing at any festival or boozer.
The second track, Brian, is a manifesto of the band's impressive Klezmer style. It's a frenzied and anarchic rampage. It's where the Umcha, Umcha of the title can be found by the skip load. The vocals are delivered with a sneering, satanic edge, that breaks into villainous laughter. 'Open your mind and listen to your Brian'. Is the title a Malapropism for brain? Quite probably. Is it a Pythonesque poke? Absolutely. Either way it's great fun.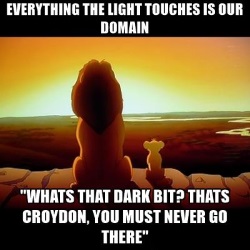 The bridge throws in a brief 'Oh Lordy' cotton-bail field holler for anyone who feels disorientated. On screen, the opening scene is a Monty Python Gumby trashing his guitar in the street. The whole band then turns out in costume. The review is brilliantly authentic – wellies, knotted handkerchiefs, braces over tank tops, Hitler moustaches and wire specs. There's even a short fish slapping dance. The cornfield tribute to The Gladiator movie didn't go unnoticed either. 'Burn your books and let yourself go!'.
The middle track, Oxbridge Chumps, may have garnered its title from the penultimate Laurel & Hardy movie, A Chump At Oxford. The band's Bowler Hat imagery and comic undertones would certainly suggest so. Then again, this could just be coincidence. The original title included a different C word. Either way Oxbridge Chumps sums up the nation's post-Major political and industrial elite.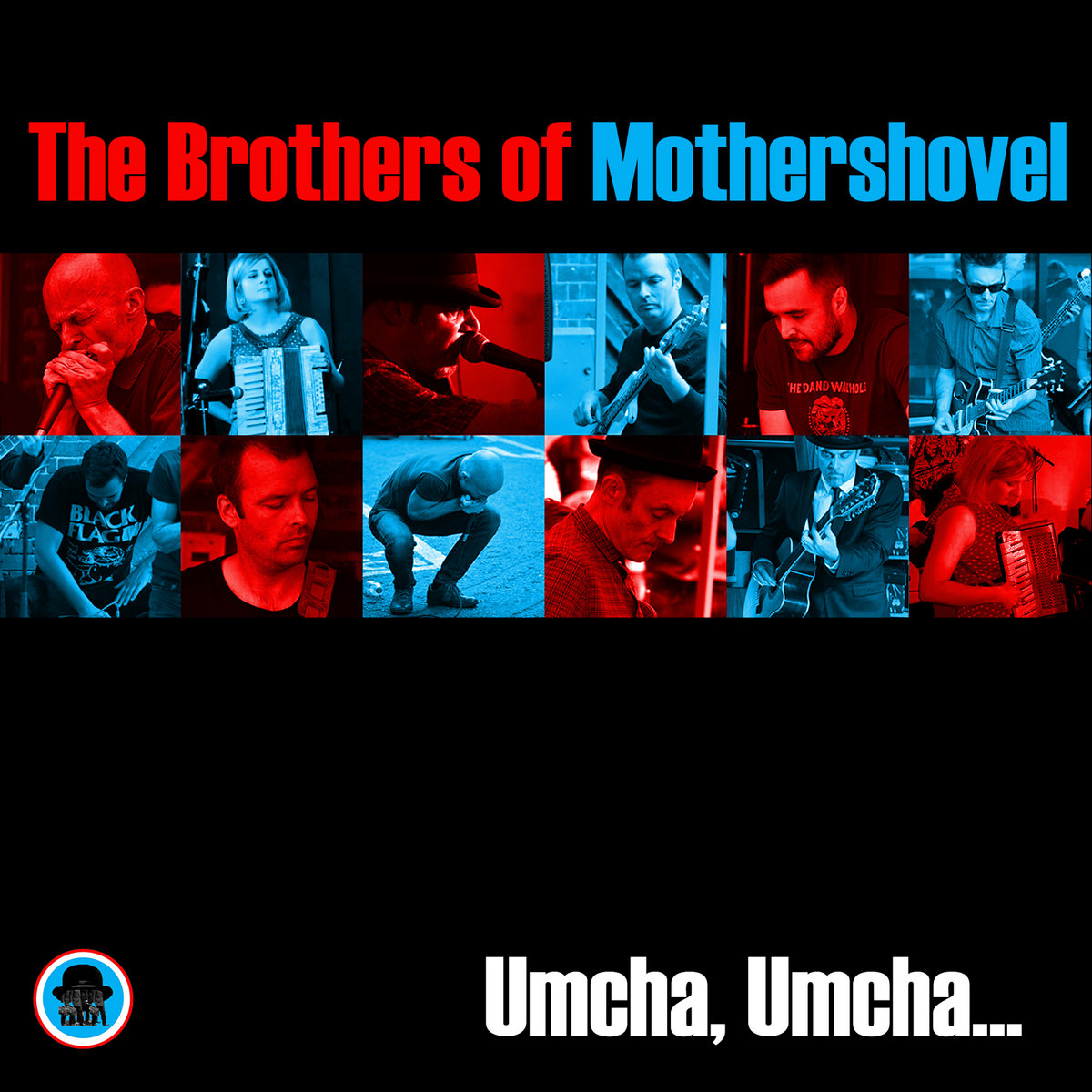 The chant of children's voices in the refrain adds a healthy brick-in-the-wall aspect to the production. 'Run the country, gives me the humpy, Tarquin and Bunty, Oxbridge chumps!' The lyrics could easily have been penned by Ian Dury. This is the lost sequel to There Ain't Half Been Some Clever Bastards, although the track opens to a reggae beat rather than a Blockhead-style, music hall Oompah. Appropriately the band tears up the score half way through the song and veers into an edgy, Eastern-European finale, just to keep you on the back foot. Politically speaking, its comment is bang up to date.
If I Was A Dog has a distinctly Celtic ostinato and a steady groove. To be honest it took a few listens before it grew on us, but grow on us it did. It wouldn't be lost in a Pogues or Levellers set. We like the cut of the lyric and the feel of the track. With some judicious pruning, the length and flow could become more readily accessible. Some rearrangement might also open up the zestful ceilidh content.
Lyrically, If I Was A Dog's target could be anyone you choose. To qualify, their actions simply need to contradict their verbal rigmarole. The Harp Surgery chooses Theresa May.
Shell Life is a dynamic and action packed piece. It's TBoM at their very best and it has our vote for the next Bond Movie theme. It's heavy, it's groovy, it has an edginess you can't help writhing to. Once again Adam's harp provides the hook. 'I don't bother you, so don't bother me'. Can't really add much more – other than check out the Shell Life video on YouTube. It's a cracker.
The album might have benefited from a quieter track to balance the programme, but undeterred we give it a big fat 10 from Len. In fact we like it so much we've invited TBoM to take the stage at the 2018 Harpin' By The Sea Festival in Brighton. And they've accepted, so come and check them out for yourself.
You get yourself a graze and you're down to A&E
As we've mentioned, TBoM have not only been highly productive in the recording studio, they've also been busy on the video front. YouTube is peppered with their thrupenny operas and they make compulsive viewing.
Imagery is drawn from a London suburban paradigm. Bollocks that's Dulwich Village. We'll start again. Locations include the station platforms, pubs and garden sheds of Thornton Heath, which are decorated with any childhood props the band can lay their hands on, from a Darth Vader mask to an old Humphrey mug.
And for TBoM, the bowler hat elicits a brand and a visual impact understood by The Mr Men, Sonny Boy Williamson II, John Cleese, Patrick Macnee, Mr Ben, Charlie Chaplain and Rene Magritte. We've heard the band described as commuter anti-heroes. Something born out by their excellent video work. They are certainly proud to represent all things Croydon. But if you passed these chaps in the street, they'd be carrying a copy of Brecht in their briefcase rather than the latest ministerial leak.
They'd also be headed for the nearest saloon bar for a pale ale, packet of cheese and onion and acoustic jam. TBoM teeter on the edge of insanity and harbour undertones of the troubled head-space that civil servants once hid behind their morning newspapers. Slam-door trains are now a thing of the past, but no doubt the same angst prevails amongst push-button Southern Rail season-ticket holders bowed over their social media screens. Either way, TBoM are the cuff-linked anarchists, the Servile Row and Aquascrotum tailored punks that lurk in every carriage. A fifth column of formal non-conformists. And we love them.
Old man blues, I've got the old man blues
'That sounds quite mutinous Doc', Otis whispered. 'Well Otis old boy, as Jacob Appel put it, the most dangerous ideas are not those that challenge the status quo. The most dangerous ideas are those so embedded in the status quo, so wrapped in a cloud of inevitability, that we forget they are ideas at all. On which note, I wouldn't be surprised if Chairman May called a snap election me old china.'
Otis raised an eyebrow and set off to finish his round. The laburnum blossom jostled in his wake. Doc turned up the music and sang along, 'Pilots and lawyers, Bullingdon brawlers, pighead lovers – Oxbridge chumps!
Buy and download your own copy of Umcha, Umcha here
Find out more about The Brothers of Mothershovel here.
With thanks to Adam Burney for making the first move.