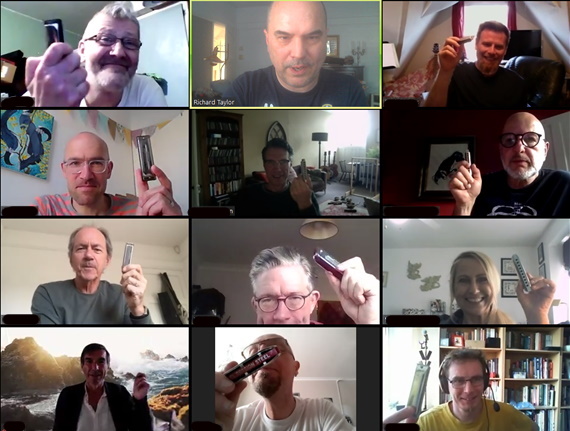 Come and join the Zoom harmonica gang!
PLEASE NOTE – NO WORKSHOP THIS WEEK (8TH/9TH JULY) OWING TO OFFICE REFURBISHMENT. NORMAL SERVICE WILL RESUME FROM 15TH/16TH JULY. THANK YOU FOR YOUR UNDERSTANDING AND OUR APOLOGIES FOR ANY DISAPPOINTMENT CAUSED THIS WEEK.
Zoom: 914-617-7410 / 058464
•  Beginners – Wednesdays 6pm-7pm (UK Time)
•  Intermediates – Thursdays 6pm-7pm (UK Time)
Use the link shown to join us – newcomers are always welcome, so don't be shy! If you don't have Zoom, click the logo to download it – there are plenty of short tutorials on YouTube, and we'll help you too.
Voluntary contributions
It does take some time to prepare and organise each workshop. If you enjoy your experience, a donation is always welcome. Simply copy paypal.me/harpsurgery into your browser to transfer your contribution.
__________________________________________________________________________________________________________________
Programmme & Resources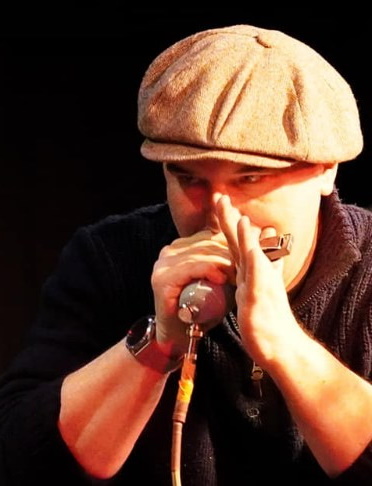 Beginners (C harmonica required)
We're working on introductory blues playing, 12 bar blues structure, I-IV-V chord progression, minor pentatonic and blue scale, couplets…
•  Pentatonic & Blues Scale (C Harmonica) – Tab
•  Thirds Exercise (in Couplets) – Tab
•  Thirds Exercise (in Triplets) – Tab
•  Quadruplets Exercise – Tab
•  12 Bar Blues introduction – Tab
•  When The Saints Go Marching In – mp3
•  When The Saints Go Marching In – Tab
•  Shuffle Link here
Intermediates (various keys of harmonica required)
We're currently working on Portamento, Octaving and Intervals, I-IV-V chord progression, what to play over the IV chord in a Blues, and third position Blues. We'll also be tackling Overblow 6B#, Blow Bends and Throat Vibrato, …
•  Breathing Exercise Tab
•  Modulation Exercise Tab
•  I, IV, V Chord progression study: Major Triads, Minor 7th, Minor 3rd Tab
•  Double Crossed and Blue – 3rd Position Study
•  Inchworm (Loesser) (Ostinato 6B# exercise) Tab
•  Jesu Joy (JS Bach) Outro section arpeggio 6B# exercise  Tab
•  Moonlight Sonata (Beethoven) 1st Movement intro arpeggio 4B# exercise Tab