Journeyman's Road by Adam Gussow, pt 2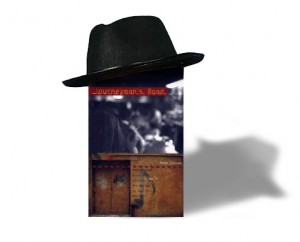 Ignoring the politics of blues music is like ignoring the crocodile swimming in your Coco Pops. Elwood the Apprentice looks at Gussow's essays on how to position yourself within the blues tradition.
"He was wearing a pink tuxedo and patent leather shoes. He towered over me… Suddenly he was quivering with anger, his finger in my face. "You don't know me. You don't know anything about me. You don't know where I've been." – Whose Blues?, Adam Gussow.

Note: This is a long post, so I'm going to reward those who read to the bottom by revealing the identity of the man in the pink tuxedo who challenges Adam Gussow backstage in the late 1990s.A few weeks ago I posted a review of the first part of Adam Gussow's collection of essays: Journeyman's Road: Modern Blues Lives from Faulkner's Mississippi to Post-9/11 New York. Therein I promised that the second half of the collection is where you'll find the really good stuff: bundled under the header "Talking the Talk", these are essays on ways of thinking about the blues.
Gussow's lined up some great essays on blues literature (novels, memoirs and plays arising from the bluse tradition): This is Gussow the scholar at work, giving us the reading list for a freshman class in bluesology, and you'd do well to take a look. There are a few conference papers in there, one on Faulkner, and one on racial violence. There's also (for those who would find this maddeningly abstract and theoretical) a practical guide to "Sitting In" at your first jam session. Preview it here.
But where these essays hit the spot is in Gussow's discussions of what I'll call the politics of the blues. A lot of harp players don't want to hear about politics. I've been told more than once: "Forget about it, man; just blow!" There's also no shortage of harp masters with great tone and a truckload of scorching licks, but who are completely inept when in it comes to the higher thinking about how to position onceself within the genre… ideologically.
Hey! Stop snoring, this is important.
Ignoring the politics of blues music is like ignoring the crocodile swimming in your Coco Pops. You do so at your peril.
For harp players, the founding fathers were almost exclusively disenfranchised African Americans with barely two coins to rub together. Nowadays it's a global practice, featuring a broad range of participants but with strong representation from white American and European males.
This is a culture borne out of unspeakable violence, oppression and dispossession – a history that can't be owned by most people reading this blog. To steep yourself in that legacy is to grapple with some pretty heavy issues about race, privilege, entitlement, and authenticity. Can white men (or women) sing the blues? Can a white person even have the blues? (Or does he just get sad?) There's also a question of appropriation: Should a well-scrubbed English boy like Mick Jagger be allowed to sing something written by Willie Dixon, who once worked the soil on a Mississippi prison farm?
But what is the real blues? And who gets to own it? These are questions explored in the second half of Journeyman's Road, but for the purposes of this post I'll put the spotlight on just one essay: Whose Blues?, a funny, provocative article that should be compulsory reading for aspiring blues players. Subtitled "Eight Infuriating (or Hope-Inducing) Half-Truths about the Modern Blues Scene", this essay sees Gussow complicating the hell out of all the tired old 2-D arguments (many of which I trotted through in the paragraphs above). At the same time, he manages to point out a bunch of political beartraps that contemporary fans of the blues are constantly blundering into. (Also see that essay for further details about the man in the pink tuxedo: a younger, hotter-headed Adam Gussow publishes a critique of some well-known harp players. One of them takes offence, leading to a heated, pink-tuxedo'd backstage exchange.)
For starters, Gussow has long pointed out that blues has always been a creole form: there's never been such thing as "authentic" blues, so you can stop worrying about that. And they say in blues you're either black and authentic or you're white and faking it, right? How, Gussow asks, can one explain the fact that as a white man in New York he tutored a number of older black men in harmonica? And an American Indian blues band playing SRV Texas shuffles? Just where the hell do they fit in? And what does it mean when people talk about 'keeping the blues alive'?
"What many whitefolks want to keep alive, to be blunt, is what might be called the Pristine Black Folk Subject, the postmodern reincarnation of the Old Time Negro."
Sound familiar? I'm always surprised when someone remarks that African Americans "turned their back on blues." [Even Jerry Portnoy said it in a Harp Surgery interview.] You may as well lament people turning their back on doing the Charleston.
The middle class white folk who so gleefully took up the blues mantle in the 1960s are obsessed with the authenticity of poverty: everyone likes a bit of authentic black bluesmanness, to the extent that it becomes a fetish. To quote a multitude of regional sales managers in ugly hats: "Them's the real blues." (By the way: any person who attended a decent school and got three meals a day does NOT have the right to say "ain't" just because they're wearing an ugly hat.)
Resolving these issues – or at least calling a mental truce with them – is crucial for anyone who plans to sit in for twelve bars of anything. Gussow can get you partway there.
…And the guy in the pink tuxedo? Well, I can't be sure, but my money's on Rick Estrin. Hope he doesn't get to read this…
What do you think? Let's hear it in the comments box.