Mark Feltham – The Old Market Theatre, Sat 8.Nov 2014
Ain't that a pity, I declare it's a cryin' shame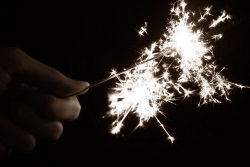 It was Guy Fawkes' night down at the Surgery. Beside the wood burner, Greasy Rob and Shagpile Jim were playing light sabres with their indoor sparklers. From the galley, the Doc was dispensing glögg and spiced ale. As Otis queued up Homework on the Sonos system, from the foggiest fathoms of his sub-conscience, he quietly muttered, 'Poor old pigeons.' The Doc set down his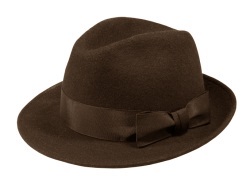 mulling poker and turned from the ARGA. 'Since when did pigeons and The J. Geils Band have anything in common?' he asked. Otis resurfaced. 'I was thinking of the fireworks; it's coming down in stair-rods outside. The Rear Admiral said there'll be a few damp squibs this year.'
Well you know it's nine below zero
'That'd be wet squab mate.' Greasy Rob was chairman of the surgery's pub quiz team and an authority on trivia. 'Young pigeons are squab. A squib's a small stick of dynamite; an out-sized banger to you and me. And we're not talking Cumberland. And don't you get me started on squid either, sick or otherwise. They've set up a marquee by the pond – they'll be fine.' Otis was back in the building. 'Alright! Alright!' he growled, 'no need for the third degree.'
At that moment JJ, the local internet radio presenter, poked his be-spectacled bonce round the parlour door. '
You should be on Egg-Heads Rob you saucy git. Here, any of you lively lot heard who's playing The Old Market Theatre tonight?' 
He flourished a wad of tickets. '
Only Nine Below flamin' Zero! It's gonna be a proper R&B shindig.' 
Otis sat freeze-

framed, still pointing his finger at the guitarist on his album cover. '
Sup up gentleman, we have some unfinished business!
' The Doc pulled out his press pass and slipped it into his hatband.
She put me down for another man
Autumn 2014 has seen Nine Below Zero Mk II reunited and touring the UK for the first time in over thirty years, and they're sounding every bit as handy as they did in the early eighties. Great news for NBZ fans. Down at the Surgery, we've been looking forward to catching up with Nine Below Zero for some time. Now, not only did we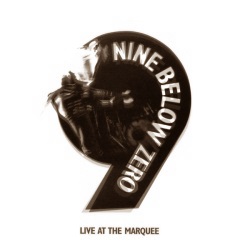 have an opportunity to revisit a misspent youth, but Nine Below were performing right on our doorstep. Aaaall aboard!
Once upon a time, in the vaults of The Old Market Theatre..
Doc To business Mr Feltham. How did this reunion come about?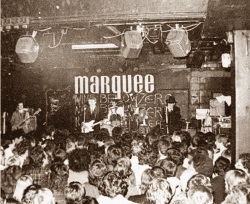 Mark Feltham Since the demise of the first incarnation of NBZ, Mickey, our drummer – Mickey Burkey – has led the life of a successful businessman. We'd heard snippets that he was doing very, very well. He chose a different career [to music] as an entrepreneur in various things. He had bits going on in property, bits going on in electronics. He's just a lovely man and decided enough was enough on the split. He went and made a life for his self. Run forward thirty three years – we played a gig in Chislehurst and he's turned up. And I said to Dennis (sotto voce) 'Mickey Burkey's here!' Anyway, I got talking to him and it so happens he still had a drum kit and he'd been playing indoors all these years, because his great passion was still music, although naturally he still had his business commitments.
Doc Not the kit with the logo still on the front?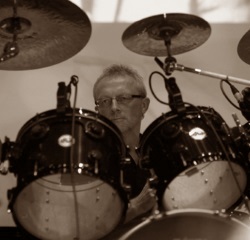 Mark Feltham No, no, he's had one specially made! But Dennis said 'you don't still play?' Mickey's said, 'Yeah I'm still playing.' So Dennis asks, 'Why don't you come down to jam one day?' And of course he'd lost nothing. He [Mickey] is even better now than he was then! He's a phenomenal player. And I said 'how can you be so good and not play' He said 'oh I just play indoors.' It's surprising, because I would have thought, like in football, you need to be match fit and do gigs. But he hadn't done anything! In thirty odd years he hadn't played live, you know. But now he's back!
Doc So how does that sit with the rest of the line up?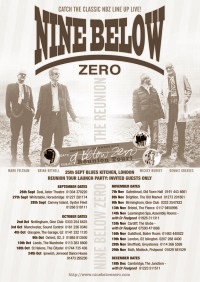 Mark Feltham Well Brendan is unfortunately sidelined; for the moment anyway. We're going to see how this goes, because the promoters have asked for the original line up, both here and overseas, which of course includes Mickey.
Doc When you left NBZ back in the eighties, bit by bit you found yourself on stage with Rory Gallagher. How did that come about?
Mark Feltham I left in '82! When the NBZ thing happened between 1979 and 82, there was a fantastic pub called The Bridgehouse in Canning Town, East End of London. It was the breeding ground of all the young bands coming up on the South East and East side of London. We no longer have big pubs like that, but some fantastic talent went through there. Gerry McAvoy ran a jam session there. From 1970 onwards, he and Brendan O'Neill were with Rory Gallagher.
Well, when Nine Below split, I got a call from Gerry, because he'd been playing down at the Bridgehouse. He said, 'listen, Rory's asked about your availability'. And it kind of just fell in perfectly, although if I'm honest the Rory thing was too rocky and heavy for my cup of tea – it had everything, he was a guitar hero – but I would have preferred it to be.. well, I personally think, if I look back at his career, his best band was when he had the Hammond organ and the piano, it wasn't with a harmonica. I didn't think harmonica particularly suited his style. When we did the acoustic section of his set, it was fine, I wasn't complaining. Anyway, it ended up being eleven years with him and it was fantastic. That finished when he died.
Doc So very, very sadly. And in the interim, you did a lot of session stuff. How did that start?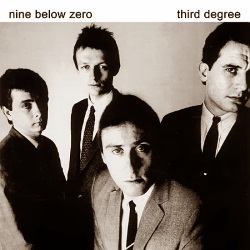 Mark Feltham The session career began when I was working with NBZ and rehearsing at a little old studio in Waterloo. A girl band, who I think went on to be Bananarama before they had a deal, but some big major girl band anyway, said could I do that monkey song? You know 3, 6, 9, goose drank wine, and that was the first ever session [80's Girl band The Belle Stars had a hit with Clapping Song in 1982 – Ed]. Someone told the producer, 'here we've got a bloke on the harmonica', and that was it. I was in! Then it just snowballed. You've got to remember that was before computers. No iPhones, nothing! It was all word of mouth, I mean this is going back a long time now.
Doc You've appeared on so many famous performers' works. If I said, could you name something you recorded that was bizarre or different, what would it be?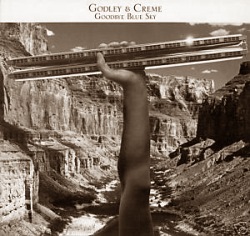 Mark Feltham I have. I've been lucky enough to. The highlight was the Godley and Crème album, Goodbye Blue Sky.
Doc That was 1988. A Little Piece of Heaven was a hit at the time and the  harmonica on the track sounded strangely familiar. Then the album appeared with a chord harmonica on the cover, held in a fist launching out of the Grand Canyon. I remember thinking , how in the blue blazes did Mark Feltham end up in the Grand Canyon. Sorry, I mean how in the blues blazes did Mark Feltham get involved with Godley and Crème?
Mark Feltham
 Kevin was incredibly artistic, as well as being, unbeknown to me, a fantastic drummer. People don't know how good he is. I got a phone all from somebody who said Godley and Crème were auditioning for harmonica. So it was an
audition
. They put their feelers out to get players down. There were only a few harp players in the UK at the time. About ten of us went down that were semi-pros and pros. And they whittled it down to two of us.
That was me and Mitt Gamon. And Mitt Gamon had all that fantastic percussive thing that I still can't do. He was brilliant at it. He couldn't play a single melody to save his life, but that percussive harp is a special thing. I can't do it. We got him in to do the bass harp and chord harmonicas and I just did the lead stuff on the diatonic. Although he does a few lead bits, his forte was all that percussion and bass. He is still around. He lives in a little lighthouse down in Cornwall now, apparently. I don't think he plays professionally any more. He played with The Ruts DC and he was in with Ian Dury's people. He came from that side. Not from anything blues or country.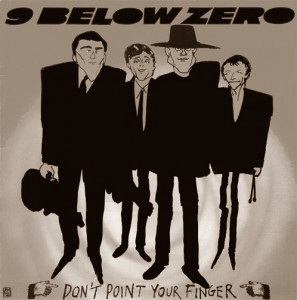 Doc Time to go right off track now. Why did you choose a Fedora hat when you started out?
Mark Feltham Do you know, I don't know! The Fedora came from the Gentleman's shop (sadly now defunct) called Dunnes. The funniest thing is, I've got it here in front of me and I haven't worn it for thirty years. But Dennis said to me, because this is the reunion tour, would you wear it? And I said no! I don't want to wear it, I'll play in the beret. But he said, go on get one. So I went out and got one for this tour.
Doc You little dandy. There was an album called Hats Off. Was that anything to do with the Fedora?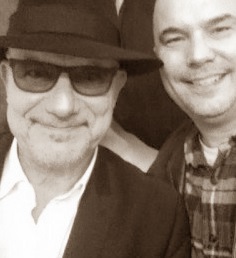 Mark Feltham Nothing to do with it, that's hats off to the greats. I'll be wearing it until this tour finishes and I won't wear it any more. It's a bit gangstery.
Doc But that was what stood you out. Like Humphrey Bogart. Look at the cartoon depiction on Don't Point The Finger! It just looked the ticket.
Mark Feltham I know. It did, it did. But I'm an old man now, so I won't go there, you can count on that one. I mean, it's ok just for this tour.
Doc Let's go right the way back. We've all heard that Mark Feltham lived in Bermondsey and played a harmonica in his bedroom that his dad gave him. We can go into the influences maybe in a moment, but what was the phone call, or note under the door, that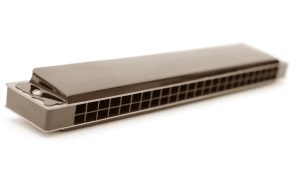 first got you involved in NBZ?
Mark Feltham I got the harmonica from my grandfather on my mothers side. I had two sisters, two younger twin sisters, one sadly passed away this year. When we were all young, my mother was quite ill, and my mother's parents live at Prittlewell On Sea, by Southend. We were very working class. My dad was a market man up at Covent Garden, my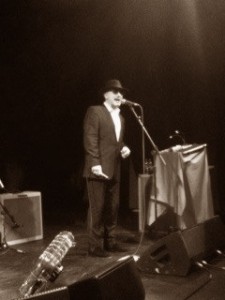 mum was a seamstress and dressmaker. They had to work to keep the place going. So we'd go down to nan and granddads. And my grandfather was a civil engineer building bridges and things of that sort in Persia; Iran! And in those days they used to go out on the ships from Tilbury. To kill the time, a lot of merchant men used to play harmonicas. My grandfather would come in when I spent time at Prittlewell as a five or six year old, and bring me in these sea shanty type things; the big tremolo things. So I would just kill the time like that. That's how it started. And I liked it. I kept going.
Doc So did you get a phone call from Nine Below Zero?
Mark Feltham No I lived just down the road from Dennis. He heard through a school friend that I played in my bedroom. This school friend said, 'do you want to be a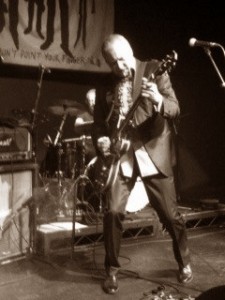 professional harmonica player? How long you been playing?' I said, 'I'm nineteen now and I've been playing since I was six'. He said, 'Well you've got to be up for it'. I said, 'no!' I had a job. You know I was a sensible lad. And yet I'd been playing all this time and I didn't know Dennis lived about twenty doors along. Anyway he came round and said, 'I hear you play a bit of harmonica'. The rest is history. He asked me to join his band. That was called Stan's Blues Band because he loved Stan Webb from Chicken Shack at the time – that's how that comes about. And I joined him and we had three, four, five happy years together, until it fizzled out. And now we're back again.
Doc And your original influences were Charlie McCoy, the country style and Nashville? Who'd have clocked that? Maybe on L&N, but not otherwise.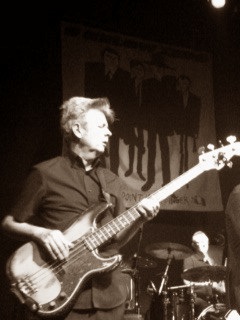 Mark Feltham And still is. Very much. That's my bag. I adore Charlie McCoy. I'm a country man through and through. The McCoy record I remember as being huge in my life was Area Code 615 A Trip In The Country. You see the thing is, I'd go down to see Dennis, and he'd come to my place, and I'd be playing all the Willie Nelson stuff, or Don Brooks who was Waylon Jennings's harmonica player, and Charlie McCoy. And Dennis is like, 'Woy!' He said to me, 'If you're going to be in this band, I'll need a bit more aggression!'. So I had to play some of the country stuff with a bit of verve! Had I not met Dennis, I wouldn't be playing in the style I'm playing now. I discovered people like Magic Dick, but if I have to be honest, my style comes from melody really, and country.
Doc Listening to the Marquee album back in the day, I was hearing a harp player who had an ear for a fill and a musical support line, who was naturally very melodic. And what I found astonishing was that although the harp was omnipresent, it never grew tedious.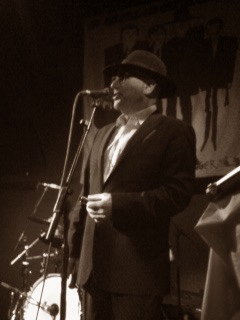 Mark Feltham Well that's very kind of you to say so. I don't really know where all those licks came from. They're not really country licks. I had to fill in what an organ would probably do, you know. It's hard work!
Doc Having looked further into the tracks on the Marquee album, clearly the J. Geils Band and Magic Dick were a big influence?
Mark Feltham Massive influence. He gave me the electric side. My actual first recollection was of McCoy, strangely enough, trying to play electric and on an album recorded in Cinderella studios. He plays like an electric harp, I'm sure they just put it through a valve pre-amp, but I thought, well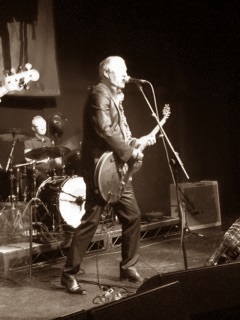 that's a different sound. And then Of course Little Walter and all the rest of it, for me, came after. But I must say I'm not a blues man, I don't profess to be one.
Doc What about more local influences? Johnny Mars was around, but there didn't appear to be a whole lot else.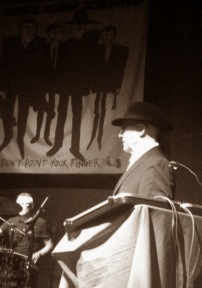 Mark Feltham We had a fantastic guy, who you obviously know about, a marvellous talent, called Mark Hughes, that worked with Split Rivvit. I've heard he's died. I mean he was extraordinary. I remember him being a prodigious 19 year old talent; a very young man playing intricate, but fluent lines that one would have thought had come from a man of senior years. Now and again the world throws up a "one off" and he was very nearly that item.
So, he was about, Laurie Garman was around. And there was another great guy who used to play down the Half Moon in Herne Hill – I'm going back to Shakey Vick times – called Paul Rowan, a fine diatonic melody and ballad player from around 1977. He seems to have disappeared without trace. There were a lot more players too. But we'd say I'll meet you down the Half Moon.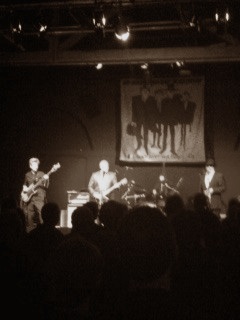 Doc Time for a trade secret? What was the rig you used on the Marquee album?
Mark Feltham I tell you what it was, it was a an Astatic JT30C F, into a Fender Twin Reverb, BUT, I was using a Fender Bassman cab out of the Twin. It was a big old sound.
Doc It made the album and it's not a sound you find anywhere else. It's your sound. It's got a real rasp.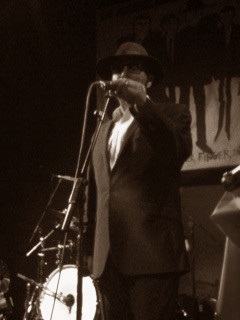 Mark Feltham It's got a rasp to it, yeah. I've been using a Fender Super Reverb on this tour, but it's just gone in for repair, and Fenders have given this one out here tonight, which is the classic blues Bassman. But I prefer the Super Reverb for my sound. I'm just my sound. I'm not a bullet and Bassman bloke. That's not my style. I was talking to Kim Wilson a couple of months ago, when we did a festival together; he's an absolute master at that. How you get that is just amazing. I went on stage with him in Italy last year, we were both on stage together, he asked me to go up with the T-Birds. It was just two different styles completely. And I mean completely. He's a tongue blocker and I'm not a tongue blocker really. I pucker, apart from the odd bit of interval playing. They're two completely different styles.
Doc What harps do you use?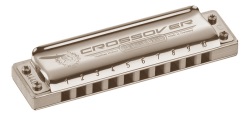 Mark Feltham At the moment I'm using a mixture of Danneckers, Hohner Crossovers and the new Hohner Rockets. If I'm doing chord things, I like Tony Danneckers ones because they're loud, but if I'm playing something else I prefer the Hohner. The wood.
Doc We're nearly out of time, but you came to Brighton many years ago and played at The Greys in a duo with Robbie Mac (Robbie McIntosh – Ed]. You were inundated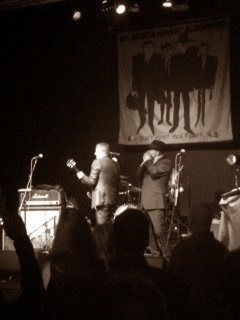 with questions from well-wishers and fans afterwards. I was one of them and I tried to wrest the secret to the Tore Down riff from you. You mentioned a blues note, but I never really figured it out. Any chance you'd divulge it for us now?
Mark Feltham We'll do Tore Down for you tonight, but hang on.. [Mark puts a call out for a couple of his harps and plays the lick live in the dressing room]. 'It's like this, draw one, blow two, draw two, and draw three. Then there's the Talk Talk one..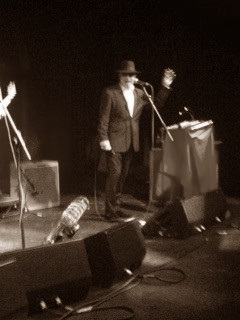 And that, as they say, was all we had time for. Thirty odd years down the line, we finally got to sit down for tea and a natter. Perhaps we'll get another chance one day, in which case I'll bring the biscuits.
Gave her all of my money, all of my love and everything
As soon as the band hit their first number, it was evident they'd lost none of their bite. Reflecting the classic line-up, their set was a collage of the first three albums, beginning with the title track from Don't Point Your Finger. Some fine examples of the band's south-side 'hit, git and split' approach to R&B followed, before Dennis introduced Johnny Weekend from the band's third album. It's the story of a friend who absconded from home every Friday night and never reappeared until late on Sundays. Echoes of Jimmy from Quadrophenia. Inwardly, some of us wrestled with thirty year old paroxysms, as we recalled the band's Mod-slide and eventual disintegration. We lost something very central and very precious in the process.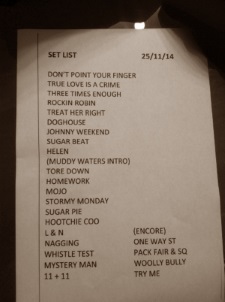 Then across the house PA came the familiar and comforting sound of Muddy Waters performing Sonny Boy Williamson II's Nine Below Zero; the signature opening to NBZ's now legendary live debut album. We were back at The Marquee! The highlights of the album were duly unleashed, with all its original brawn, punctuated only by a rendition of Stormy Monday, with Mark Feltham on lead vocals. An unexpected interruption, but a solid delivery. Hoochie Coochie Coo had a new stroll touch, which was extremely infectious. The obligatory snapshot of Fleetwood Mac's Albatross followed, together with Charlie McCoy's Stone Fox Chase, theme tune to the BBC's classic Old Grey Whistle Test TV broadcasts.
I'm gonna retire on the delta, layin' out there in the fallin' rain
11+11 brought the official proceedings to a close, before an encore that included Woolly Bully. Sadly this wonderful Sam The Sham masterpiece was missing some of the knockout harp licks from the Marquee recording. As the applause dimmed, Dennis Greaves wryly introduced Try Me as one of the band's biggest hits, turning both thumbs down in a self-appointed, jukebox jury verdict. For those on the dance floor however, it was a big fat thumbs up to Mark Feltham's excellent, if only, stretch of acoustic harp playing. Finally, we were treated to Dennis's mildly surreal Tony Newley monologue from Stop The World, I Want To Get Off, before the band left the stage for the last time.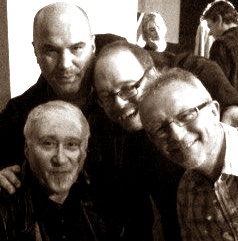 For harp aficionados, Mark's sound was not as well defined as usual – there was little of that famous rasp. Probably the result of having to use a less familiar stand-in amp, the sound engineer's input and the house's general acoustics. It didn't detract from our enjoyment in the slightest however. For rig-geeks, Mark used a single red effects pedal – possibly a customised Boss Mega Distortion MD-2, into a Fender 4 x 10 Bassman, and blew through what looked like a Shure 545SD microphone.
You know it's nine below zero people, and my love don't mean a thing
As the Doc, Greasy Rob, Otis, Shagpile Jim and JJ strolled back towards the village, rockets burst and crackled overhead like popcorn in a microwave. It was almost a reprise of Nine Below's exothermic wizardry. 'Happy days!' JJ sighed. 'I'm definitely playing Swing Job on tomorrow's blues hour.' 'Or maybe L&N,' suggested Jim. 'What's that stand for anyway?' asked Rob. 'It's the Littlehampton to New Romney railroad!' quipped JJ. 'You can almost imagine sitting at Bexhill, can't you?'
Credits
Our thanks go to Mark Feltham for kindly giving up his time, to Nine Below Zero for a wonderful evening, to the staff of The Old Market Theatre, and finally to the NBZ website for permission to reproduce a couple of images www.ninebelowzero.com 
_____________________________________________________________