Soul Limbo – Split Rivitt […with tab]
Howzat!
[We respectfully dedicate this page to the friends and family of Barney Jeffrey 1958-2008]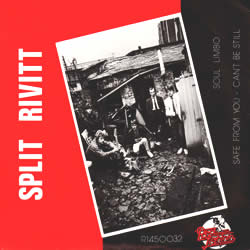 The Good Doctor found himself in San Francisco, the morning after England had pulled off their 2009 Ashes victory against Australia at The Oval. For those unfamiliar with this particular competition, we will go no further than to say it is a bi-annual cricket tournament played exclusively between two great Commonwealth rivals. Poms versus Ozzies. On a world scale, the patriotic fervour runs disproportionately high. On a local level however, thousands of cricket fans tune their radios in and will every ball to swing their way. To partake is a birth right. To draw is acceptable. To win is sublime.
From his hotel bathroom, the Good Doctor could be heard preparing for the day ahead, humming Soul Limbo by Booker T. & The MGs. For years it had been the iconic theme music to the BBC's evening Test Match Special programme. All summer long, across the nation mothers were subconsciously swaying their hips to its tropical rhythm from behind their ironing boards, while fathers took to their sofas armed with pipes, slippers, bottles of pale aleand an instinct for the complex rules of play.
Rinsing his toothbrush and still humming, the Good Doctor's thoughts were suddenly arrested by the memory of a school mate slapping a shiny new sliver of black vinyl onto the common room turntable and grinning from ear to ear as a raunchy harmonica take of Soul Limbo belted out from the hi-fi speakers. It was an irreverent piece of R&B; punky and zestful.
The Good Doctor hurriedly took out his netbook and began to google, the memory bringing a teenage smirk back to his face. In hyperspace the mists of time lifted but partially, revealing only that this quirky version of Soul Limbo had been a minor hit in 1980 by a band called Split Rivitt on Red Lightnin records. And that was all. Extensive combing of the virtual landfill produced no further clues about the band, nor about its harpmeister. Mercifully the track is downloadable at Amazon. We strongly recommend you buy a copy to fully appreciate the remainder of this article.
Background to Soul Limbo
In 1968, the soul label Stax broke away from its parent Atlantic. The first album to be released on the independent Stax label was Soul Limbo, featuring the instrumental of the same name, by"Unofficially the MGs were named after the band leader's car"Booker T. & The MGs. The band's leader was Booker T.Jones (Hammond Organ). Officially The MGs was short for The Memphis Group, comprising Steve Cropper (guitar), Donald 'Duck' Dunn (bass) and Al Jackson Jnr (drums). Unofficially the MGs were named after the band leader's car. Booker T. himself has corroborated this piece of trivia. His earlier outfit was called the Triumphs. Clearly he had a penchant for British roadsters.
Collectively of course, Booker T. & The MGs backed all the soul greats including Wilson Pickett, Eddie Floyd and Sam & Dave. Indeed their names are often credited as the co-songwriters. In the 1960s, two white musicians working deep inside the heart of a black music phenomenon was unusual. Cropper and Dunn later formed the nucleus of the Blues Brothers Band.
Split Rivitt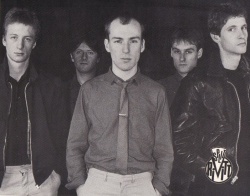 Although the internet was unwilling to furnish the Good Doctor with any information about the band or its harp player, he wason a mission. Time to play the press card. Picking up the phone he spoke to Peter Shertser of Red Lightnin records.
Peter had founded Red Lightnin in 1968 in order to sell the UK's first ever truly independent record, Ptoof by Mick Farren And The (Social) Deviants and had been a blues enthusiast for some time. He was roady for many touring American blues artists, including The Paul Butterfield Blues Band during their one and only visit to the UK. A visit which coincidentally saw Butterfield recording an EP with John Mayall's Bluesbreakers featuring Riding On The L&N (see earlier post).
According to promotional literature on file at Red Lightnin and Peter Shertser's own recollections, Split"We recorded the single at Dave Edmund's Rockfield studio in Wales in March 1980" Rivitt were from Islington, North London. Their Manager was Michael Kramer who took on the roll while assisting with his father's boot import business. (One of his brothers, Lee Kramer, became Olivia Newton John's boyfriend and manager. His other brother, Cain, married the daughter of a guitar company – Arbiter or Fender – based in Soho Square, London).
From Peter's studio notes, Split Rivitt comprised Dave Wilgrove on guitar and vocals, Mark 'Harpdog' Hughes on harmonica, David Lyttelton, son of Humphrey Lyttelton, on drums, Barney Jeffrey on keys and bass, and Chris Warren on guitar. Barney Jeffrey was the son of ubiquitous British screen and TV actor, Peter Jeffrey.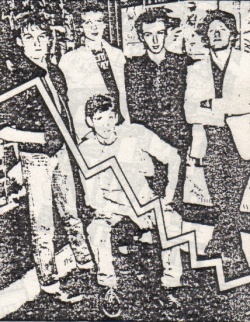 Manager Michael Kramer's main task in his father's company was collecting the wages each Friday. Meanwhile Split Rivitt were busy rehearsing in the company's warehouse in Shoreditch. Peter can't remember how he personally became involved with the band, but he assumes it was because he was already a well known blues afficianado and producer around London.
'We recorded the single at Dave Edmunds' Rockfield Studios in Wales in March 1980. The recording was bankrolled by Michael Kramer as he wasn't short of a few bob. We then did a nationwide tour supporting Dr.Feelgood [including Brighton's Top Rank Suite – Ed] I also organised what was supposed to be a package tour withBilly Boy Arnold & The Groundhogs, and Tommy Tucker & Split Rivitt. Unfortunately they ended up in different parts of the country at the same time and Tony McPhee subsequently dropped out of The Groundhogs. One evening of the tour was recorded live at Virgin's Venue in Victoria, London. I licensed it to Catfish Records but never saw a penny in return. Alexis Korner and Billy Boy's brother, Romeo, joined the band on stage that night. It was fantastic.
We did start a studio album together, but I wasn't happy with what was going on so I walked out. They "..He was playing through a Shure Echo microphone…we added more harp on top and bounced it all down"said they'd produce it themselves. I told them, you'll see what happens, knowing full well they were unaware of all the pitfalls. Mark 'Harpdog' Hughes also played Chromatic. He was a normal kind of guy. Probably the quietest and most sensible band member. My studio notes show he was playing through a Shure Echo microphone. I think we added more harp on top and bounced it all down. I seem to remember asking him to harmonise and layer it. We were aiming at our own wall of sound. I think the end result stands on its own merit without impinging on the original.
The track never truly got the exposure it deserved because the distributor, Pinnacle, got into financial difficulty. But it was on BBC Radio 1's A list and got a lot of airplay. In fact it charted briefly in the top 20. I don't know how the track was chosen originally. I have always been a big Booker T. fan, so maybe I had something to do with it. Anyway I love off-the-wall stuff. I once recorded the Dambusters Theme with a Punk Band and tried to sell it to the Germans. It didn't get very far'.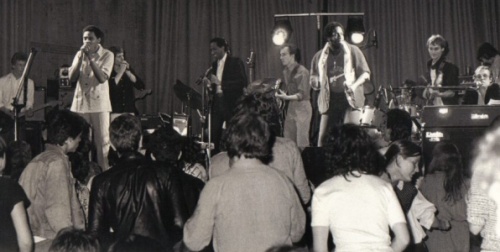 In those days Ronnie Scott's would put non-jazz acts on upstairs. Split Rivitt played there on at least one occasion. While rehearsing for their gig around 6pm, UK jazz icon George Melly overheard them and is quoted as saying, 'I wandered upstairs to find Split Rivitt, all looking about 12 years old, are having a sound check. I learn that the drummer is Humphrey Lyttelton's son. This information doesn't make me feel younger at all'.
Humphrey Lyttelton himself is quoted in the Daily Express's William Hickey column, December 29th 1979, as saying, 'I'd be a liar if I said it was my kind of music, but I'd have been outraged if David had done something really dreadful like becoming a City business tycoon'.
Latest News: We sadly learned today of the passing of Barney Jeffrey aged 1958-2008.
PS
Esteemed harp guru Pat Missin kindly dropped his recollections of the band through the Harp Surgery letter box.
I saw them live a couple of times supporting Dr Feelgood around 1980 or so. They were a great band, but somewhat lacking in stage presence and didn't really win over the Feelgood audience. I believe Mark Hughes gave up the harmonica in favour of the saxophone, then gave up music completely. A real waste, in my opinion. Mark Hughes was one of the first harp players I heard really pushing the stylistic envelope. It's hard to believe that someone of his abilities could just give up and vanish.
So how did he do it?
Grab your C harp and download the track from Amazon. We'll be playing cross harp in the key of G. The track comprises two repeated sections, a middle section and a closing section. Think Pub Rock power blues harp, think Caribbean rhythm, think live at The Hope & Anchor circa 1980, dig in and get ready to groove. And don't fret over the tone or any inflections on the recording. The harp track was multi-layered in a bid to achieve a new 'wall of sound' for UK R&B.
First stretch
1D..1D   2B..2D   2B..2D   (playing 1D..1D 2B..3B 2B..3B won't achieve the same rhythm and exit for correct phrasing)
1D..1D   2B..2D
4B   3D   3D'.. 3D..4D..3D..2D   2B    1D   1D   1D   1D
1D 1D 2B..2D 2B..2D
3D'…………………..3D
1D 1D 2B..2D
4B 3D..3D'..3D 4D..4D..4D 4D..4D..4D 5B
3D 4B 4D'..4D 3D'..3D 4D..3D 2D
1D 2B 2D" 2B 2D..1D 2B
3D"..3D 2D 2B
3D"..3D 2D 2B
4B 3D'..3D" 2D 2B 1D 2D
2D 3D'..3D 4D 5B 6B
Percussion fill
Second stretch
2D'..2D 4B… 3D"..3D'…………
4B 4B 3D'..3D" 2D 2B
2D 2D"..2D'..2D"..1D (wobble)
2D 2D"..2D'..2D"..1D (wobble)
2D" 1D 1D
3D 4B 4D 4D 2D
8D 8B 9D 8B 8D 7B
9B'..9B 9D 8D 7D..8D..7D 6D
6B 5D 4D 4B 3D'
4D'..4D 4D 4D 4D 4D 4D (very rapid on the repeat notes)
3D'..3D 2D 2B 1D 2D 2D 2D" 1D 1D
1D 2B 2D
2D 3D'..3D 4D 3D 2D
3D'..3D 4D 5B
5D 5B 4D 5B 6B
6B 6B 6D 6B
Mid 'marimba' section
The guitar takes the marimba line of the original track while the harp provides a separate harmony line.
2D… 3D' 3D 4B…
4B 3D..3D' 2D
3D' 3D 4B…
4B 4D 3D'..2D
3D' 3D 4B…
4B 3D..3D' 2D
3D' 3D 4B…
4B 4D 3D'..2D
3D' 3D 4B…
4B 3D..3D' 2D
3D' 3D 4B…
4B 4D 3D'..2D
3D' 3D 4B…
4B 3D..3D' 2D
Percussion fill
Final stretch
1D 1D 2B..2D 2B..2D
1D 1D 2B 2D
4B 3D 3D' 3D 4D 5B 4D 5B 6B 5B 4D
1D 1D 2B..2D 2B..2D
3D'..3D 4D 3D 2D
3D'..3D 4D 5B 5D 5B 4D 5B
3D 3D' 2D 2B
2D 2D"..2D'..2D" 1D (wobble)
2D 2D"..2D'..2D" 1D (wobble)
2D 2D 2D"..2D'..2D" 1D (wobble)
2D" 1D 1D
2D 3D 4B 4D'
4D' 4D 4D' 4B 3D
6B…
6D'..6D 7D 7B 7D 6D (Spanish style)
6B 5B 4D4B
3D'..3D 4D 5B 4D
5D 5B 4D 4B
3D'..3D 3D' 2D
2D" 2D"..2D'..2D" 1D 1B 1D (wobble)
2D 3D'..3D 4D 3D
2D 3D'..3D 4D 3D
2D 3D'..3D 4D 3D
2D 2D"..2D'..2D" 1D
2D
Eight bars of percussion and clean stop.