Soul Limbo – Split Rivitt (Part 2)
We respectfully dedicate these pages to the friends and family of Barney Jeffrey 1958-2008
Limbering up

In 1968, the soul label Stax broke away from its parent Atlantic. The first album to be released on the independent Stax label was Soul Limbo, featuring the instrumental of the same name, by"Unofficially the MGs were named after the band leader's car"Booker T. & The MGs. The band's leader was Booker T.Jones (Hammond Organ). Officially The MGs was short for The Memphis Group, comprising Steve Cropper (guitar), Donald 'Duck' Dunn (bass) and Al Jackson Jnr (drums). Unofficially the MGs were named after the band leader's car. Booker T. himself has corroborated this piece of trivia. His earlier outfit was called the Triumphs. Clearly he had a penchant for British roadsters.
Collectively of course, Booker T. & The MGs backed all the soul greats including Wilson Pickett, Eddie Floyd and Sam & Dave. Indeed their names are often credited as the co-songwriters. In the 1960s, two white musicians working deep inside the heart of a black music phenomenon was unusual. Cropper and Dunn later formed the nucleus of the Blues Brothers Band.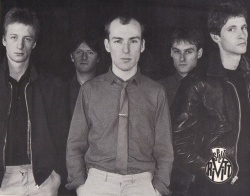 Split Rivitt
Although the internet was unwilling to furnish any further information on the band or its harp player, the Good Doctor was on a mission. Time to play the press card. Picking up the phone he spoke to Peter Shertser of Red Lightnin records.
Peter had founded Red Lightnin in 1968 in order to sell the UK's first ever truly independent record, Ptoof by Mick Farren And The (Social) Deviants, and had been a blues enthusiast for some time. He was roady for many touring American blues artists, including The Paul Butterfield Blues Band during their one and only visit to the UK. A visit which coincidentally saw Butterfield recording an EP with John Mayall's Bluesbreakers featuring Riding On The L&N (see earlier post).
According to promotional literature on file at Red Lightnin and Peter Shertser's own recollections, Split"We recorded the single at Dave Edmund's Rockfield studio in Wales in March 1980" Rivitt were from Islington, North London. Their Manager was Michael Kramer who took on the roll while assisting his father's boot import business. (One of his brothers, Lee Kramer, became Olivia Newton John's boyfriend and manager. His other brother, Cain, married the daughter of a guitar company – Arbiter or Fender – based in Soho Square, London).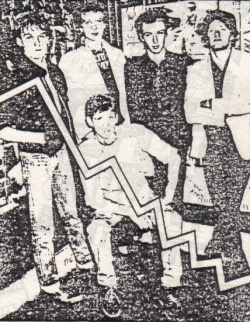 From Peter's studio notes, Split Rivitt comprised Dave Wilgrove on guitar and vocals, Mark 'Harpdog' Hughes on harmonica, David Lyttelton, son of Humphrey Lyttelton, on drums, Barney Jeffrey on keys and bass, and Chris Warren on guitar. Barney Jeffrey was the son of ubiquitous British screen and TV actor, Peter Jeffrey.
Manager Michael Kramer's main task in his father's company was collecting the wages each Friday. Meanwhile Split Rivitt were busy rehearsing in the company's warehouse in Shoreditch. Peter can't remember how he personally became involved with the band, but he assumes it was because he was already a well known blues aficionado and producer around London.
'We recorded the single at Dave Edmunds' Rockfield Studios in Wales in March 1980. The recording was bankrolled by Michael Kramer as he wasn't short of a few bob. We then did a nationwide tour supporting Dr.Feelgood [including Brighton's Top Rank Suite – Ed] I also organised what was supposed to be a package tour with Billy Boy Arnold & The Groundhogs, and Tommy Tucker & Split Rivitt. Unfortunately they ended up in different parts of the country at the same time and Tony McPhee subsequently dropped out of The Groundhogs. One evening of the tour was recorded live at Virgin's Venue in Victoria, London. I licensed it to Catfish Records but never saw a penny in return. Alexis Korner and Billy Boy's brother, Romeo, joined the band on stage that night. It was fantastic.'
How did Harpdog Hughes do the next bit?
Grab your C harp again, play the track and let's check it out. We're playing cross harp in the key of G. The track comprises two repeated sections, a middle eight and an outro section. Think Pub Rock power blues harp, think Caribbean rhythm, think live at The Hope & Anchor circa 1980, dig in and get ready to groove. And don't fret over the tone or any inflections on the recording. As Peter Shertser of Red Lightnin records explained, the harp track was multi-layered in a bid to achieve a new 'wall of sound' for UK R&B. Here's the second section.
Split Second
Gliss..4B..3D'…………
4B   3D'..3D"..2D..2B
2D   2D"..2D'..2D"..1D   2D   2D"..2D'..2D"..1D   2D"..1D..1D
3D   4B   4D   3D..4D..3D   2D
8D..8B   9D   8B   8D   7B
~9B…  9D   8D   7D..8D..7D   6D
6B   5D   4D   4B   3D'
4D'..4D..4D..4D..4D..4D   4D..3D'  2D..2B..1D..2D   2D  2D"..1D..1D   1D..2B..2D
2D..2D  ~3D..4D..3D   2D..2D  ~3D..4D..5B
5D..5B   4D..4D..5B..6B   6B..6B..6D..6B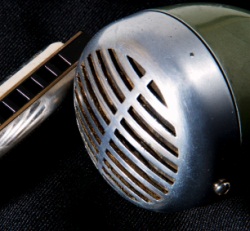 For more strolls down memory lane, use the following links to finish the job. You can also find out more about the band in our bonus archive pages.
And there's more…
For more information about Split Rivvit, visit our unique Split Rivitt Archive here.