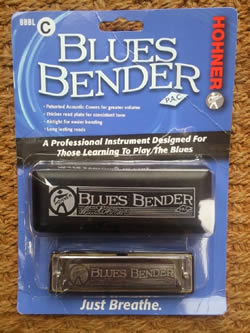 Bright light city gonna set my soul
If you are ever in Las Vegas and have time on your hands, I strongly recommend you make your way to the Guitar Center at Town Square. This would-be European Altstadt has plenty of shops and restaurants where loved ones can relax while you lose yourself in an underworld of instruments and sound equipment. You will find everything from percussion, guitars and keyboards to amplifiers, DJ decks and PA systems. Walking into the Guitar Center is the musical equivalent of a trip to Willy Wonka's.
After two hours of indulgence, I broke into the Nevada sunlight, the owner of a Blues Bender harmonica and a Hoodoo Wireless Harmonica Microphone System (review to follow), both Hohner products. The time lapse was not owing to crippling indecision amidst an endless and tantalising selection of harps by the way. Au contraire – there were less than a sorry handful of models perched at one end of the effects pedal counter. Nor was it the result of the Blues Bender's beguiling musical properties. It was simply because the salesman (a punk bassist outside office hours) allowed me to roam the store hooked up to a Fender Twin Reverb amp via the Hoodoo radio mic, blowing my own Steve Weston custom Marine Band! Wandering Wilf's the name, terrorising innocent shoppers and adolescent rock guitar wannabes is the game. I was as happy as a pig in fertiliser.
Got a whole lot of money that's ready to burn
A small selection of Blues Benders were hanging in Hohner's new 'blister' packs above the counter, their accompanying display pegs making the new harps very eyecatching. (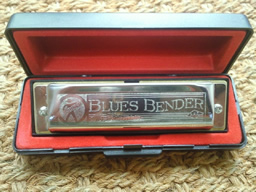 Hohner are using this style of presentation for their other models too – Special 20s and Big Rivers were packaged the same way). You might imagine from this harp's name that Hohner's experts have somehow harnessed the secrets of successful note bending – perhaps the most essential foundation to good blues harping. You'd be mistaken. There's no such thing. Even Hohner's 'revolutionary' XB-40 house brick, the harmonica 'that allows for the bending of every note, whether blown or drawn', requires use of 'standard bending technique.' Hohner tell us so. The Blues Bender name is more a pitch at the enduring market for budding blues harp players; although I accept they have adopted some design modifications that help eliminate air seepage.
I am mystified by the two words at the bottom of the Blues Bender's packaging however, 'Just breathe.' The cynic in my head is screaming, 'As opposed to what – add water?' Isn't this advice true of any harmonica? I sometimes hear myself preaching it to beginners as they struggle with their first draws in holes 2 and 3. Maybe the inference is that this model responds more readily than others. Again I suspect there's no such thing for a complete beginner. We all have to learn embouchure and basic playing techniques. But this harp does sing nicely and is not leaky like other models. I also accept some harp models need breaking in. Or else they are so cheaply manufactured they should be awarded their own dangerous goods category. But such models are heavily outnumbered by affordable, 'performance ready' ones (with wooden, plastic and alloy combs). So what makes the Blues Bender any different?
Lady luck please let the dice stay hot
Hohner's packaging lists four key features.
• Patented Acoustic Covers (PAC) for greater volume
• Thicker reed plate for consistent tone
• Airtight for easier bending
• Longer lasting reeds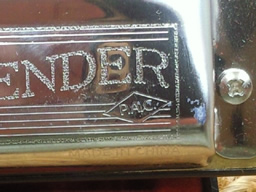 The first of these points I find amusing. The cover plates may well have been patented by Hohner in the 1800's, hence the 'PAC' acronym, but their amplification is no greater than other contemporary models. I am sorry, but PAC does not mean louder. It's just branding. Furthermore (and in addition to the normal cover plate 'back slots'), Blues Benders feature the same 'end slots' as Hohner Marine Bands, which any experienced player will tell you actually detract from volume and tone. It's like having a trumpet with holes in the side of the bell. Or put another way, if you drilled holes in your neck, could you scream louder? In all seriousness, try playing through a Marine Band or Blues Bender holding each end of the harp gently between just your thumb and forefinger tips. Now use your thumb and forefingers to cover the open slots at each end of the cover plates and play again. The change in volume and tone is marked. Hence the fact that Lee Oskar and Tombo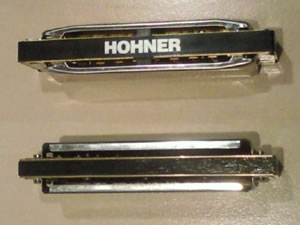 have done away with them. Hohner too have dropped them from models such as the Blues Harp. [Image: Reverse view of Blues Bender above vs Marine Band below]
The second unique selling point is interesting. What is consistent tone? The opposite of inconsistent tone no doubt. Neither are terms I have come across when learning, playing or teaching the harmonica. There's either tone or there's no tone and every instrument has ambience or tone. The harmonica is no different. I have never known one to have intermittent, erratic or depreciating tone. Reeds often fail, but never the reed plate. Rather than consistency, perhaps a thicker reed plate offers better tonal quality. Assuming they are made from the same raw materials, a thicker reed plate will certainly provide better tonal quality than a thinner alternative. There's more of a 'sound board'. The Blues Bender's plates are definitely thicker than counterpart models, even to the naked eye, so improved tone has no doubt been achieved.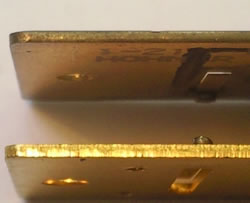 Nevertheless, it would be interesting to see (or hear) scientific proof. [Image: Blues Bender reed plate below vs Special 20 plate above]
The start of point three is, I think, genuine. I choose to interprate this as 'more airtight than other budget harmonicas'. But beware Hohner, there is a real danger this puts question marks over the airtightness of your own more expensive alternatives. The Blues Bender's reed plates are secured by nine Phillips screws. Standard Hohner and Lee Oskar models have three. The plates themselves are countersunk within rims around the top and bottom surfaces of the comb, much like Lee Oskar or hand made Special 20 plates. Which marks a significant change in design for Hohner. Hitherto the front edge of their reed plates have been visible between the comb and cover plates – at least on their MS range. Theory and good common sense would suggest the Blues Bender design is therefore more airtight. Once again it would be interesting to see (or hear) scientific evidence.
The end of the third point is slightly misleading. Yes airtightness is conducive to cleaner note bending – theoretically at least. A player enjoys greater return on their effort. But a leaky harp is less responsive in every department, not just in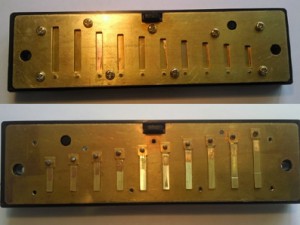 bending. Furthermore a player must learn basic bending technique no matter how airtight the harmonica. And let's face it, existing models have not exactly prevented us from mastering our bends. In principal however, if we accept that design improvements have resulted in greater airtightness, reed bending should also have improved. If this is so, the quest for that first bend may have been made marginally easier. [Image: Blues Bender reed plates showing nine screw heads and countersunk plates for airtightness]
As to the claim of longer lasting reeds. Surely this is relative to the treatment of the instrument (to the force and frequency of its use) unless a new metal alloy or production technique has been discovered. Again, and unless anyone has scientific proof that Blues Bender reeds are superior to other reeds, I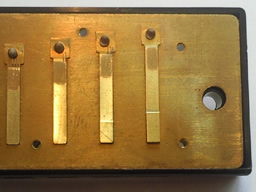 choose to interpret this as, 'compared with other budget harmonicas'. In which case harp players will be snapping up lorry loads of the things. Cue the sound of stampeding feet.
Finally, I want to pick up on the Blues reference in the model's name and on the packaging. Blues is a feeling. Blues is a scale. Blues is a style. I accept that blues harmonica playing requires bends, but let's stop right there. So does Country, Pop, Rock, Cajun, Celtic and any style using 2nd or 3rd, or even 1st position. The Blues Bender might be more sympathetic to the aspirant blues player if it offers up bends more readily, but I don't believe this harmonica will fast track you to the blues itself. A few years of studying might. Billy Branch was laughed out of Chicago by the incumbent harmonica heirarchy because he'd been playing blues harmonica for less than five years.
A quick comparison with the Great Little Harp (GLH)
Over the years, several students have arrived for their first session at the Harp Surgery carrying a Hohner Great Little Harp (GLH). This is an 'entry-level' forerunner of the Blues Bender, often marketed with a tutorial video or book. Indiviual GLH's can be bought on line for half the price of the Blues Bender. My students seem to find the GLH very comfortable and responsive. The Blues Bender is marginally chunkier than the GLH, but only by a whisker. The overall dimensions are almost identical. The Blues Bender's cover plates sit more proud at the back than the GLH. The GLH uses slotted crew heads and, being an older model, the cover plate fixings are 'nut and bolt' rather than the contemporary countersunk phillips screws. Inside, the GLH uses eight slotted screws to secure the reed plate to the plastic comb, compared with the Blues Bender's nine. The GLH reed plates are certainly thinner than the Blues Bender. I will stick my neck out and say that the GLH may well have been used as a direct reference model when developing the Blues Bender.
So what makes the Blues Bender a good buy?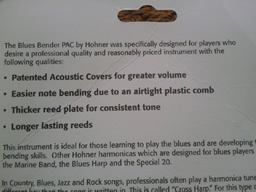 Forget what it says on the packaging. It's just Hohner's marketing team earning their daily bread. 'PAC' is nothing new. 'Just breathe' is nothing new. 'Longer lasting reeds' requires evidence. 'Easier note bending due to airtight plastic comb' is relative. 'Thicker reed plate for consistent tone' is inconsequential or requires supporting evidence. So you might argue there is little or nothing new about this harmonica. It's just that Hohner has adopted pre-existing design features and manufactured them in a new combination.
Here's where it's really at. Firstly instinct tells me this is an honest harmonica which actually is easy and pleasing to play compared with other budget models – including the Big River. Having broken open the packaging, octaving the appropriate reeds on the Blues Bender instantly gave well tuned and accurate unison without tremolo.
Secondly, while marginally deeper than the hand made Marine Band from front to back, the Blues Bender is the same length end to end. In terms of size the two have much in common. In both dimensions the Blues Bender is smaller than Hohner's MS models. So it is more comfortable to hold and reminds me of the good old 'pre MS' days of harp playing. I much preferred the old spec.
An important point that is missed in Hohner's marketing blurb, as well as other reviews, is the size of the air holes. Although the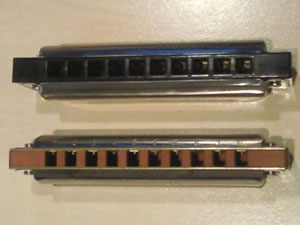 Blues Bender is a shorter harp than, say, a Hohner Big River MS, Hohner Special 20 MS or Lee Oskar, the distance between the outside edges of holes 1 and 10 is exactly the same. That is to say the playing surfaces are identical. In layman's terms, its those end bits you can't play that make the other models longer. More significantly the width of the hole dividers, or bridges as I call them, is narrower than the hand made Marine Band, the Big River MS and the Special 20 MS. It's not quite as narrow as the Lee Oskar, but not far off. Having spoken to Lee Oskar himself, I know bridge width was an important criterion when designing his signature harps. He believes a narrower bridge affords swifter movement between holes. Ultimately we all have different playing styles and preferences. If you favour Lee Oskars, you may want to try out the Blues Bender. You'll probably find it very comfortable. [Image: Blues Bender above vs Marine Band below]
Clearly the biggest selling feature of the Blues Bender is the ratio between price and precision. Accompanying advertising at the Las Vegas Guitar Center indicated a RRP of $25.00, yet the store was selling them at $18.00 plus tax. That's a fantastic deal, although I gather this arrangement is widespread across the USA. It currently equates to around £11.50 in Sterling. Which fills an important gap in the marketplace.
As the reverse side of the packaging states, 'The Blues Bender PAC by Hohner was specifically designed for players who desire a professional quality and reasonably priced instrument.' This is the bottom line. Forget the four unique selling points listed on the front. 'This instrument is ideal for those learning to play.' In short, if you are a beginner, you get a better standard of instrument for a limited outlay than, say, a Silver Star, Pocket Pal or GLH. And one that promotes accuracy and tone at that.
Viva Las Vegas, Viva El Blues Blaster!
Of greater consequence, I would venture to suggest, Hohner are now producing a harp that is cheaper than, and possibly superior to, it's Big River Harp MS, if not its other MS harmonicas. Made in China? Who cares! This is a real step forward for credit crunch harmonica players. Just get rid of the end slots in the cover plates Hohner and you have yourselves the Ding Dong Daddy of new harps. Oh and you might want your marketeers to review their use of the term 'bender' before you launch it on the UK market.
The Blues Bender is available in the keys of G, A, Bb, C, D, E and F and comes with its own protective hard case. For further views on this and other models, visit Pat Missin's harmonica website here.