Rick Estrin & The Nightcats – Biscuits & Blues, San Francisco, 29.Mar 2009
Get in the soup and slide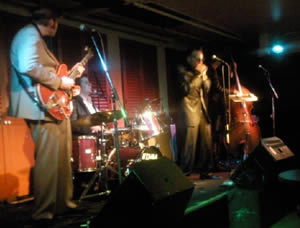 This was one of the most entertaining nights I have ever experienced at Biscuits & Blues. In fact anywhere. The Nightcats took the stage with the sole aim of knocking the audience clean off their feet. And that's exactly what they did. I defy anyone to sample this band live and walk away not feeling utterly satisfied.
It was a joy to see Rick Estrin in full flight and appreciate first hand why he has made such a name for himself not only as a harmonica ace, but also as an engaging raconteur and convincing song writer. Jerry Portnoy rightly describes him as a modern day Lieber & Stoller.
Sadly I never got to see the original line up with Little Charlie Baty on strings, although I am certainly aware of his strong reputation as a performer and studio artist. "All that meat, and them potatoes too!"Indeed his recordings with the Nightcats are quite sensational. Charlie is still around, but he's taking five. Something they call 'soft retirement' in the trade. We can expect to see him again for band reunion gigs and special festivals, but in the meantime his slot is anchored by guitarist elect, Kid Andersen, whose playing is simply astonishing.
Norwegian by birth, Andersen is a shooting star on the world's blues circuit. Understandably in demand, he has already notched up tours with Charlie Musselwhite, RJ Mischo and John Nemeth amongst others. Clichéd as it may sound, his delivery is killer. To simply go through the motions is alien to him and while he is already a fantastic frontman in his own right, in tandem, he and Rick Estrin turn R&B showmanship on its head.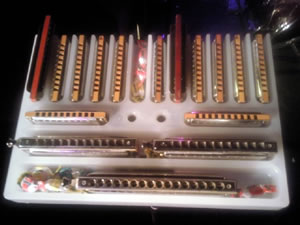 Kid Andersen and the band broke the ice with an instrumental called Back From The Dead. It was a surfing instrumental played on the Gibson guitar, with support from a thumping double bass and solid drums. They built the suspense beautifully. As their intro faded, Rick Estrin took the stage for the second song of the night; a rumba played through a 12 hole diatonic harp and bullet mic.
Estrin milked the low end of his harp with some earthy riffs. Later he confirmed he had been using a wooden bodied, 12 hole Hohner in C (as opposed to a Steve Baker Special). For the record he also carries one in G. The tune wove a latin beat, with shades of Howling Wolf. Kid Andersen traded his Gibson guitar for a very eye catching orange Flying V. Meantime Mr. Estrin executed one handed harp without compromising an ounce of tone. Switching to another 10 hole harp for the break, he then returned to the 12 hole for a low end outro.
Little Walter's Thunderbird followed. A classic Chicago harp instrumental with immense tone, stylish stops, and more Gibson guitarwork. Rick spoke about the number afterwards, praising the composer and recommending a "brand new box set of Little Walter out now. He was great!"
"You never can be too rich, just too thin," remarked Estrin. "So put Cinammon on like Cologne and you'll attract all the big women you need""If you're a friend of mine, you've got money. Thin women? They BRUISE you up. But a BIG, fine woman – she can just USE me up! If you're into the blues, they like big women. Meat shakin' on the bone. I started catching onto that. They love cakes and cinammon buns you see. So put Cinammon on like Cologne and you'll attract all the big women you need."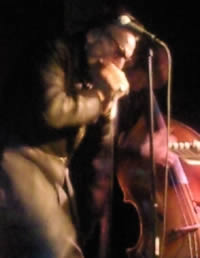 This was Estrin's introduction to Man That's Big. "All that meat and them potatoes too," he quipped, placing his hands on his pecs. The song took off with Kid Andersen producing some excellent Jimmy Vaughan style guitar work, underpinned once again by the thud of Lorenzo Farrell's double bass.
"We gonna swing it up a bit for you now. Everything all right? [Applause]. Come on – you know it's better than that. All right? [Applause]. This is DAMN GOOD!!" Rick picked up his chromatic Harp and the band broke into Go On If You're Goin', a Little Walter style song in the vain of Crazy Mixed Up World. As Estrin demonstrated his lung capacity, Kid Andersen executed some judicious guitar breaks. It was jazzy blues; tinges of T-Bone Walker with rockabilly inflections. Ever the crowd pleaser, Rick leaned across the stage and covered the left hand guitar part while Andersen carried on picking with his right. Andersen then launched into a further guitar break, both hands back on the wheel, mixing up a maelstrom of moods.
I'm Taking Out My In-Laws had drummer Mr. J Hansen on vocals. "Meanwhile I'm on a child's toy just goofin' off!"The rhythm was pure High Heel Sneekers. Rick opted for first position harp licks and the end product was perfection. "He's a bad man ain't he? Come on!" he enjoindered while motioning to the drummer. The audience readily applauded Hansen's masterful contribution.
Earthquake was a highlight for everyone. Composed by Andersen, it was a supercharged, surfing guitar instrumental with the title barracked in unison by every band member and it encapsulates every reason why Kid Andersen is in such high demand. He played with his teeth, he played behind his back, he gave high kicks and worked his audience. Earthquake is the epitome of west coast surf guitar; high on life, hotdogging a big one. It is simply irresistable – we just had to get in the soup and slide!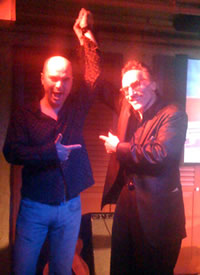 For the next number, Farrell switched to organ, pumping the bass line and right hand under a Freddie King type, medium blues. He remained on the organ as Andersen swapped back to the flying V and the band moved into a passionate slow blues with a 12/8 beat. The audience was riveted to the spot.You Can't Come Back saw Andersen return from flying V back to Gibson, while Farrell took up electric bass. Rick Estrin embarked on an excellent Sonny Boy II harp masterclass.
'They're all multi-talented! Back to front guitar. Organ bass played on the left hand. Meanwhile I'm on a child's toy just goofin' off! You'd think I'd be embarrassed..' He cuts into another acoustic harp intro, a rolling, swamp style blues. The Thunderbird's She's Tuff sprang to mind, until some Peter Frampton vox pipe guitar shattered everyone's comfort zone.
The band left the stage to a standing ovation. Moment later Estrin returned to the microphone. "We gonna rock you one more time here!" You Win is redolent of Chuck Berry's Nadine, taken from the 1993 Night Vision album (written with Donnie Woodruff and Jerry Portnoy, produced by Joe Louis Walker). It was the perfect end to a perfect evening. We were all winners.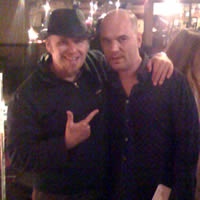 I had a brief conversation with Rick after the show and congratulated him on his excellent performance. He very kindly agreed to hook up for an interview at a later date. Little did I realise that a week later I would be chatting to Jerry Portnoy about Rick and learning a whole lot more about the man's musical skills, partnerships and admiration. Even less did I anticipate turning to leave and bumping straight into John Nemeth who was standing right behind me.
John and I chatted briefly too, reminsicing about his visit to the Komedia in Brighton (UK) three years earlier. Another interview in the pipeline. Check out his latest album Love Me Tonight.