On The Road Again – Alan 'Blind Owl' Wilson [..with tab]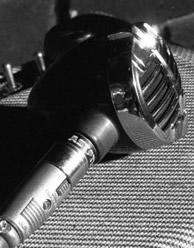 Well I'm so tired of crying, but I'm out on the road again
Midway through the harp solo in Canned Heat's On The Road Again, Al Wilson plays a G in the middle range of his A harmonica. 'How did he do that?' asked then student, now performing UK harp ace, Clive 'Jive' Langhorn… Over to Pat Missin for the definitive…
A harp in the key of A has a G#, but no G and it is not possible to bend the G# in this octave, so how did he do it?
Several suggestions have been put forward. Perhaps he played an overblow? That is possible as other players around that time were starting to discover overblows and the hole 6 overblow on an A harp would give you a G. However, the slide down from this note includes a very quick slur over the D (5 draw) and the B (4 draw). If he had to switch between overblowing and drawing, there would be a slight hiccup in this phrase.
Several people who know Al Wilson said that he would sometimes weight the tip of the 7 draw reed to lower its pitch by a semitone, however if this were the case, then that slide down would include an F# (6 draw) and listening to it at slow speed indicates there is no F# present. Another explanation has been given that he added a valve to the outside of the 7 blow reed, enabling him to bend the 7 draw down to a G – this would also mean that a slide down from this note would include an F#.
The explanation is that he retuned the 6 draw reed, raising it by a semitone to give him the G. This is consistent with the notes of the slide down from that note. He was playing a Marine Band type harp in traditional 'Just' Intonation, where the 5 draw is slightly lower than in Equal Temperament and the G that he plays is similarly slightly flatter than a tempered G (this note would be called a subminor third in JI terminology) suggesting that he tuned the 6 draw so that it was a perfect fourth above the 5 draw. In fact, he used a similar tuning on other tunes, such as "TV Mama" and "Nine Below Zero".
So, one of the biggest pop hits to feature blues harp, is also one of the first recorded examples of a custom-tuned diatonic.
Thanks and full credit to Pat Missin for the above information. Please visit his sight for more about this and plenty of other amazing research.
So how did he do it?
Grab yourself an A major diatonic with the necessary alteration on draw 6 as explained above. We're playing cross harp in the key of E. Be aware that Al Wilson uses quite a delicate touch. There are many 'implied' or 'passing' notes created by the breathing pattern he is using to underpin the whole exercise. You will need to push and pull from your diaphragm and ensure that note control comes from the back of your vocal tract rather than the tip of your tongue. Good use of the tongue blocking technique throughout will give some of the nuances you hear in the recording. Above all else, this is a mesmeric number. You have to get with the groove and lose yourself in it all.
I am referencing the version on the Very Best Of Canned Heat album. Note that during the verses, between the riffs outlined below, Al is vamping the beat on the 2 draw beneath the vocals, duh duh-duh-duh duh-duh-duh duh-duh-duh and so on. There may be other nuances, however it is difficult to distinguish from the mix.
Prelude
2D 2D 2D 2D
2D 2D" 2D' 2D" 1D 1B 1D (the 2 draw bends are played rapidly as one 'wobble')
2D (2D) 3D' 4B (gliss. down from 4D)…2D (note that the 3D' is not the full half note bend)
2D 2D 2D 2D
2D 2D" 2D' 2D" 1D 1B 1D (the 2 draw bends are played rapidly as one 'wobble')
2D (2D) 3D' 4B (gliss. down from 4D)…2D (note that the 3D' is not the full half note bend)
4D 3D 2D (played as a run or gliss.)
4D 3D 2D (played as a run or gliss.)…..1D 1D'
2D (2D) 3D' 4B (gliss. down from 4D)…2D (note that the 3D' is not the full half note bend)
Verse 1
Alan reinforces the end of each vocal section …road again with
3D' 4B (gliss. down from 4D)…2D (note that the 3D' is not the full half note bend)
He plays the same riff in the gap after the vocal ….special friend
3D' 4B (gliss. down from 4D)…2D (note that the 3D' is not the full half note bend)
Verse 2
Alan reinforces the end of the first vocal section …rain and snow with
3D' 4B (gliss. down from 4D)…2D (note that the 3D' is not the full half note bend)
At the end of the second vocal section he adds a gliss. at the start of the riff …rain and snow with
(gliss. down from 4D) 2D 2D 3D' 4B (gliss. down from 4D)…2D
He plays a regular riff with an extra two low notes in the gap after the vocal ….not even no place to go
3D' 4B (gliss. down from 4D)…2D 2D" 1D (note that the 3D' is not the full half note bend)
Verse 3
Alan reinforces the end of the vocal sections …was quite young adding the same two extra low notes
3D' 4B (gliss. down from 4D)…2D 2D" 1D (note that the 3D' is not the full half note bend)
After the first vocal phrase …she said Lord have mercy he drops in a rapid 2D..2D"
Alan reinforces the end of the vocal section …my wicked son with the 'two gliss.' riff and a drop to the 1D
(gliss. down from 4D) 2D 2D 3D' 4B (gliss. down from 4D)…2D 2D 1D 1D
That famous break
3D'…wavering
4B 4D 5D 6B 6D'..6D..6D' 5D 4D (the emboldened tab is where the harp will have been retuned)
3D'…wavering
4B 4D 5D 6B 6D..6D' 6B 5D 4D 4B 3D' 2D 2D" 1D 1D' 1D (see above regarding emboldened notes)
2D" 2D' 2D" 1D (the 2 draw bends are played rapidly as one 'wobble')
2D" 2D' 2D" 1D (the 2 draw bends are played rapidly as one 'wobble')
2D" 2D' 2D" 1D (the 2 draw bends are played rapidly as one 'wobble')
2D" 2D' 2D" 1D (the 2 draw bends are played rapidly as one 'wobble')
2D" 2D' 2D" 1D (the 2 draw bends are played rapidly as one 'wobble')
1B 1D 2D" 2D 2D
Verse 4
Alan reinforces the end of the vocal sections …don't you cry no more
2D 3D' 4B (gliss. down from 4D)…2D
Alan reinforces the end of the vocal section …down the road I'm going
2D 3D' 4B (gliss. down from 4D)…2D
Alan reinforces the end of the first vocal section …all by myself
2D 3D' 4B (gliss. down from 4D)…2D
Alan reinforces the end of the second vocal section …all by myself
(gliss. down from 4D) 2D 2D 3D' 4B (gliss. down from 4D)…2D
After …carry somebody else he breaks from the regular riff and inserts
2D 2D 2D" 1D 2D 2D 2D" 1D
And the long outro
2D 2D 2D 3D' 4B
4D' 3D' 4B 4D' 3D' 4B 4D' 3D 2D 2D…
2D" 1D 1D' (rapidly)
2D 2D 2D 3D' 4B 4D' 4D' 3D 4D' 3D 4D' 3D 2D
2D" 1D 1D' (rapidly)
3D'..3D 3D'..3D……………(sustain for 12 to 13 bars, adding vibrato half way)
3D' 2D 2B 1D 2D 2D 2D 2D" 1D
2D 2D 2D" 1D
2D 2D 2B 2D
3D' 3D' 2D 2B 2D 2D 2D 2D" 1D 1D"
3D' 3D" 3D' 3D"
3B 4B 4B 4D' 3D 2D 2D (vibrato)
4D..4D' 4D' 3D
4D' 3D 4D' 3D 4D' 3D 4D' 3D 2D (vibrato)
1D 1D' (rapidly)
4D..4D' 4D..4D' 4D..4D' 4D..4D' 3D
4D..4D' 4D..4D' 4D..4D' 4D..4D' 4D..4D' 4D..4D' 3D 1D 1D' (rapidly)
2D" 1D 2D" 1D 2D" 1D 1B 1D
2D" 1D 2D" 1D 2D" 1D 1B 1D
2D" 1D 2D" 1D 2D" 1D 1B 1D
2D" 1D 2D" 1D 2D" 1D 1B 1D
2D" 1D 1B 1D 2D" 1D 1B 1D 2D" 1D 1B 1D 2D" 2D 2D" 1D
2D 2D" 3D'..3D 3D'..3D 3D'..3D……..3D"
3D' 3D" 2D 3D' 3D" 2D 3D' 3D" 2D 3D' 3D" 2D
3D'…….. 3D"..3D' 3D"..3D' 3D"..3D' 3D"..3D'
3D' 3D" 2D 2B 2D 3D" 2D 2D….2D" 1D 1D'
3D' …… fade