On my own, would I wander through this wonderland alone.. Misty (Johnny Burke)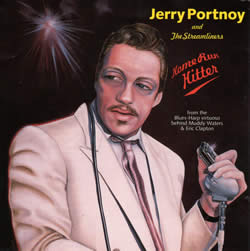 In 1995, Jerry Portnoy recorded his landmark harmonica album Home Run Hitter with The Streamliners. The record's producer was Kim Wilson of The Fabulous Thunderbirds, while Duke Robillard contributed guitar and vocals to the project. The result is a collection of songs that bounce, groove and swing like a beast.
For harmonica players, the album provides many rewarding avenues for exploration. This is partly owing to the diverse rhythms and styles Jerry uses, but more importantly because of his unerring attention to detail. The title track Home Run Hitter for example, is one of the finest examples of first position blues harping you'll ever hear. If this position is new to you, or you just need to brush it up a bit, grab an E harp and play along.
In Misty (the 1954 jazz standard written by pianist Erroll Garner, adopted by Johnny Mathis with lyrics by Johnny Burke), Jerry demonstrates his ability to hit and hold those awkward cross-harp bends that would leave most of us audibly exposed. Add in the exciting transition from ballad to swing time at the midway point, and we have two and half minutes' worth of sublime jazz. (more…)