Harmonica For Dummies (ISBN 978-0-470-33729-5) – Part 1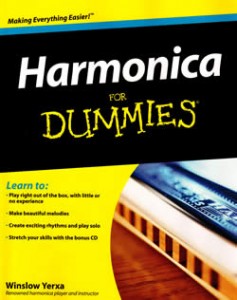 I like it, I love it, I want some more of it..
Don't just sit there, check out our Music Store and order a copy now. You'd be stark staring mad not to. This is a phenomenal piece of work. It is THE comprehensive tutorial book we've all been sitting around hoping someone, some day might eventually drop in our laps. You probably know the basics – and Winslow reviews these in his clear and engaging way – but what about that scary stuff beyond blow bending, octaving, tongue blocking and first, second or third positional playing?
For too long now we've been led, often erroneously, from entry level into the realms of intermediate playing and then abandoned like a McDonalds wrapper in the car park of life. Anything else has to be begged, borrowed or stolen from resources on YouTube or from pros who suffer extreme poverty of time. So we tend to give up and our development is curtailed. For ever. Alternatively the available information is so horribly technical that a nice cup of tea with Otis, or a comfy chair and re-run of Friends is infinitely more compelling.
Yeah Baby!
With the entry level skills covered, Author Winslow Yerxa takes us on to all those dangerous places other harp books shy away from, or YouTube broadcasts digress from, and blows the doors right off. And all the time you are thinking to yourself YEAH BABY! What is the practical use of fourth, fifth and twelfth position? How do you make sense of modal playing? How do you get into overbending? Where's Country and Celtic at? Have I got the balls to play in public? How about amplification? Am I qualified to undertake my own repairs? How can I slow my favourite tracks down and pick the bones out? The answers are all here. And they are provided in an accessible format which leaves you feeling enlightened, relaxed and hungry for more. Plus there is an audio CD and tab to bring everything to life.
Lying in the Florida sunshine this summer, I found myself repeatedly slapping the text and hugging my wife – not the other way round. Or else thinking to myself, this is exactly what we've been telling students at the Harp Surgery all these years and we thought we were being radical. Save your comments. Many pages in my copy now have big pen circles and excited comments hastily scribbled in the margin for easy reference. Since then, I have had the delightful experience of meeting the author Winslow Yerxa at his Jazz Chromatic workshop in Berkeley CA. He's as great in action as he is in print. Check out this joyous presentation by the San Francisco Scottish Fiddlers and you'll see what I mean.
Some of you may have encountered Winslow on the Harp-L forum. He is a teaching associate of Jon Gindick and Dave Barrett. He also recently worked with Howard Levy on his instructional DVDs and contributes to the amazing Harmonica Sessions newsletter. This should tell you everything.
In part 2
We introduce you to the man, the mind, the wit and the legend that is… Winslow Yerxa. Till then, get the book!