Introducing Elwood The Apprentice
I'll have to prescribe the strongest medicine I've got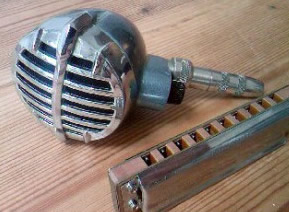 We have some important news dear reader. In recent weeks, the popularity of the Harp Surgery has been growing faster than a wheat field on eco-friendly fertilizer. 'Great stuff' we hear you say – and we don't mean the cow poo.
Unfortunately for the Good Doctor, this has resulted in long hours of chain-gang labour which, at his time in life, is really not good for the health. For a moment we were worried he had contracted the rockin' pneumonia and the boogie woogie flu. Which is a grave situation for harp players. When tooting the blues burger, there is nothing more ornery than cold sores, snot and breathlessness – apart perhaps from a wah-wah hand that has recently been chopping onions. Either way, it's hard to sustain your throat vibrato.
'You need some help mate,' The Riverboat Captain advised. Mercifully Otis, the Harp Surgery's postman dropped in for a nice cup of tea and a sit down yesterday and delivered a letter from a harp playing apprentice nurse who was seeking employment. The audition was swift. And before you go getting all frisky, the nurse's name is Elwood, he's from South Africa, and he looks rubbish in a medical uniform and fishnets. Anyway he pulled up in a second hand ambulance with a full tank of gas, half a pack of wine gums, it was dark and he was wearing sunglasses. He was perfect for the job.
Known to his mum as Murray, Elwood is a desciple at the fragrant feet of the harpmasters. And as the Good Doctor's attendant nurse, he'll be blogging at the Harp Surgery, sharing anecdotes of apprenticeship, divulging hidden treasures for the beginner, and exhorting the occasional word of caution for fellow travellers along the road.
Elwood has moved into his new digs here in Harpenden, Harpfordshire and has been an instant hit with the ladies of the Parish. He already has a full social calendar of blackberry picking, jam making and crochet afternoons. Thankfully the Good Doctor is on the road to recovery. This evening he seemed much more relaxed as he sipped his Java Latte and nibbled a blueberry muffin. Elwood meanwhile was snacking on four whole fried chickens and a coke. 'Vorsprung durch Technik' as they say in Cape Town.
We very much hope you will join us in welcoming Elwood to the Harp Surgery.