Jiving With The Greats: Lee Oskar – 22nd July 2009
Towards the end of last year, a student came for his first lesson at the Harp Surgery. 'So can you already play anything?' I enquired. 'A few bits and pieces,' came the reply, 'I like the Low Rider tune.' I nodded politely but had to confess I didn't know it. So he played it for me. Dah-dah dah-dah dah dah dah, dah dah-dah dah dah! We spoke about the Marmite advert that used the riff and then carried on with the lesson.
I asked the Riverboat Captain (our webmaster) what he knew of Lee Oskar, WAR and the Low Rider tune. 'You should check it out,' said the Captain, 'it's good stuff. Especially the 'World Is A Ghetto' album.' And he filled me in on an area of music about which I had been totally ignorant. I looked at my small collection of Lee Oskar harmonicas in a totally different light. Time for the Good Doctor to pull out his press card and investigate. It was early morning somewhere near Seattle…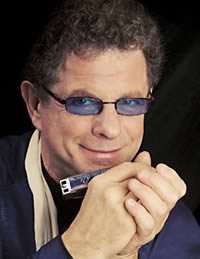 So Lee, tell me about arriving in America, aged 18, straight from Denmark, with no money..
Yes, I left Denmark when I was 18 for a life in the USA. I wanted to be in the music business. It was my main interest. My heart was in it. It was my dream.
Were things different in Europe at the time?
Yes, very different. The whole industry was focussed on the US rather than Europe. The UK had the Stones and the Beatles, but the US was the main hub for music. Europe has changed now. The music industry is now more homogenised all over the world.
Where did you start your life in the USA?
In New York first. Some people put me up in a hotel. I then found out they were the same people who brought Pete Best and Chris Huston (guitarist for The Undertakers) to America to start their new lives. Chris later became engineer for WAR! It was the same people – pure coincidence. I had never stayed in a hotel before in my life. I was naive. I had no money and the sponsors were away, so I didn't eat for three days. Starving hungry, and in my broken English, I asked the maid if I could borrow some money. She said 'sign it to your room!' I had no idea that I could sign to my room.
Is it true you started out playing the streets of New York?
I did try. You had to be aggressive at pan handling. I put my hat out and played. Some people make a living at it, but it's not something I made a profession out of. If I had courage enough, I'd do it on the street, but my goals were different.
So you moved on to Toronto, then San Francisco and finally LA?
The first time I met Eric Burdon [The Animals] was in LA. A new club had been started called The Experience, far away from the Sunset Strip and Whisky A Go Go. It was East of all that, in an area where no one hung out. But the club got a good reputation as a place to jam. All the well-known bands passing through LA would show up to jam after their concert. The cover charge would change, depending on who was in town. One day $5, next day $2. It became big competition with Whisky A Go Go. They let me in every night for the jam. Eric and I would sit in with a Florida band called The Blues Image. Eric Burdon was considering taking The Blues Image and me on board as back up for his future gigs. But The Blues Image ended up making a deal with Atco Records and later on they had a big hit with Ride Captain Ride.
Eric was trying to organise his future as well as find the right backing band and I hung out with him while he was trying to make his decision. He was torn between going with Phil Spector or two businessmen, who later became our band managers. Of course I knew who Phil Spector was, but the other guys were two nobodies to me. Now that I talk about it, go figure, who'd have known that Phil Spector would be convicted on a murder rap and the ex managers that Eric chose to do business with screwed us out of a lot of money. Life goes on. Eric was kind enough to let me stay on his couch, which got me off the streets. Right time, right place. Oh I could tell you some crazy stories..
Go on then, tell me one!
How about when I first came to LA? I was told to look up Doc Siegal who was the head engineer for Goldstar Studios on Vine and Santa Monica. I had a demo on an acetate of my performance with a band from the Bay Area and when I got to the studio and I met Doc Siegal, he took the time to listen to it. He immediately introduced me to Stuart Levine, a well-know producer, but Stu, who was partners with Hugh Masakela, didn't have time to take on any new projects. Doc took Stu Levine to a back room and played him my demo. Stu took interest and gave me the address where I could meet his music partner Hugh Masakela. So I went up to Hugh's house. This was all before I met Eric Burdon. Goldstar Studios no longer exists and Doc Siegal has since passed away.
The band I brought down from the Bay Area and I had a place to stay, so Stu and Hugh helped to cover the rent as they were interested in me as an artist. They later moved us to a house in Malibu, where we could rehearse and prepare for recordings. At that time Hugh and Stu left town and the band was told that Lee Oskar was their main interest. A lot of animosity grew and we ended up living at opposite ends of the house.
A young Japanese guy who was also staying at the house warned me that I had one week to get it together with the band. If I didn't, I would have to leave. Whatever the reason behind this was, I am not sure, but the band members were not co-operating and nothing got done. So, a week later I was back on the streets. The Japanese guy gave me a ride out of town. 'Where shall I drop you off?' he asked. 'Sunset and La Brea,' I replied. He dropped me off and gave me a $100 bill. It was the most money I had ever seen. I checked in to the Palm Desert Motel – I think that's what it was called – for $6 a night. I felt like a king. I would walk from the motel to the Whisky A Go Go. I tried to figure out what I should do.
Now that I was at the motel, I found a rehearsal room and another band. The band itself wanted to collaborate, but I didn't want to be involved with heir management. So this was when they threatened me about my legal status in the USA. The management found out my visa had expired, so I had to get out of there too. A lot of crazy stuff.
I went to A&M records and when I walked in the front door and saw the receptionist – who I though was the record company – I said, 'I'd like to sign a deal for $400.' She called security and said, 'Get this crazy hippy out of here!' So I went back to the band who were staying in a little room. I was convinced we could get a record deal somewhere. I found a club in the valley where we could do an audition. Performers would stand in line with a number, like a delicatessen, and wait for their chance to play. This is the way the club got free entertainment! And this was when I first met Chris Huston. He introduced himself to me and gave me his card. I was very excited as I thought I could use his studio to cut another demo and take it back to A&M records to prove that I was worthy of a deal.
I went to Chris's studio and said if he had any down time I'd like to record a demo. He said he'd only give me down time if I signed a deal with him. I was so disappointed – I wanted to sign a deal with A&M records. I was sitting in the studio lobby feeling totally empty and disillusioned. In fact I was thinking about going back to Denmark. All of sudden this guy came out of the studio room with a comb and paper, humming and yelling at the staff, 'I need a harmonica player!' They said we've got someone on the way.
This kid came running up the stairs and into the studio. Minutes later the kid left again and Jerry Goldstein came out of the studio yelling, 'Why can't you get me a harmonica player?' The kid hadn't cut it. I took my only harmonica, an F major diatonic, out of my back pocket and said I play harmonica. 'Well come with me,' said Goldstein. I went into the studio and put the headphones on. They played me the track they wanted harmonica on. It was a real bubblegum thing. Well I started off in fifth gear, I was so excited to play. I played over the whole damn thing! I didn't even realise until afterwards the song was in C. Which was really lucky. When I listened to the playback, I thought there was no taste in my playing. Goldstein was so excited about it he gave me $10 on the spot. At that point, when I left the studio, I felt like a king. I lied and told the band I only made $5. Anyway, I took this parking meter lady out for pizza with the money. The pizza came to more than I had, so I left the money and my only harmonica as a tip. It seemed like things just weren't going my way.
I headed off to the Whisky A Go-Go where they'd let me in for free, and sitting in the celebrity booth were Chris Huston, Eric Burdon, Jerry Goldstein and also Steve Gold who I met for the first time that evening. Steve and Jerry were the business partners Eric was talking to. Of course everybody knew who I was, except Steve Gold. Eric said to Steve, 'Lee is part of the band I am putting together.'
So I got to stay at Eric's house on the couch. Shortly afterwards we went to a meeting Eric had arranged with Phil Spector. When we walked into Phil Spector's office, it struck me as a strange place. It was in an old building with high ceilings. Spector's office had one window with Phil sitting in front of it. He could see our faces, but all we could see was his silhouette. I just tagged along.
Eric was leaning towards being more than just a rock and roll artist. He wanted to be involved with business too. Phil Spector was interested in producing Eric Burdon's new album. At the same time Eric was interested in owning his own production company and being his own keeper. Do you go with Phil Spector or do you go with these two other guys with all the chat, running a poster company, who can charm everybody? The latter was an appealing option to Eric, not knowing how shrewd these guys really were.
We went down to a club called the Rag Doll where this football star, Deacon Jones from the LA Rams, was performing with The Nightshift, doing one armed push ups on the dance floor as he sang a ballad. The place was packed. When he finished his showcase, the band played its own set. That's when I was encouraged to jump up on stage and join in. The band thought I was the famous English popstar they'd heard would be dropping by. Which goes to show how segregated pop, R&B, jazz and rock all were at the time. The Nightshift were all black guys except for Peter Rosen their bass player. They knew James Brown but they didn't know who Eric Burdon and The Animals were!
After I finished sitting in with them, we all decided to have a meeting the next day at this apartment. It had an outside swimming pool. The nucleus of The Nightshift band, Eric and myself sat around the pool shooting the shit. There are many different stories about how the name WAR came about. Well I was always philosophising. My philosophy was everyone was walking around saying 'Peace'. I believed that if you were in total peace with yourself there would be no creativity. The thing that makes you creative is if you are at war with yourself. Steve Gold pulled the name WAR out of this. Next thing I knew I was in a band, Eric Burdon and WAR, playing with a huge superstar and part of a horn section. What better dream than a harmonica and saxophone horn section. At that time, anything outside the box was much more welcome. Experimentation was more welcome as the industry was just blossoming. Nowadays everything has a formula.
I joined the Musicians Union. The heading on my membership card said 'Federation' of Musicians. It made me think I was legal in the USA! But of course I wasn't. A couple of years later we were in Europe touring. On the way back, Eric needed to stop off in Hamburg for a new visa. So did I. When we got to the immigration office, they had one for him but not for me. They said there'd be one for me in the next country, The Netherlands. So I had an air ticket, no visa, no suitcase, just a carton of cigarettes and a concert in Fillmore East, New York, to make two days later. I believe I flew to Germany, then Amsterdam and changed my ticket, thinking this might fool the authorities.
I flew to Canada and into New York City. I told them I was 'visiting family' and I got in. It wouldn't happen today with all the computers! I arrived five minutes before the show in a cab with Dutch money still in my pocket – which I gave to the driver. It was probably worth way more than the fare. So there I was on stage with Eric Burdon and WAR when, right after the song Mother Earth, our drummer Harold Brown laid a huge whack on the kit and yelled, 'I'm tired of playing this Uncle Tom music!' The place was in silence. You could have heard a pin drop. I don't recall what happened next. I was exhausted and in shock!
We regrouped but it was one of our last shows with Eric. Eventually, on tour in Europe, Eric didn't turn up. He wasn't to be found. We knew he was tired of all the changes. We assumed he was in Newcastle resting. So we had to do the show without him. We kicked ass and went down really well.
So War continued for around 24 years before breaking up?
Nothing as defined as 24 years or anything. We never actually stopped playing. A lot of BS comes from management trying to divide and conquer."..the end of WAR was never cut and dried. We never stopped playing. But the legal situation has become very complicated." Five of the seven original members are still alive. Charles Miller (sax) and Papa Dee Allen (percussion) are at rest. Four of the remainder have formed the Lowrider Band – myself, Harold Brown (drums), B B Dickerson (bass) and Howard Scott (guitar). It's actually WAR plus new members, but we're not allowed to say 'WAR' or 'formerly WAR' for legal reasons. There's lots of money owed to us. There's also the 'Phony' WAR as we call it. It's not even a tribute band. It's pretending to be the real thing. The original keyboard player, Lonnie Jordan, just a yo-yo with lies for the ex-Manager, is behind it all and says WAR never split. Rolling Stone magazine carried an article about WAR versus the Lowrider Band. They concluded the best bet is that it's the Lowrider Band that's legit! So the end of WAR was never cut and dried. We never stopped playing. But the legal situation has become very complicated.
So when's your next performance?
Lowrider are doing three nights at Yoshi's in San Francisco later this month. Two shows a night. We will video and record it. Harold and I have a huge archive. Eventually we want to do a documentary about how the music and entertainment industry works. If anyone joins the industry, they need to be responsible for whatever they agree to. They need to understand about trademarks, copyrights, royalties and so on, and the many aspects you should understand about what you sign to. The moral is you only earn what you know how to claim. We are owed a lot of stuff we signed for!
How did you come about starting your own Harmonica business?
I was frustrated with what existed. It wasn't very inspiring when the music store had to blow dust off the only harmonica they had and it played out of tune. It led me to thinking about what would make the best harmonica – I was always tinkering. I was often back and forth to Japan composing soundtracks for commercials, so I had the opportunity one day to meet and greet the heads of Tombo. Fortunately they were big Lee Oskar fans. But I wanted my own ideas and designs realised, not just my name on their harps. They represent four generations of harmonica makers. That's a long tradition. It took time and respect to get to know the family. They were dedicated to the art and craft of the instrument and remained with it through hard times. They didn't just drop it and start making furniture.
It was our 25th anniversary last year and we're the biggest competitor to Hohner. I'm not interested in novelties for promotion though. My whole purpose is consistency and high quality, with interchangeable parts. This is important in today's economic world.
Why did you adopt a bigger spec than Hohner?
Tombo were originally using wooden combs. The introduction of injection moulding meant we could narrow the dividers and increase the hole size. With wood you can't mill them any thinner – they wouldn't stay up. With injection moulding why would you want to clone? We designed less space between each hole; you get there faster from chamber to chamber moving with narrower dividers. Also injection mouldings allowed just three bolts to make the instrument airtight, because of the precision of the moulding and the inlaid reed plates.
Did this trigger Hohner's Modular System (MS)?
I see it as two things. Firstly the German banks were carrying Hohner. After a while they're gonna make a business decision. So secondly, Hohner came back with a solution that meant they no longer needed a special [manufacturing] set up for each different reed plate model.
So why so many Hohner models if they're carrying the same reeds?
Marketing is the answer. If I want to sell to the Boy Scouts, I'll stamp Boy Scouts Harmonica on the cover. Marine Band for Marine Bands, Fisherman for Fishermen, El Cheapo for others. The cover plate is like a book cover. Different covers appeal to different people.
But there is a slight difference, musically speaking. Some have equal tuning, some have temperate tuning. In temperate the root and the fifth in the chord share relatively the same value. The fifth may be slightly sharper. The third is flattened down (about 10 cents). This gives a smoother sounding chord. Lee Oskars are equal tuning, so better for lead playing. In single note and lead playing the number five draw sounds off, because temperate must be flattened -24 cents. With Hohner, the Marine Band and Blues Harp are typically temperate.
What do you have planned for your own product development?
Of course I want to continue maintaining a product with the utmost quality control. We work hard to maintain the integrity of our product on the Lee Oskar harmonica system. Our plans are to provide all kind of support tools such as videos, website, musical recordings and information to educate and connect people with our product range.
We are offering a bunch of short videos about tuning and so on. I want to encourage folks to feel comfortable with the Lee Oskar system. We have so many mix and match possibilities. I want to show folks how to be creative rather than looking at the harmonica as just a 'Cookie Cutter'! The biggest fear people have is being creative and breaking out of comfort zones. If you are in a musical rut, take it as a positive thing! You are being inspired to move on to new areas. However, if you stay in the rut, the magic and vibe is gone.
The best thing is to learn by not being afraid just to do anything. If you screw up, do it again. Repeat it and musically you have something new. That's jazz! There's no such thing as a mistake. You can't erase it. Enjoy the naiveness.
Thanks for all your comments Lee. One parting question. I read on Wikipedia that Junior Wells was laid to rest with a tray of your harmonicas by his side. Is this true or false?
We became very good friends. He used my harmonicas. I do recall hearing something like that but I'm not certain. Papa Dee Allen does have one of my harmonicas in his grave though. He died of a brain haemorrhage on stage. I dropped the last harp I used with him on stage into his grave.
Finally, any message for folks this side of the pond?
Yes! Visit my website www.leeoskar.com There is a radio streamer where you can hear my compositions. The keys of the music are on there and there's some video stuff on tunings. I am also promoting foot pedals for harmonica players. They are marketed for guitarists, but they are just an application which works just as well for harmonicas. My suggestion is to try out any guitar pedals. See what you you can find to embelish your sound!