Joe Filisko – The Brunswick, Brighton & Hove, Fri 31st July 2009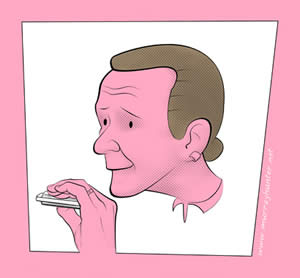 My bags are packed, I'm ready to go
I am delighted to report that Joe arrived safely into the UK in advance of his residency at the University of Northampton Blues Week. He was hosted in Brighton & Hove by Stuart McKay of the UK's National Harmonica League (NHL) and Roger Trowbridge, the NHL Chairman.
Hove actually
Stuart engineered a fabulous harmonica-centric evening in Brighton (well… Hove actually… near France), where Joe was welcomed by a groundswell of enthusiasts from near and very far. NHL Chairman Roger was in excellent form. As was Con O'Neill from the NHL's London Harmonica Group – Con rode all the way to Hove from the M25 by bike and was looking amazingly fit as a result. It was also great to see Ben Hewlett from the NHL's Bristol community – equally well done for driving all this way Ben. And blues hats off to another supporter who had driven down from Oxford. It was great to see several Harp Surgery students out for the evening – Steve Griffiths, Malcolm Muir, Ian Livingstone, Gary Lawless, Murray Hunter and Michaela Ridgeway. Congratulations once again to Murray for winning the e-Quiz ticket. I am sure everyone will look back on the evening's events with great fondness.
The gig
Brighton & Hove's very own Will 'Harmonica' Wilde launched the live entertainment with an hour's worth of Chicago style electric blues. His passion, reading of the audience and attack made this set a fabulous event in its own right. Some of his solos literally had the hair standing up on the back of our necks. You should follow this harpoon man. He's gonna jump a rocket anytime now.
Joe Filisko followed, with a semi-acoustic set. His tonal range, attention to detail and deftness were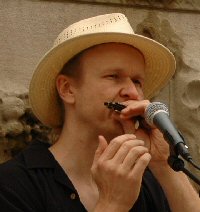 disarming from start to finish. In his opener, he was droning on the one draw while bending the three draw, making the harp sound like a hurdy gurdy. He introduced us to Sonny Boy I. He reproduced a Sonny Terry fox chase (John Henry). He took the entire room South to the Cajun triangle for a waltz, Isom Fontenot style. Then he jumped aboard a train for the ride of his life. There was plenty more, but we were too busy whooping and spilling beer to recall every number. Once Joe was satisfied he'd delivered his best, he thanked the audience and vacated the stage. For the record, I believe Ben Hewlett has everything captured on video.
Enter The Shoestrung. Now these guys deserve a more 'grabbing' moniker, but believe me when I tell you they are going to go places. It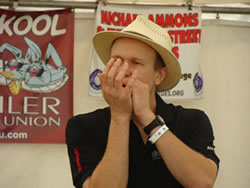 was like strolling into the 60's and seeing The Kinks or The Rolling Stones at The 100 Club. The Shoestrung have youth on their side and a presence that should have every single Brit Blues fan missing the last bus home. They are animated, they are Carnaby Street, they are grooooovy baby! Yeah! Grab your Chelsea boots, skinny white jeans and waistcoat and go check them out before it's too late.
Credit, thanks and admiration
..go to Stuart McKay for seizing the opportunity and battling away to get Joe his extended work permit to perform in Brighton. Thanks also to all the musicians for a fabulous and varied evening of harmonica and blues music. And thanks to everyone who made an effort to be there. The event was a sell-out success which we hope will be repeated before too long. On behalf of the Harp Surgery, thank you Stuart for the hours you dedicated towards organising this event. He who dares wins.