The Harmonica At War – Lili Marlene [..with tab]
LILI MARLENE [..with tab]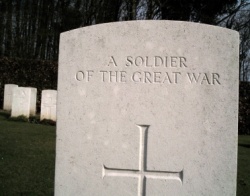 Underneath the lantern, by the barrack gate
Had we been shovelled onto a grimy conveyor belt and pitched alongside millions of innocents into the inferno of the Great War (1914-18), there is a strong chance we would have had a musical companion. An emollient for the mental and physical agonies of front line duty.
Portability, cost and availability predetermined the choice of instrument. And while a variety found their way to the front, it was the humble harmonica that became the proprietary antedote to the sting of industrialised warfare. And it's probably the reason why so many Europeans still relate stories of a family elder who played the mouth organ.
This Remembrance Day is no different to any other – they are equally important.  As Santayana famously wrote: Those who cannot remember the past are condemned to repeat it. It's just that this year we have the novelty of an extra number 11. At the eleventh hour (GMT), on the eleventh day, of the eleventh month –  of the eleventh year – we remember the fallen.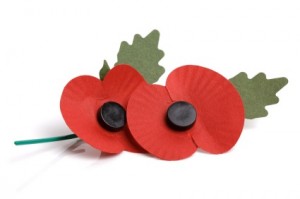 Darling I remember, the way you used to wait
Following its innovation as a musical instrument, there is plenty of evidence, both documentary and archaelogical, to show that the harmonica has performed significant duty in wartime. From the American Civil War, through two World Wars and into the second millenium, the tin sandwich has withstood the slings and arrows of outrageous fortune.
In prelude to our The Harmonica At War series, while we could pay tribute by tabbing The Last Post, or a popular British First World War song such as Pack Up Your Troubles, we've chosen a song written during the First World War, but made famous in World War II; Lili Marlene.
My dad was in the 11th armored division and said when German prisoners were marched by, he would play Lily Marlene [sic] on his harmonica. Some would smile and nod, others would weep. War is hell on the soldiers no matter whose side fate puts you on. [TheDrummer51]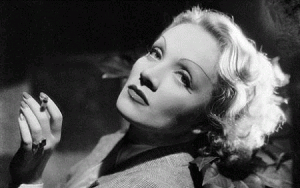 'Twas there that you whispered tenderly
In 1915, shortly before leavig for the Russian front, Hans Leip – a soldier in the German Imperial Army – put pen to paper and produced a love poem which would eventually come to be known as Das Lied eines jungen Soldaten auf der Wacht, or The Song Of A Young Sentry. It was eventually published in 1937 in a poetry collection which encapsulated the melancholy of a young guardsman pining for his sweetheart.
The words were eventually put to music in 1939, with a husky Lale Andersen recording what was to become a classic wartime chanson. The tune was entitled Lile Marlene. It's rise to popularity was almost by chance. A soldier working at Radio Belgrade, the German forces network in Europe, had happened upon it during a visit to Vienna. Upon his return, the song was broadcast by the radio station and soon became adopted amongst Axis and Allied troops alike.
Enjoyed throughout Europe and North Africa, the Allied authorities tried to discredit the song by implying that its subject was a lady of easy virtue. A take which may have been perpetuated by Marelene Dietrich's rendition, but certainly not what Hans Leip had in mind when he first put pen to paper.
That you lov'd me, you'd always be
5B   5B..5B   5D   6B   5B
5D   5B..5D   7B..7D
4D   4D   5B..5D..6B
7D..6D   6B..5D   5B
6D   7D   7B..7D   6D
6D   6B   7B
6D..6B   5D   6D
6B..5D   5B   6B
5B   6B   5D..5D   8D   7B
5B   6B   5D..5D   3D   4B
My Lili of the lamplight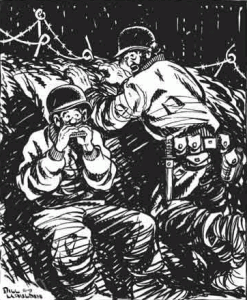 During the Second World War, Bill Mauldin enjoyed popularity with his Willie and Joe cartoon series in the Stars And Stripe magazine.
It featured two hapless GIs and a whole heap of trench humour. One particular edition depicts the two characters in a foxhole with a harmonica and reference to the tune Lili Marlene.
"Th' krauts ain't followin' ya so good on 'Lili Marlene' tonight, Joe. Ya think maybe somethin' happened to their tenor?" Permission for reproduction requested.    
My own Lili Marlene
In 1991, an unemployed German trucker who was lamed and partially blinded during a road accident lay in a coma. He lost his health, he lost his job and he lost his marriage. But Michael Hirte pulled through. He picked up his harmonica, busked the streets of Potsdam and went on to win Germany's TV talent show Das Supertalent in 2008.. playing the harmonica. Here he is playing, of course, Lili Marlene!