Monday Blues Jam – Sand Dollar Blues Lounge, Las Vegas 31st Aug 2009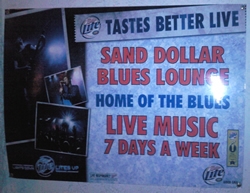 Athletes in a cave
Having visited the lights of Las Vegas on a few occasions, the Good Doctor had resigned himself to two sad facts of life. Firstly, gambling never pays unless you're standing behind the table. Secondly, the jewel of the Nevada desert is not an oasis of live blues. Other than a couple of power harp sessions with excellent rockers Evenflow, his quest for genuine live music of any kind here had been like searching for salt in a sand dune.
Until this occasion people, when the Good Doctor was reminded of a third fact of life. When you go chasing mirages, what you're looking for is often right at your feet. The Sand Dollar Blues Lounge was there all the time. The Good Doctor's blues radar just hadn't picked it up. Mondays at the Sand Dollar is open mic blues jam night. It doesn't start till 10pm (that's 6am back home), which is a hard gig even for the locals. But Las Vegas never sleeps, so no excuses.
The house band is Al Ek And His Shuffle Aires and they are excellent. From the moment they strike up you know these guys are highly experienced. The Good Doctor's guide for the evening, local live music fan and photographer Carla Sutton, called them 'blues royalty'. "When Chris Tofield gets up, you better hang on to your seat"'These guys have played with some of the greats', she told him. 'Take the keyboard player, Junior Brantley for example. He's from Milwaukee and has toured with Stevie Ray Vaughan, Jimmy Vaughan, Sonny Boy Williamson and many others. And that's just the band. Then there are the guys waiting to jam. When Chris Tofield gets up, you better hang on to your seat. And Dusty there plays drums, guitar, keys, bass, anything. All these great musicians in one dark old blues venue is why I call it watching athletes in a cave!'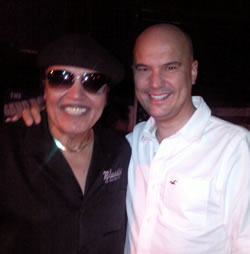 She was right. And this was a night without their band leader, Al Ek who was at home suffering from the aftermath of tooth surgery.'When he's here', Carla added, 'the evening moves up a whole nother gear. He sings and plays guitar, lap steel and harmonica on his thing on a mic stand'. 'I can't wait to see Al Ek's thing on a mic stand next time,' replied the Good Doctor. Meanwhile The Shuffle Aires filled the first hour of play with some excellent covers, including Before Your Accuse Me, Chicken Shack, Georgia and Sugar Mama. Tonight they comprised Junior Brantley on keyboards, Johnny Z on guitar, Ronee Mac on bass and Jimmy Lovgren on drums. 'In three years of coming here,' Carla told me, 'I have never seen Jimmy Lovgren miss a beat'. His clean sheet remained immaculate all night.
First jammer up was Jimmy Mac. Jimmy is a local harp player and vocalist with a terrific stage presence. He did four numbers, leading the band and charming the audience with great skill. Next Chris Tofield took the stage. With his baseball cap, T-shirt and scruffy pants, he resembled a greenhorn tractor driver. But a few split seconds of guitar "It has to be jelly, cos jam just don't shake like that"work later the Good Doctor was gripping his seat and grinning all over his face. Chris Tofield has every electric blues style nailed. He even does BB King with sufficient knobs on to make you whimper. The local blues Diva then took the stage. The Good Doctor sat thinking to himself, it has to be jelly, cos jam just don't shake like that. Or as Rick Estrin would put it, All that meat and them potatoes too! She was dynamite. And let it be known people, at the equivalent of 9am British Summer Time, The Good Doctor took the stage and played harp to Got My Mojo Working. On a G harp. Which threw its draw 3 reed half way through the number. And nobody noticed.
Trust the Good Doctor when he says you will leave the Sand Dollar with the biggest smile on your face, the warmest feeling in your heart and a whole new bunch of friends. And that's just the Monday jam. Check the Sand Dollar schedule for live music every night of the week. Try also King Tut's where alternative incarnations of the Shuffle Aires can be found performing under various pseudonyms. These guys even run Blues School sessions for juniors at the House Of Blues in the Mandalay Bay Hotel.
To close, here's a quote from the Sand Dollar web site that brought a sense of compassion to the Good Doctor's "I think I got the better end of the deal"mind : 'My former wife and I both loved coming to the Sand Dollar. When we divorced last year, she got the house and the dog – but I got the Sand Dollar. Our divorce consent gives me sole rights to the Sand Dollar; it's off limits to her. I think I got the better end of the deal.' Andy.
Won't be needing the drive through wedding services at the Little White Chapel then Andy? I've heard of quicky divorces. This must be the inverse equivalent.