More Beatles Harmonica [..with tab]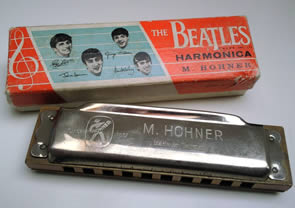 To the toppermost of the poppermost
Further to our harmonica study of Love Me Do, we should now take a further look at John Lennon's harmonica recordings with the Beatles.
Not including the harmonica quartet on Sergeant Pepper's For The Benefit Of Mr.Kite, we have identified at least a dozen Beatles tracks that feature harmonica. To be brutal, most of these are either 'minor' pieces from the band's catalogue or else examples of Lennon's harmonica work in its unaccomplished state. Rocky Racoon or Little Child for instance have particularly 'unsophisticated' harmonica parts. On I'll Get You, the harmonica is badly out of tune.
What quickly becomes apparent is that John Lennon's melodic use of the Chromatic harmonica was probably more comfortable than his diatonic work. With the Chromatic he could skilfully sidestep the need for reed bending on the short harp, which was not something he had yet mastered in the early 1960's. We've chosen to help you nail three tunes where John Lennon's harp lines feature most strongly..
I Should Have Known Better
This is the perfect number for getting any group of beginners blowing and drawing a C diatonic for the first time. Harp teachers and workshop leaders take note. It's in C major using straight harp, so grab your C diatonic and get ready.
In 1964 the Beatles met Bob Dylan for the first time. It was a meeting that inspired a whole new level of songwriting for the band. I Should Have Known Better was an early result and the last Beatles song to feature harmonica in its opening bars. The history books also tell us it took Lennon three attempts to get the whole thing right. On the second attempt he dissolved into hysterics over his own harmonica playing. Here's the tab for the basic lick.
2D-3D-4D   2D-3D-4D
3B-4B-5B   3D-4D-5D   3B-4B-5B
2D-3D-4D   2D-3D-4D
Note that Lennon tends to hold the harmonica with his right hand for the first line and uses the 'toothbrush' technique to achieve a trilled chord. Review the full track to see how often this phrase is repeated.
Please Please Me
This was the Beatles' first number one and again the harmonica provides a famous signature to the intro. Pat Missin has analysed the harmonica used on the track and concludes that it must have been an E major Chromatic. You can play the same riff using straight harp on an E major diatonic from 7B, but it will be an octave higher than the recording. Dropping down an octave to 4B on the same diatonic necessites a direct bend on 3D" to complete the riff which is not what we hear on the original recording either, but there are grounds to suggest Lennon may have used an Echo Vamper diatonic with its lower diatonic octave.
For good measure however, here is the tab for a contemporary E major diatonic..
7B   7D   6D   6B
6D..6B   5B
And for an E major chromatic (I'm using a Hohner CX12)
8B   8D   7D   7B
7D..7B   6B
From Me To You
According to legend, this hit was written on the Helen Shapiro tour bus (the Beatles were a support act) on the way to sunny Shrewsbury. The result is a third example of a harmonica riff providing the memorable signature to a pop song. It only appears in three short bursts, but it is instantly recognisable.
As with Please Please Me, the harp used may not be as obvious as you'd imagine. The song is played in C major, but using a contemporary 10 hole C diatonic from 4B would again necessitate a direct draw bend on 3D" to complete the phrase. Pat Missin's conclusion is that an Echo Vamper with it's extended lower octave may have been used from 7B; or else perhaps rather more likely a C major Chromatic.
Venerable as I may be, I don't possess an Echo Vamper so I'm going to open the tab firstly with a Lee Oskar Melody Maker labelled in G (remembering that G is the cross-harp key stamped on what is actually a C major instrument). This allows you to play the main riff on a diatonic instrument without that awkward 3D" bend. Then for a C Chromatic where again I'm using a Hohner CX12.
Lee Oskar Melody Maker in G
Opening riff..
4B   4D   5B
4D   4B   4D   4D   3B (Repeat)
Middle section
4B   4D   5B
4D   4B   4D   4D   3B
4B   4D   5B
4D   4B   6D   6D   6B
End section
4D   4B
4D   4B
4D   4B
4B   4D   5B
4D   4B   4D   4D   3B
C Major Chromatic (Hohner CX12)
Opening riff..
5B   5D   6B
5D   5B   5D   5D   3D (Repeat)
Middle section
5B   5D   6B
5D   5B   5D    5D   3D
5B   5D   6B
5D   5B   7D   7D   7B
End section
5D   5B
5D   5B
5D   5B
5B   5D   6B
5D   5B   5D   5D   3D