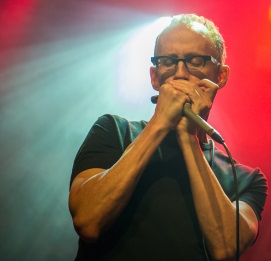 Down the road, came a Junco partner
The Harp Surgery was nearly ready for Christmas. Our Monica was vacuuming loose pine needles from under the Christmas Tree, while Shag-pile Jim clung to the step ladder, trying to unhitch himself from the top branches. 'Looks like you've caught your ding-dong merrily on high Jimbo', the Doc chuckled. 'Another comment like that Doc, and you'll be replacing the Christmas Fairy,' Jim muttered.
'Now, now Jim, 'tis the season to be jolly,' the Doc reminded him, 'let me top up your Glühwein old boy…it'll bring some colour to your cheeks.' The Doc nudged Monica and pointed at Jim's builder's cleavage. 'Well how do you expect me to get the bloody Fairy up there?' Jim moaned. 'Have you tried bending?' the Doc asked. 'How's that gonna help?' Jim wailed. 'Not you old boy, the tree.' The Doc was biting his lip.
Talking of bending, the Doc added, 'I've just been chatting with Carlos del Junco. That man must eat soda crystals every time he plays harmonica.' 'What are you taking about?' quizzed Monica. 'Well he gets clean round every bend,' the Doc replied. His gag shot over Monica's head like the Red Arrows at Farnborough Airshow.