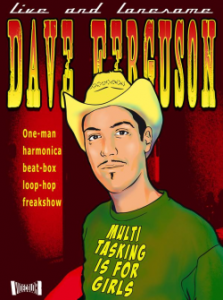 Check him out now, the funk soul brother
If a sour mash of Alabama 3, Johnny Cash, Son of Dave, hip-hop, dub and fried green tomatoes was used for a whole new ass-kicking brew, the label would read Dave Ferguson's Lucky No.7 Straight Bourbon Whiskey.
In our interview with The Mountain Of Love, reference was made to a New Blues music pioneered by R.L. Burnside and Little Axe in the 1980′s and 90′s. Here sequencing, sampling, dub and heavy dance beats were bulldozing the conventions of the blues.
Yet amidst the radicalism, two unalienables remained. The pathos of the slide guitar and anguish of the blues harp. Dave Ferguson is the latest settler in this new blues Heimat and an important exponent of the latter. What he does, he does extremely well. He also tackles it single-handedly. We dropped into Cape Town to check out the Lonesome Whistle Blower of New Blues.