Dave Ferguson, La Vie, Cape Town, 30.Jan 2011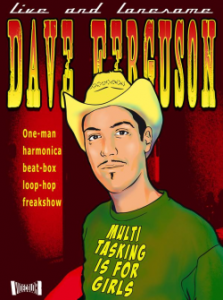 Check him out now, the funk soul brother
If a sour mash of Alabama 3, Johnny Cash, Son of Dave, hip-hop, dub and fried green tomatoes was used for a whole new ass-kicking brew, the label would read Dave Ferguson's Lucky No.7 Straight Bourbon Whiskey.
In our interview with The Mountain Of Love, reference was made to a New Blues music pioneered by R.L. Burnside and Little Axe in the 1980′s and 90′s. Here sequencing, sampling, dub and heavy dance beats were bulldozing the conventions of the blues.
Yet amidst the radicalism, two unalienables remained. The pathos of the slide guitar and anguish of the blues harp. Dave Ferguson is the latest settler in this new blues Heimat and an important exponent of the latter. What he does, he does extremely well. He also tackles it single-handedly. We dropped into Cape Town to check out the Lonesome Whistle Blower of New Blues.
Going down slow
You can find the official take on Dave Ferguson's work at his own website and at his sponsor's site Seydel Sohne. But this little piggy, The Good Doctor, went to market and he was brokering the inside story.
Cue Sunday lunchtime at La Vie bar in Cape Town, Murray Hunter (Harp Surgery's now graduated Apprentice), an intimate table and two bottles of Peroni..
Tell us about Dave Ferguson's connection with Son Of Dave
Dave Ferguson (DF) has been playing since he was about 17. He has travelled the world. He lived in London for about 10 years and he took an extended road trip to the United States where he learned his trade. While he was in London, he was playing as a regular front man in standard 4 and 5 piece blues bands, but he knew Son Of Dave (Benjamin Darvill/SoD). He was a friend of SoD's who was already doing the beat boxing thing. I think DF set up a few mics for him – that's how they knew each other.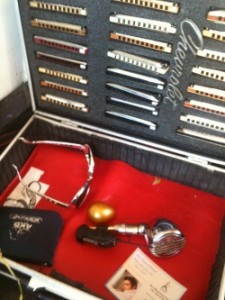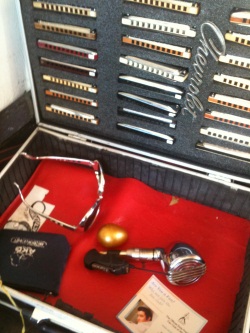 So did they meet in the UK or America?
In the UK. DF was travelling the States for a while and then settled in London for about 10 years. During that time he met SoD and picked up some of SoD's tricks before returning to South Africa (SA) a couple of years ago, when he started using the same stuff.
People say one of two things. Either DF learned what he does at the feet of SoD – this is not strictly true because he only started doing it once he was on his home turf, or he stole what SoD did – which is also not true (although I must admit I might have intimated that once myself).
Everywhere I've seen him interviewed, DF attributes the origins of his scheme to Benjamin Darvill right up front; it's even on his own web site. He says I picked this up off SoD. But he's expanded on it a great deal because, frankly, he's technically a more gifted harmonica player. SoD succeeds in what he does through building on the swing and swagger, whereas DF has a masterful command of the instrument – something SoD's sound either doesn't have or doesn't particularly need.
You mentioned that Dave is a full time musician here in SA
He is a graphic designer by training and was working as a sound engineer in London. But once he got back to SA he found it easier to get gigs than a new job, so naturally he went where the work was. And I got a strong sense that his one man thing, by way of the looping pedals and beat boxing, means there is nobody he needs to split the revenue with, but also he can play in all kind of venues where you could never fit a 4 or 5 piece band. He plays these little, intimate places that afford him a whole level of freedom he never had when he was with a band.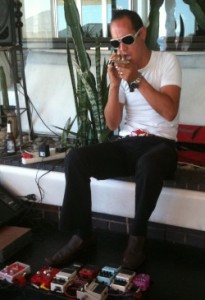 How did you first meet Dave?
When I was living in Cape Town as a student around 2005-06, I was interested in taking up the harmonica, had given it a few toots but didn't really know what the landscape was. I went to a Johnny Cash tribute evening and Dave was in one of the bands that played. In fact he was actually playing when I walked in. I saw this guy in cowboy boots, probably in a cowboy hat, singing into one of those old microphones, and I thought, 'Oh my God, this is so kitsch, so cheesy, like some Beverly Hillbilly!'.
But then I listened for a few seconds and what he was playing knocked me dead. His sound just grabbed me and I thought to myself 'This is something impressive'.
He's a fantastic player, he really is. I've heard him in other permutations, not just this one-man beat boxing stuff, when he was playing in an eight piece bluegrass band and he slots in as a sideman just so eloquently and so tastefully. He is the real deal.
I must admit that when I found out that his sound came from another person, and I started listening to SoD, I rather uncharitably thought of DF as an imitation. It took a few years when I went away to London myself, listened to SoD, developed my own understanding of the instrument and my own ear, and then came back to SA before I realised DF not only plays like Son Of Dave, but also like a son of a bitch!
I've seen a clip on YouTube where he drops in the head from Folsom Prison Blues or something similar..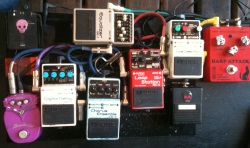 Exactly. It probably was Folsom Prison Blues. He blends all kind of influences into his songs. I think he was playing Low Rider, which he probably picked up off SoD – he does a great version of Low Rider.
So does Dave comprise the entire live harmonica scene in Cape Town?
Certainly he's the only professional level player that I know of here. I know a few more people who are at my level, you know, the kind of intermediates and I know loads of people who try hard, but to my knowledge DF is the only professional player and he is a world ranking man. I mean Lee Sankey, who doesn't give praise lightly, has said to me that Dave's a top notch player.
Lee talks about folks who not only play well but are also somehow naturally gifted..
Well you can hear it with DF. He really does some wild stuff for someone who is essentially playing over a one chord vamp all the time. He doesn't really do changes because he can't on his loop pedal. But he plays some wild stuff and it's fun – that's the main thing. It's technically proficient, but it's really fun, hip music.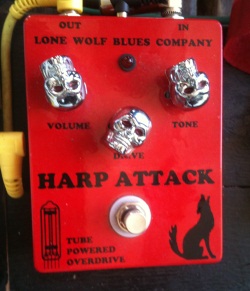 DF lays down the rhythm first by beatboxing into a loop pedal. He than lays down the bass line by carefully playing harmonica through an octave pedal. Then he's good to go. Vocalising through his Astatic harp mic, adding shakers to the loop and manipulating the sounds through adjustments to his pedal board. Vamps and phrases from his harp are augmented by his technical ability as a player, including proficiency in overblows and overdraws.
And even without an old tube amp, he still nails that killer tone. This is executed in part by excellent tongue blocking technique, but also by the overdriven valves which are substituted by a Harp Attack pedal.
When the beat starts popping you're the first on the floor
The Doc and Murray turned their attention to the fabulous grooves eminating from DF's corner of the bar. Cape chicks and beach dudes lapped up the vibes. DF granted one birthday party's special request and performed White Girl. The song is gently mesmerising. You could be forgiven for thinking it was written by Shaggy, or perhaps Clint Eastwood & General Saint. But it's all self-penned classic. Dave continued weaving his way through Funk Soul Brother, Low Rider, Howlin' For My Darlin' and more.
Trance-blues, & Country-dub and advancement of the harmonica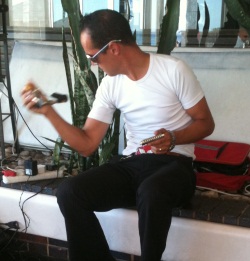 DF has perfected the alchemy of beat-box and looped harmonica and categorised the result trance-blues and country-dub. Which is just about right. It's cool, it puts a smile on your face, it roots you to the spot and it resonates below the belt.
As important however, are the references Dave makes to the advancement of the harmonica. This is Harpboxing (the fusion of harp and beatbox).
With SoD very much at the forefront of its development, DF has jump started the Harpbox narrative and rolled it over the next State Line.
And he's based it on one self-evident truth –  the underlying proficiency he has attained on the harmonica, free from electronic enhancement. Dave Ferguson is a master of tone, rhythm, technique and phrasing. He's got the whole works. He also understands stagecraft and has adopted a big old stage persona that speaks volumes before he's even raised a decibel.
Dave is set to hit Italy this summer. You've heard of Spaghetti Westerns? Well prepare yourself for the Harpslinger with No Name.