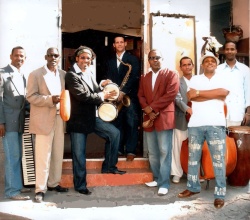 Latin American diatonic for the uninitiated
To witness Cuba's musical pulse first hand and sip Mojitos in the sweat of Havana's Bar Montserrate is privilege enough, but to sit in with the house band Sabor de Cuba, play the diatonic harmonica and get out alive? Ay Caramba! That's the stuff of dreams.
The Montserrate is a tourist magnet for genuinely good reason. Kitsch-free, under a blanket of humidity and aromatic cigar smoke, the throb of its acoustic Latin music is quite simply mesmerising. Add a splash of Ron Cubano, a serpentine twist of Salsa dancing and you have all the ingredients of an impromptu Latin fiesta. Next time you're in town, drop in and join the party.
During a break in the music, house vocalist Luis Franklin presented the band's bongo drums to guests sitting at the bar. Stepping up, the Good Doctor patted a rhythm across the skins which drew a nod of approval from Luis. Followed by an offer of sale. Sadly a shortfall in funds and luggage space forestalled business and in broken Spanish the Doc explained he too was a poor musician. What do you play? Luis asked. The Doc produced a lone Lee Oskar diatonic from his bag.