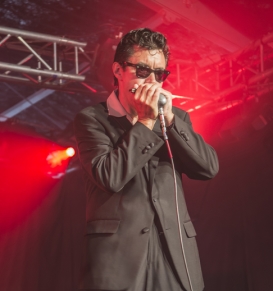 Doctor Who?
Otis the postman dropped by this morning

to deliver a letter from brother Neil Callaghan, who writes, 'As a complete novice harmonica player I am trying to find out the harmonica key that Steve Weston is using whilst playing on the song I Keep It To Myself, which also has Wilko Johnson and Roger Daltrey performing. I hope you can help'.
Well, before you ask, yes that's Roger 'M-my g-g-g-generation' Daltrey of The Who. And for anyone not in the know, I Keep It To Myself is on Wilko Johnson's new album Going Back Home, which features Roger Daltrey (vox), Norman Watt-Roy (bass), Dylan Howe (drums), Mick Talbot (keyboard) and Steve Weston (harmonica). The occasion has also been marked by a bespoke resurrection of the iconic Chess record label.
Now, in response to the original email, I could slide into a friendly discourse about how to identify song keys and pick the right harp for yourself, but I'll save that pleasure for a rainy day. In any case, divulging the secret could quite possibly make me redundant. So instead, let's cut to the chase and call West Weston for the answer. You can listen to our chat and find the answer to Neil's question on SoundCloud the end of this post. In the meantime, here's some background.. (more…)