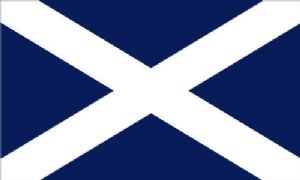 Happy St.Andrew's Day
Cantie Saunt Dandie's Day tae ye! Or if you're a speaker of Scottish Gaelic, Beannachtai ne Feile Aindréas!
We had considered running an article on how to play Amazing Grace, but discovered, to our surprise, this may not be the traditional Caledonian Air we'd imagined. We also thought about the Sky Boat Song, or Scotland The Brave, but harp tab for this is freely available on the interweb. So instead, we decided to post an introduction to the tradition of the Scottish mouth organ – or Moothie. And, as a small bonus, we've thrown in a neat little bagpipe trick we picked up from Joe Filisko..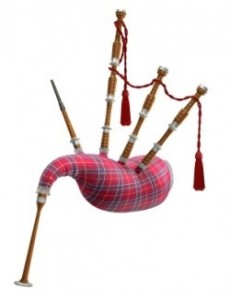 We watched thee in the gloamin' hour
As far as reed instruments go, the harmonica, bagpipes and accordion are close relatives. They are all reed instruments, which are powered by a bellows – whether the human lungs or an artificial system. A detail is that the bagpipe is not entirely a free reed instrument; the melody pipe, or chanter, often has a double reed at the top, like a small oboe. And there is a reed, or sometimes double reeds, in one or more of the drone pipes.
Reeds notwithstanding, in the right hands, the sound of the Pipes or Accordion becomes undeniably Celtic. Whether Scottish folk music, country dancing, or a military tatoo, we're immediately reminded of all things Caledonian. The Moothie adds perfectly to this theme; but we should note one proviso. While Celtic music can be created on just about any form of harmonica (fast forward to the end of this post), for authenticity, the tremolo variety is the best tool for the job. The tremolo produces a sound that is very similar to the accordion.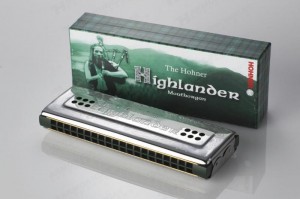 We watched thee in the mornin' grey
Dave Hambley is secretary of the UK's National Harmonica League (NHL). Dave has created a splendid website dedicated to the Scottish harmonica.
The secret of the moothie is in the double row of playing holes, each housing two reeds. With this arrangement, each tone has two reeds, one upstairs and one downstairs. Each corresponding pair of blow or draw reeds is tuned fractionally differently, which fives rise to the essential wavering, or tremolo, effect.
Tho' thirty thousand pounds they gie,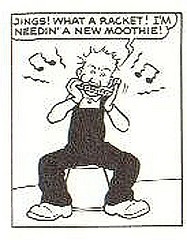 It is less widely known that, in their infinite wisdom, Hohner recognised the Moothie tradition and produced the specialist Highlander tremolo harmonica. Hohner consulted with Moothie expert Donald Black to develop the Highlander, using the Hohner Echo tremolo as their template. The result was a tremolo tuned especially for playing (Scottish) highland bagpipe music.  
We say was because according to Hohner UK, production of the Highlander has ceased owing to low demand. Surprising when one considers the global presence of Scots communities. On the other hand perhaps it's a sad reflection of the minority interest of Moothie music.
Nevertheless, Highlanders are still occasionally available on eBay, although you'll need to budget over £80.00 GBP plus postage (+/- $150.00 USD). And there are no real guarantees your purchase will be good to gig when it arrives!
For information, the tones on the A side of th Highlander were rearranged to the mixolydian scale, but the standard tone sequence was left on the D major side. This way a wealth of highland bagpipe melodies can be played with ease.  The wooden comb is also coated with a special dark green lacquer, making it very sturdy and less prone to splitting. There is an excellent review of the Hohner Highlander on Pat Missin's harmonica website.
O there is nane that wad betray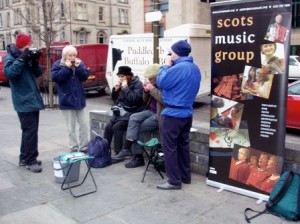 To learn more about all aspects of the tremolo you can visit Jonathan E Brickman's website The Tremolo, where all is explained. 
We're delighted to report that the Moothie is by no means a dying tradition. This picture (right) is of the Scots Moothie Group who meet at Edinburgh's Sandy Bell Pub on Monday nights. If you're ever in town and fancy joining in, they've published a set list on their website for you to scrutinise. 
Will ye no come back again?
On his many visits to the Harp Surgery, Joe Filisko has demonstrated a wide range of techniques, which have left the assembled guests gobsmacked. One he recently showed us had a very celtic flavour. Here's a rough example:
The sequence is played on a G mjor 10 hole diatonic, rather than a tremolo, and centres around the D drone note. This is achieved by an initial 3 hole split 2D-4D with an initial draw bend. The split then extends to 4 holes 2D-5D, then 3 holes 3B-5B. The melody of Comin' Thro The Rye uses basic 4 hole and 5 hole octaves And is thrown in for good measure. You can add the initial drone idea to a host of Celtic tunes to set the mood – try it as an opener to Land Of My Fathers. It works a treat!
In the meantime, here's a great video reference of the tradition we're talking about. Happy St.Andrew's Day everyone. Ladies and Gentlemen, please take your partners and give a warm Scottish welcome to Scots Moothie expert, Laird Donald Black..