Tip of the Top – Sonoma Chicken Coop, Campbell CA, Sat 27.Sept 2009
Old School's Cool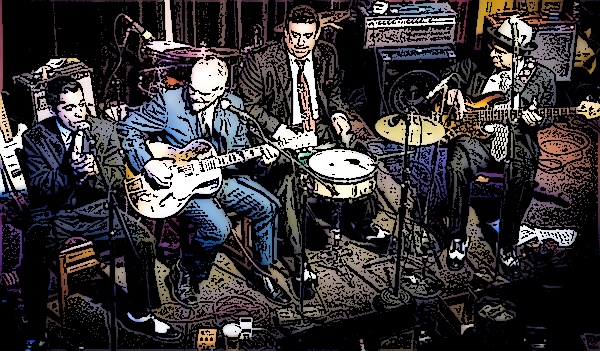 During its first months on line, Harp Surgery posted a review of Jason Ricci's show at Biscuits and Blues in San Francisco. The event was a double leap of faith. Firstly we'd never encountered Jason's radical playing before and secondly we'd never published a live gig review. Since cutting our teeth on both counts, Mr Ricci has become a firm friend and Harp Surgery has accumulated a small library of gig write-ups.
Readers of the Jason Ricci review may recall we forged another important friendship that night in Frisco. Aki Kumar is an honours graduate of the great Dave Barrett's Harmonica Masterclass. A skillful musician and a true gentleman, Aki's in high demand on the SoCal blues circuit both as a guest performer and as front man for his own stellar lineup Tip Of The Top. The Harp Surgery caught up with Aki in San Jose and, bearing in mind recent debate concerning old versus new harping, the experience was somewhat poignant.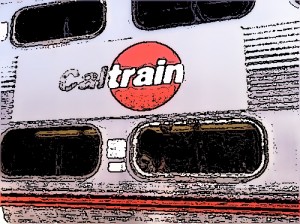 Do you know the way to San Jose?

On a bright summer morning in 2009, Otis the Harp Surgery postman called in to reception and delivered a manilla package from the USA. Inside was a CD entitled Depot Street Blues by Tip Of The Top.
The CD came wrapped in a hand written note which read – Please would you accept this complimentary CD and let me know what you think? Aki Kumar. Pero por supuesto, mi amigo! With all those slick retro suits and classic blues harp tracks, how could we possibly resist? But before we investigate the recording, let's cut to a balmy late September evening in down town Campbell CA.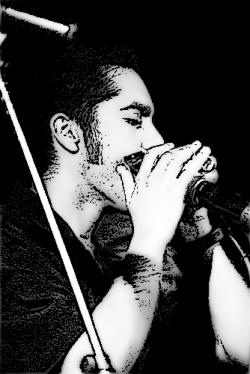 Braving the massed ranks of San Francisco's Saturday afternoon baseball fans and a pinscher of a ticket woman, the Good Doctor boarded the Caltrain for San Jose. The double-deck railway experience was a first, as was the opportunity to shake hands again with Aki in his home town. And after a brief rest and a nice cup of tea, the Doc and Aki chatted on the way to the gig.
We have four musicians in the band, Aki explained. Frank De Rose the bass player, who's also the teacher at the School Of Blues along with David Barrett, Little Jonny Lawton who's a veteran guitar player – he's played the circuit for years – and Carlos Velasco on drums. He only plays a snare drum and high hat. And of course there's Aki on lead vocals and harps. He is a fabulous exponent of electric harmonica in general (both diatonic and chromatic) but a master of the Little Walter approach in particular.
In a week, maybe two, they'll make you a star.
Outside the gig venue, the Doc asked where the choice of band name had come from; isn't there a William Clarke CD with the same title? Frank chose it, Aki replied. Frank explained. My desire was not to have a band named after the harmonica or guitar player like so many current artists. Nor did I want our name to end with the words 'Blues Band'.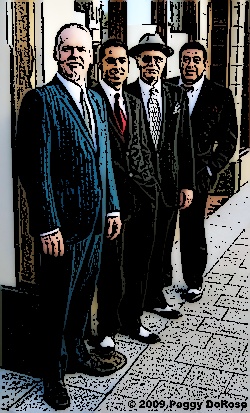 I had several ideas based on titles and lyrics of blues songs. Unfortunately, through Aki's internet search, all the ideas were already in use. It was then that I remembered the William Clarke album entitled 'Tip of the Top' and knew this would make a great name for a band. Thus, Tip of the Top was born. We were now a blues band – ready to launch our MySpace website, put together promotional materials, and begin looking for gigs. We felt the name Tip of the Top had a great sound, both when we heard it and when we said it.
The band set up shop while the Doc and Aki chatted some more. I see you play diatonic and chromatic. Do you have a favourite brand? asked the Doc. Aki replied, I play mostly Marine Bands. I also have a complete set of Seydels and a few chromatics. I play Hohner 280/64 Chromonicas customized by Steve Malerbi. I also play Hohner CX-12s occasionally. Aki's preferred rig is a Sonny Jr. connected to a Shure Green Bullet mic via a Danelectro Reel Echo.
Weeks turn into years, how quick they pass
For their performances, Aki and the band recreate something extra special both visually and musically. Their effort to look the part has a huge impact on their audience. They wear tailored suits, ties and two-tone shoes. And yes they even have the hats. But this is no retro fashion show. Their audience also experiences the sound of blues craftsmen at work. During the show, no less engaging or animated, the band remains seated, jazz style, in a crescent.
When you consider that Carlos only uses brushes, one snare, one high hat and an electric fan (he's that hot), you'll appreciate that Tip of the Top are not in the business of scaring folks away. En el contrario. Their volume, attention to the groove, faithfully delivered signature riffs and masterful solos draw people in and fill the dance floor. And in this simple way Tip of the Top make old school cool as relevant as a lovingly restored roadster. All that Little Walter stuff could easily become hackneyed, but not in their safe hands. Tip of the Top remind you why his music, and that of his peers, is preeminent.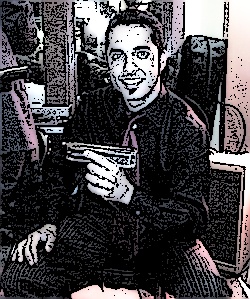 The band's guitarist and second voice, Little Jonny Lawton plays blues on a semi-acoustic jazz guitar with killer tone. Frank De Rose, the fabulous bass player, uses his electric bass to emulate the vintage thump of an acoustic upright and his stage credits are never-ending. Carlos Velasco we have already introduced. All come with big smiles and an infectious joy for electric blues the way it was intended.
Act Like You Love Me was the Little Walter style starter with harp played through the bullet mic with great attack. I've Had My Fun had a Latin beat and Aki added some Cajun spice. Next up, and ever the crowd pleaser, was Slim Harpo's Hip Shake. An excellent start to the night.
One Of These Mornings came next and features on the Depot Street Blues CD, demonstrating Aki's great command of the Little Walter feel on chromatic harmonica. Complete with full fat tone and authentic delivery, Aki then launched into Little Walter's Juke on diatonic harp, also featured on the CD. A brave move for any harp player, but for Aki the chance to demonstrate how thoroughly he has studied his subject.
Another track featured on the CD is Mellow Down Easy. Maybe it needed a genuine slap bass for the full effect, but Aki topped the number with a fabulous solo on the harp. The band then chose a Merle Haggard number, Today I Started Loving You Again. It was a superb strolling blues with the unison signature riff played on guitar and harp. Next up, Little Walter's Crazy Mixed Up World. We'll let the band speak for itself..
Rocks In My Pathway is of course an old Robert Johnson number. Aki used acoustic harp and ranged between high end blow bends and deep low end wah-wahs in first position. A lovely Willie Dixon sway underpinned the whole song. Dana Lee was a self-penned number that had terrific dance value, complete with a boogie woogie beat and T-Bone Walker guitar work. The penultimate song in the first set was Junior Walker's Cleo's Mood played expertly in 3rd position to a sultry Latin groove. Who said harp players are all horn wannabes? TOTT wrapped up their first set with Don't Bite The Hand That Feeds You from Kim Wilson's That's Life CD. A big time intro and stonking shuffle with which to sign off. It's one of those numbers you keep humming for days.
Ye gig – part the second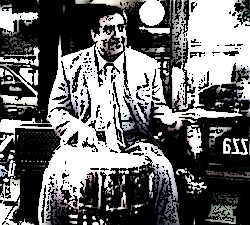 Seconds out, round two and TOTT were straight in with Sister Rosetta and a catchy 12/8 beat. Jonny's guitar work was carefully delivered and right on the money. Aki weighed in with a killer combination of 3rd position and expert five hole octaves.
My Babe, another Little Walter classic came next. The Doc held his breath. Back home this track is a close second to Mustang Sally in the yawn stakes. But not tonight. Yet again TOTT took the strain and reminded us why the song was a smash in the first place. Honeydew Woman was played on a 64 Chromatic with some West Coast crunch from the guitar department. Brilliant stuff.
A session of whoopin' and hollerin' was next on the bill, before a healthy dose of the Fabulous Thunderbirds; on this occasion Rock With Me Tonight from the T'Bird's inaugural Girls Go Wild album. Brad, a local harp player,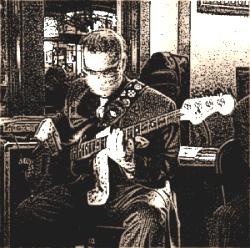 joined the band for Baby Please Don't Go, before Aki doubled up on acoustic harp for Sloppy Drunk by Sonny Boy Williamson I. The two contrasting harps made it even more apparent how much Aki is a master of his instrument. You could sense the musical cogs winding furiously in his head while his delivery remained measured and sensitive. The set closed with the excellently harp-indulgent Honeydripper from Big Walter Horton's Can't Keep Lovin' You album.
Ye encore
I Can Tell by Bo Diddley started the band's encore, then You Got Me Cuckoo Darling with some more 3rd position electric harp. Evan's Shuffle was next, another feature on the new CD, followed by Look On Yonder Wall by Elmore James on acoustic harp and slide guitar. (Little Jonny must be a Moore fan, judging by this and the new TOTT CD title track). Prodigal Son was very much a Piedmont blues and Little Red Rooster was as moody and smoldering as the original, the band yet again grasping the heart of the matter. Our very own Riverboat Captain would have swooned at the next offering – Icepick Boogie from James Harman's classically named album Mo' Na'kins, Please. Was it any good? People, does Campbell have a ring to it? My Baby's Gone (And I Feel Good) was a great good time blues with which to sign off once more. Dance floor full, smiles on faces, job done. Old School wins by a KO.
But joking apart, what of the old school versus new school harping debate? Unwittingly the Doc had befriended leading protagonists from both camps that night at Biscuits & Blues. Jason is still up there patrolling the bulwarks of fort radical.Aki meanwhile has rallied to the timeless and battle honoured ranks of the harmonica old guard. Both are supreme players. Now how does that question go again…
What would Little Walter have done?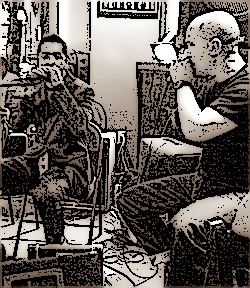 The short answer is we'll never know. To claim otherwise is speculation and misses the point. His music was the product of a creative mind responding to a host of influences at one particular junction in history. His example challenges us to be as, if not more creative today, but it is blinkered to revere him as the progenitor of all things modern or radical on the harmonica. To do so risks parking up the blind alley of ignorance. He is just one icon, the embodiment of one particular style, among many others. He is also part of the process of musical development. Of course that doesn't stop him being your favourite.
Any contemporary electric blues harp player should study and learn from Little Walter's musical blueprint. That is, pick up a harp, cancel the diary and really study. His phrasing, his runs, his expression and his visceral tone. The rhythm and the jazz in his style, and his positional experimentation. His idiosyncrasies, playing ahead of, across and behind the beat and or under the lead vocal line. Only then is the true value of his music at its most apparent. But this work alone doth not a blues musician make.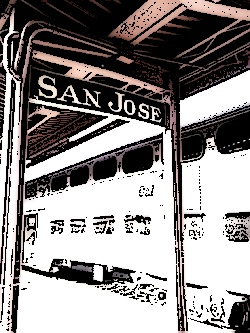 Having made the Little Walter pilgrimage, step back and admire the man for his achievement in raising the bar as high as the moment and his ability permitted. Then consider the lessons laid down by other masters, because there are plenty, and follow your own calling. And don't be fooled. Walter was as fallible in music as he was in life. Genius is frail. Listen to You're So Fine and check out the sloppy timing. Listen if you can to some of his experimentation with reverb. It's interesting to say the least, but you can only digest a few spoonfuls before hitting FFWD.
In artistic terms Walter was as much a follower as a leader. He was heavily influenced by Louis Jordan, Illinois Jacquet and the other big horn blowers of the era. He shared stages with the likes of Ray Charles and Little Richard. But for practical reasons Walter had to plug in to compete with the electric guitarists of the day, who in turn had plugged in to compete with the big city crowds and dance halls. Invention was the daughter of necessity. And a coincident by-product of plugging in the harp for commercial survival was that big distorted honk we have grown to love. Argument about what amps or which mics Walter used, how, why, where and when is wasted effort. He used whatever was expedient to complete a light electric ensemble that could compete with bigger dance orchestras and travel further afield to earn a living where ethnicity was not a burden.
I'm going back to find some peace of mind in San Jose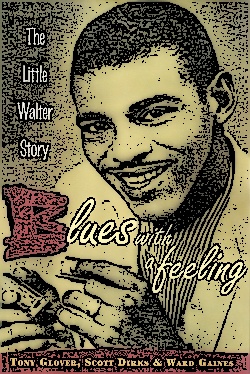 Go hear TOTT and remind yourself of why live music and the blues is such fun. And make no mistake, it will be a drop of the good stuff, brewed to perfection. Aki has studied Little Walter. And I mean really studied him. But he has also stood back, acknowledged the man and looked farther afield. In time his own calling will produce self-penned numbers, of this there is no doubt.
While drinking tea at his house, Aki drew the Doc's attention to the Little Walter biography lying on the dining table, Blues With A Feeling (ISBN 0-415-93711-6), published by Routledge. Says in there that Walter didn't like to use a head roll for trills because he thought it looked dumb, Aki remarked. If anyone knows what the text says, Aki does. He's studied the man. And I mean really studied..
Bush was also adamant that Walter didn't achieve his two-tone warble effect by shaking his head, as many subsequent amplified players would do, but instead did it by moving his hands: "He said that waving your head from side to side made you look like an idiot, and it gave him a headache. He moved his wrists from side to side." (p121).
This much we know Little Walter would have done.
In our follow up article, we will tell you all about the band's Depot Street Blues CD and where to get hold of your copy. For now let's get Tip of the Top to play us out, the old school way. Ties and all.