Tuesday Evening Online Workshop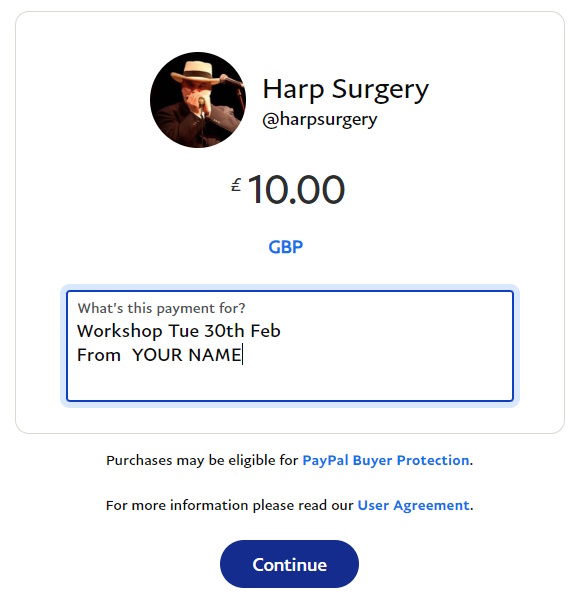 Schedule : We meet every Tuesday evening
Time : 7.00pm-8.30pm (UK)
Platform : Zoom
Fee : £10.00 GBP payable in advance
Sign up : paypal.me/harpsurgery
What do workshops include?
Styles from Blues, Americana, Folk, Celtic, Latin, Pop, Rock, and World Music. Breathing and musical warm up exercises. How to identify the key of a 'mystery' song. Work on chosen study pieces. Focus on specific harmonica skills and techniques. Jamming. Q&A, advice and information exchange. We use a combination of harmonica tabs and standard notation, but you won't need to read music in order to join in. All ability levels are welcome.
How to sign up
Harp Surgery sessions are pay-as-you-go. To confirm your attendance and receive our unique weekly password please transfer £10.00 in advance by PayPal. Simply type paypal.me/harpsurgery into your web browser and follow the instructions. Please ensure you include the Workshop Date and Your Name in the 'What's this payment for?' window.
What to bring
As a minimum, you'll need a harmonica in the key of C major. Other keys will be of benefit over time. We use the 10 hole diatonic harmonica. That's the short 'blues' style harmonica (rather than chromatic or tremolo harmonica). A note book and pen are also recommended.
While on Zoom


You will need to activate 'Original Sound for Musicians' in order for us to hear your harmonica. If you can't find this, check that you are running the latest version of Zoom and refer to help videos online. During our workshop please ensure that normal behaviour protocols are followed. Suitable attire should be worn at all times. Swearing and disparaging or demeaning remarks will not be tolerated, and political comment is best avoided. Harp Surgery has a policy of inclusion, diversity and equality.
Can I record our workshop?
Owing to intellectual copyright, personal audio and video recording of our workshop is not permitted. Tabs and backing tracks will be made available for you to practise between sessions. For the same reason and for your privacy, our workshops are not recorded.
Can I book 1:1 tuition too?
Yes of course. Contact Richard and he will help to set up an appointment in person or on Zoom.
Enquiries
Please contact Richard Taylor using the details on our website Contact page. This helps prevent bot and spam engine attacks.