Charlie Musselwhite (Part I) – Komedia, Brighton, 18th November 2008
What was all the fuss about?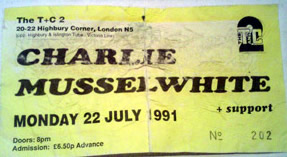 According to the display of fading gig tickets on the Harp Surgery wall, it was July 1991 when I last saw Charlie Musselwhite live at the Town & Country 2 in Highbury, North London. Charlie's backing band opened that night with a fabulous rendition of Little Milton's 'Hey, Hey, The Blues Is All Right', while his silver harp case stood open on a table at the front of the stage – a statement of the maestro's intent. The backing band had the house revved up and jumping. Once he took the stage however, Charlie's performance proved uninspiring. Accepted, he had flown in from the USA only hours earlier, but amidst his clever display of positional playing and monotone vocals, I grew bored. The band soldiered on but I left early, thinking to myself, 'what was all the fuss about?'
In the months that followed, I occasionally gave Charlie's records a spin. More through a sense of duty than as a genuine fan. Each time I concluded this was a white guy who came from the right southern state, had entered the Chicago blues scene at the right time and mixed with the right blues luminaries, but who's musical contribution was inconsistent, if not over-rated. It just didn't bounce. The records went back in their sleeves and onto the pile. I still didn't get him.
Years rolled by and periodically Charlie's music would resurface. Harpin On A Riff (from his 1978 album Harmonica According To Charlie Musselwhite) was one occasion. I discoverd it by chance on a harp compilation album in the late 90's. Backtracking, it was immediately apparent that if you dropped it in a liquidiser with a liberal shot of Whammer Jammer (Magic Dick), it was the primary ingredient for a potent new cocktail that emerged in 1980… Nine Below Zero's searing harp instrumental Swing Job (from their Live at The Marquee album).
News of Memphis Charlie's visit to Brighton triggered memories of his 1991 show in London and that familiar sense of ambivalence. But duty called. Seizing the day, I got in touch with Charlie's road manager, his partner Henri, who very kindly arranged for me to meet Charlie after the gig. Fantastic. Now I could investigate the man first hand. Then the sub-plot dropped in my lap like brown sauce from a bacon sandwich.
The day before the Brighton gig, Steve, a new Harp Surgery student and long time Brighton blues blaster, asked about INXS's Suicide Blonde. 'How was that harp intro done?' We concluded it could only have been achieved with the help of a formidable delay pedal (a la U2's The Edge) or else some impressive sampling. On line later that evening, Harp-L revealed those infamous raunchy harp tones had indeed been sampled by INXS's Andy Farriss and reconstituted through a keyboard. Furthermore it was none other than Charlie Musselwhite who had provided the original harp. I was dumfounded. Charlie had also recorded unadulterated harp on two other album tracks, including Who Pays The Price. I emailed the news to the Harp Surgery inquisitor, a self-confessed Musselwhite sceptic. Steve was stunned. Charlie had done it again! Or had he? Hopefully I'd find out after the show.
The Emeperor's New Clothes
If you've ever performed or seen a show here, the Brighton Komedia is a wonderful arts venue and its staff are exemplary. A small throng of harmonica blues enthusiasts assembled in the downstairs cabaret bar. I could read their anticipation and wanted to feel the same, but I'd been there at the T&C2 in 91. A creditable warm up set of four songs was provided by Dani Wilde and her brother, local harp ace Will 'Harmonica' Wilde. One to watch for the future. Then Dave Peabody took the stage with….er, sorry….solo. This will have been regarded as a bonus by some. Not by others. As one streetwise heckler jibed, 'so you're the filler!' Our tickets said Charlie Musselwhite. Dave smiled graciously, cracked a joke and played on.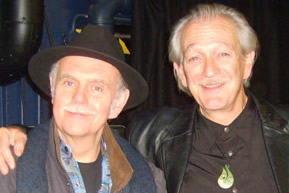 We sat patiently as he ran through a series of country blues tunes and patter, including the Memphis Jug Band's 1928 railroad song KC Moan. Hobo style, Dave rolled down the line with the audience in tow. We were invited to add pantomime whoos for that extra locomotive effect. My fingers tapped the table top, but not in time to the music. Where was Charlie?
A moment of relief. The story behind Dave's self-penned 'It's hard to write a blues when you're happy', was genuinely intriguing. Songs by Lonnie Johnson, Willy Moore and Tommy Johnson followed and things started to sound samey again. My fingers were tapping again. The audience grew restive. 'Charlie plays guitar too!' quipped Dave with a playful glint, attempting to mitigate matters. It was actually a warning of what was to follow.
Then Charlie took the stage…..armed with a guitar. No harmonicas. Not a smart move given the state of the audience. Some were aware that Charlie had a grounding in Delta blues guitar. Many weren't. Either way we'd all had our fill of strings. It was the Mississippi Saxophone we'd come for.
Charlie started with Town To Town, an 'on-the-road-song', the penultimate number from his New Delta Hardware album. Knocking over his bottle of Buxton, he was clearly nervous. He duly mopped up, then reminisced about growing up in a 'riverside town', Memphis Tennessee. The water theme was a prelude to Blues Up The River from his 1999 Continental Drifter album. This was a good, atmospheric blues. Then, to tease us further, out came a harmonica….. and a rack. Bob Dylan? Surely not! Had the man lost his mind? Mercifully, another intimate blues followed, If I Should Have Bad Luck from his 1993 In My Time album. But we've already been there Charlie! Where's that big town harp?
Polite applause faded and Charlie executed a well-rehearsed verbal conjuring act on use of harmonica positions….'key of E using an A harp. Not key of A using a D harp. But A on a D, E on an A, E on a D…..C, E and A on a C harp. Or G. Or C. Or D. I know guys who play 12 keys on one harp. I think they're from another planet.' He paused to afford the assembled harp aficionados a grin. Then he described a railway station he recalled from childhood and his feelings having returned there many years on. An acoustic harp solo slowly pulled off down the track. At long last we were underway. Or were we? Was now the moment Charlie would finally plug in?….Er, nope. Back to the guitar and rack harmonica for a rendition of In Your Darkest Hour from his 1997 Rough News album.
Charlie then talked about three guitar tunings that were popular on Beale Street. 'One was Regular (Natural), one was Vestapol (open tuning), the other they called Spanish. Why Spanish?' He played a flamenco style guitar break which then metamorphosed into a blues. The technocrats loved it. Must have been 5th position, Frigidaire or, Tapas mode. Hombre! Where's the south side harp?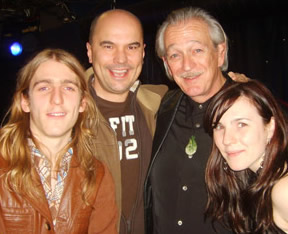 Next up was Stingaree, a John Lee Hooker style blues, from Charlie's 1993 In My Time album. 'What I like about my honey bee, is how she stings me, with her stingaree..' An ok melody, but vacuous lyrics. The camel's back was straining. Charlie spoke about his links with Clarksdale, Mississippi and delivered another over-rehearsed monologue. 'Make a pilgrimage to Clarkesdale. Blues is in the way people walk. It's in the food. You can pick it out of the air, put it in your pocket and take it home.' Thanks Charlie. Can you tie it in a knot, can you tie it in a bow….? The harp Charlie! Where's the harp?
'My favourite Juke Joint is Red's. Don't feel intimidated, just go on in, they'll take good care of you. Blues oozes up from the ground and it's hanging in the trees….' Charlie continued. No doubt they'll also help you sink a bottle of Southern Comfort to dull the interminable wait for the harp player. Spare us. A rambling solo guitar song followed, Come On Down To Clarksdale. ENOUGH ALREADY!
Re-enter Dave Peabody. Exit Charlie's guitar. Images of Rocky Balboa filled my head. Could I clamber up from the canvas one last time? Re-enter Charlie with bullet mic and amplifier. Seconds out, forget the last bus. 'Think we better do some swamp blues' says Charlie, bullet mic and harp in hand. 'Think you shoulda done a while back,' thinks I and evidently most of the audience, 'you already lost the moment'. Blues Overtook Me from his 1990 Ace Of Harps album came honking from Charlie's amp. 'Sounds better than the record!' commented Clive Langhorn, the original Harp Surgery student. Charlie shuffled on in 2nd position and moved into 1st position for the main break (deftly sweeping from top end to bottom end) before closing in 2nd again. At last that bitching harp we'd been holding on for.
Blues For Yesterday is the last track on Charlie's latest album, Delta Hardware. It's a regular shuffle and he starts the harp in 2nd position. As with so many of the electric numbers, during the vocal section he reaches out and switches harps. Sure enough the break came through in 3rd position before returning to 2nd after the next vocal. The same happened in Wild Wild Women, another strong shuffle from his 1969 Memphis Charlie album.
Then the instrumental we were gasping for. Chicago style, Charlie roared off in 2nd position. It was intricate and stylish. A variation on Walter's Boogie with some classic extra licks and runs. He even threw in the Sailor's Hornpipe. There were 4 and 5 hole splits at the top end, a section from Harpin' On A Riff and phrasing which sounded like The Hucklebuck. 'Just dropped by to kick some blues around,' the maestro added before vacating the stage to rapturous applause.'Took your time mate,' thought I.
Charlie returned with Dave for an encore of Bad Boy, an Eddie Taylor encore in honking 1st position, before closing the show. He then took the floor to chat to folks and sign CDs. 'He might be the Emperor', cried the imaginery urchin, 'but he's wearing no clothes.' Why was I still mystified?
In the second instalment..
Time for tea and biscuits… Charlie talks about Obama's election to President. We natter about diaphragm vibrato. He doesn't understand me when I refer to a tune called Harpin' On A Riff. We get the low down on the Suicide Blonde recording. We also learn the key to transcendental harp playing. And finally, the penny drops!